Fairy Tale Art… what could be better?
Tamara has pulled together a collection of 15 mixed media artists, each one teaching a lesson using their favorite fairy tale characters and their own favorite techniques. Meet the 2018 Artists!
Ever After Fairy Tale Art Classes for 2018
Snow White – Tamara Laporte
Fantastic Beasts & Where to Find Them – Marielle Stolp
Kuan Yin Goddess of Compassion – Lucy Chen
Pocohantas – Ady Almanza
Mists of Avalon (Moraine) Andrea Gomoll
The water of Life (Spanish Fairy Tale) Regina Lord
Little Matchstick Girl – Effy Wild
Alice in Wonderland – Cristin Stevenson
Rapunzel – Kara Bullock
Princess & The Frog – Renata Loree
The Wizard of Oz – Lindsay Weirich
Lord of the Rings – Katrina Koltes
Sleeping Cutie – Tiare Smith
Raggedy Ann – Danielle Donaldson
It will run over a period of 4 months and you can join either 'Fairy Tales' or 'Fairy Tales with Style Development'. The first (fairy tale lessons only) can be taken by anyone; budding beginner artists, intermediates, and the more experienced. It is for those who are interested in learning how to create beautiful fairytale-inspired paintings in a variety of mixed-media art techniques. Each teacher on Ever After has chosen one fairytale, myth or magical story to work with and will use the beauty, storytelling, deeper meaning, and symbolism of the fairy tale to inspire their lesson. The fairy tale-only package on its own does not cover style development.
The second ('Fairy Tales with Style Development') contains all fairy tale lessons and all style development content. The fairy tale lessons will be used to explore and develop our styles as well as learn new techniques from the teachers. Many artists and students who've been on my courses over the years have struggled with developing their own style. There aren't really any courses out there that dedicate themselves to this element of what it means to be an artist, yet, it's one of the most frequently asked questions I get! So I felt called to finally create something! Yay! The style development content is very rich and in-depth. We look at concepts such as: "the story of you", "inspiration, how to find it, how to use it", "stepping outside of comfort zones/ changing things up" and "creative blocks, like the inner critic, fears, comparison etc".
---
Art Supplies Needed For Ever After Fairy Tale Art Classes
Paper:
Tamara works on 140lbs of hotpressed watercolor paper.
Brand-wise Tam usually use Daler-Rowney or Saunders & Waterford – She works either on 9 x 12" or 12 x 16". Cold-pressed is fine too, but don't go for less than 140lbs in weight. Other brands that will also be fine: are Fabriano/ Strathmore/ Canson. I recommend Strathmore or Fabriano, the Canson brand says it's 140lbs but if you compare it to Strathmore it's much lighter and doesn't stand up to the "Tam Method" of scrubbing/blending on your faces.
Paints:
Water-soluble crayons – Caran D'ache Neocolor II
Tam has lots of high-priced brands mentioned but unless you are going to be selling this art, or if it's going into your art journal, I use cheaper craft paints and am happy with my results. I have a few of these pricey options I use on occasion but they are NOT necessary for most of the projects. I love Ceramcoat, Americana etc available at Michaels, Hobby Lobby, Walmart etc.
Some Heavy-bodied Acrylic Paints – Daler Rowney/ Golden or Winsor Newton
Golden Fluid Acrylics (they are very expensive if you want to try these out, buy 2 or 3 of your favorite colors to start with)
Fun but expensive and optional: Golden High Flows (get only a few if you want them)
Pencils:
Watercolor pencils: Derwent Inktense/ Caran D'ache Supracolor (Optional)
Graphite pencils: 2b & heavier – I like the graph gear 1000 by pentel but any pencil will do – mechanical ones are better for finer detail.
Graphite crayons are fun but optional
Color pencils by Prismacolor or Caran D'ache. Prismacolor has some new erasable pencils that I am loving for sketching too.
Mediums:
Gel Medium: Golden or Liquitex I have both heavy and soft. If you just want to buy 1 go for soft matte. (Here again, I prefer Liquitex, both price points and it's non-toxic with no smell.
Cheaper gel medium to use as an adhesive:

Daler- Rowney Impasto Gel Matt
Golden Matte Medium
Liquitex Matte Medium (There is a Liquitex Gel Medium too, it is stickier)
Collage Materials:
Variety of patterned scrapbooking papers, patterned napkins, magazine pages, book pages, music scores, and photos – some washi tapes are fun too.
Tools:
Brayer
Palette Knives
Scissors
Rulers
Erasers/
Heat gun or Hair Dryer
Foam Brushes
Brushes (Tamara uses Pro Arte Acrylix brushes for her method with faces. In the US I could only find them from this UK seller on Ebay but there is no shipping.  For her work any soft-haired brushes will do)
Markers:
Posca pens (black/ white – fine-nibbed and thicker
nibbed) OR
Poster paint sharpies aka water based NOT oil-based (black/ white – fine-nibbed and thicker nibbed)
Tombow Markers in your favorite colors
Mermaid Markers from Jane Davenport
Paint Over Pens from Jane Davenport
Inks/ Sprays:
Dylusions Ink Sprays (start with a few)
Daler Rowney Acrylic Artists Ink
Jane Davenport Inks (Available at Michaels)
India Ink (Small bottle)
Gesso:
White Gesso (Tamara uses Golden, but I prefer Liquitex, it's non-toxic and doesn't have a smell)
Transparent/ Clear Gesso
Stamping/ Stencilling
It'd be nice to have some/ a variety of some fun rubber stamps and some decorative stencils – for the rubber stamps, you'll need some ink pads too. Stazon is a good waterproof ink pad.
Other Classes that Tamara Laport Offers include: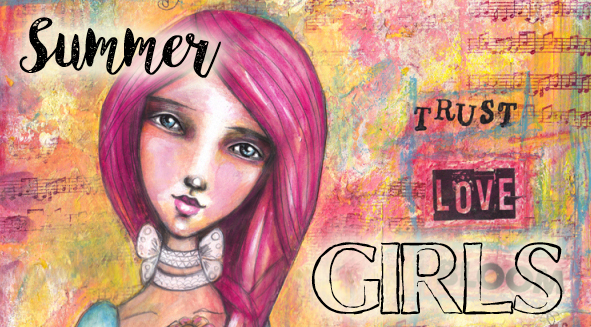 Want to Color in some Fairy Tales too? Click here for my favorite Fairy Tale Coloring Books.