Fall is in the air and we all need some pumpkins, scarecrows, and black cats to color so let's go on a Halloween & Autumn Coloring Book search.
The selections below will include scary, creepy, whimsical, and sweet depictions of every kid's favorite holiday.
This cute Halloween coloring book is right up my alley! I'm more of a fairy tale, princess Halloween costume person so coloring in a cute kitty witch's adventures makes me happy. I've not yet received the book to review so I'll update you with the paper and book review when I receive It. I love the tag line. Creepy but cute for your own inner witch.
Sara Szewczyk is an artist living in Krakow Poland. Her witchy illustrations have been featured in prints, stickers, postcards, and more. Sara lives in Krakow, Poland.
We asked a little a out her new cute and spooky coloring book.
"The book was supposed to have a magical, spooky-cute theme. I was delighted with this idea, because it is what gives me great fun in creating. The next step was to create a coherent story for the book, so I focused on showing the reader one long and eventful day in the life of a cute witch kitty. For this purpose, I had to build a fairy-tale world for my main character, full of magical creatures, potions, imaginary plants and spells. Since I was a child, I have a very vivid imagination and I have
always been interested in the world of witchcraft and magic, so it was a very cool challenge!

Sara Szewczyk – Sara's Etsy Shop
Amazon, US, UK, Europe & Canada
This is the smaller format book by Alan Roberts, similar to the Christmas coloring book, it has 7×7″ pages one-sided and perforated so you can share your colored pages or have a trick & treat party so everyone can have a ghoulishly good time with your friends.
Click to order Amazon US, UK or Canada
Click to Order Amazon US, UK & Canada
Cute, Whimsical and Fun Halloween Trick or Treaters to Color. Perfect Halloween Coloring fun for all ages. By Deborah Muller 2019
Click to Order Amazon US, UK & Canada
Deborah Muller actually has about a dozen cute Halloween-themed coloring books full of whimsy & fun. Click here to see the full collection.
Tatiana Bogema has become one of my favorite illustrators! Her books and pages on Etsy are so unique and detailed. If you haven't gotten one of her books yet, I'd really recommend checking her work out.
Click to Order Amazon US, UK , Europe & Canada or in her Etsy Shop Here with instant download.
I just received this fantabulous book so check out the Coloring Book Addict Instagram for a flip through. Super creepy as always!!! Less clowns though.. yeah! I hate clowns!
Click to Order Amazon US, UK & Canada
The beautiful & disturbing art of Alan Robert is once again ready for you to color, paint, or just enjoy in his newest scary edition just in time for Halloween 2018.
Click to Order Amazon US, UK, Europe or Canada
 Click to Order Amazon US, UK & Canada
Create 10 Pictures One Sticker at a Time! Includes Glow-in-the-Dark Stickers. It says for kids but I like glow-in-the-dark stickers too! Don't you?
Click to Order Amazon US, UK, Europe & Canada
Julia has quite a few coloring books but she's got two Halloween offerings this year including another scary Alice book called:
It contains 40 one-sided pages with detailed drawings with many revealed in the listing here. It is also currently on a new release promo price.
This coloring book includes 40 one-sided drawing of Grimm's versions of many of your favorite fairy tales plus a few you don't see as often.
The book is filled with 24 one-sided unique and fantasy detailed riding animals of art by artist Olya Goloveshkina. She also has a Christmas Mounts book featured here.
Click to Order Amazon US, UK or Canada
Something really different, mandalas are usually reserved for calming peaceful patterns, reimagined by illustrator Cristina McCallister
There are some really clever and goretastic illustrations in this book but be warned there are only 15 illustrations that are repeated twice. The book is one-sided with black-backed pages.
Click to Order Amazon US, UK or Canada
Night Magic Amazon US   Amazon UK   Amazon Canada
Explore your dark side with this Halloween-inspired adult coloring book by Selina Fenech. This coloring book features 25 sweet, sexy, and magical designs of witches, vampires, dark angels, goblins, masquerades, gothic ladies, and dark fantasy creatures.  This book includes 2 full sets of 25 artworks page size is 8.5 x 11 inches, letter size Parental discretion is advised for younger artists as some artworks contain artistic/concealed nudity and sensual gothic imagery.
"The artworks in my books are based on my completed paintings, which I have painted over the last ten years as a professional artist. I have created the coloring designs to be intricate and detailed but still fun and accessible. There is something for lovers of meditative detail while simple enough to not be overwhelming for younger colorists."

From Selina Fenech
This coloring book is gorgeous! Greyscale coloring is great for beginning colorists to help them learn where to do shading and highlights so with this book you get beautiful coloring pages plus some art instruction. You can see a flip-through on Instagram here. Molly Harrison's artwork is quite unique and this book contains gothic, vampire-type fairies, fanciful Halloween witches, and autumn magic.
Autumn Magic Amazon US – Amazon UK – Amazon Canada
Featuring cherub-type witches, vampires, fairies, kitties and other creepy-cute creatures intended for the child at heart and kids (8 and up) and the illustrations range from simple to more complex. This book includes 32 illustrations all printed on one side of the page only.
Whimsical Halloween Amazon US – Amazon UK – Amazon Canada
Anime Halloween Click to Order US, UK or Canada
Autumn Fantasy Coloring Book – Halloween Witches, Vampires, Autumn Fairies, features 25 images 2 of each. I decided to include two of each image in case of coloring mishaps or for those of you who like to try different color schemes.
Autumn Fantasy Amazon US – Amazon UK – Amazon Canada
Spellbinding Images  Amazon US – Amazon UK – Amazon Canada
Halloween Coloring Book by Jade Summer
If you prefer cute over creepy, check out this Halloween-themed coloring book from Jade Summer
Click to order Amazon US, UK or Canada
Alices Nightmare in Wonderland
Quirky and Creepy with lots of greyscale, if you are looking for something a bit different, this is the Alice book for you.

Click to Order Amazon US
Click to Order Amazon US, UK & Canada
The Beauty of Horror – A GOREgeous Coloring Book by Alan Robert
This coloring book starts out with a removable cover over 80 gorgeous and GORE filled illustrations in the 9.8″ x 9.9″ size with excellent quality paper and a hidden object hunt throughout the book to help our Ghouliana Belie get through the creepified forest. You'll find skeletons surrounded by flowers, and zombies hidden in ornate picture frames. Alan Robert described this book as Walking Dead meets Secret Garden and I completely agree.
Explore the video below.
Click to pre-order on Amazon US     Amazon UK    Amazon Canada 
The Beauty of Horror: A GOREgeous Coloring Book from Alan Robert on Vimeo.
A little interview with the artist…
Q1. What do you enjoy drawing the most?
Alan Robert: I have always been really into drawing monsters and creepy stuff, ever since I was a little kid. My first memories of drawing were around the time I saw the original Star Wars movie in the theater (1977), I was only six! I loved the Tusken Raiders and all of the wuld creatures in the Cantina scene. Really inspiring for me. All throughout school, I took art classes and eventually received a scholarship to The School of Visual Arts in NYC. While earning my bachelor's degree in Fine Arts, I studied under the legendary comic book artist Walter Simonson (The Mighty Thor), who I learned a tremendous amount from.
Q2. How did you get started? AR: Well, I was all set to try and become a professional comic book artist straight after graduation (1993), but the rock band I formed with some childhood friends had just landed a record deal. It seemed like recording an album and touring the world was a once-in-a-lifetime opportunity, so I decided to put the art on hold and pursue the music. The band is called Life of Agony and it became very successful in the 90s. For over two decades, we've shared stages with the biggest names in rock, including Metallica, Black Sabbath, Foo Fighters, and The Red Hot Chili Peppers. The band is still very active and has a new record coming out in 2017 called "A Place Where There's No More Pain" (Napalm Records).
Anyway, somewhere around 2010, the band was on break and I never lost my love for comic book storytelling. I got my big break from award-winning publisher IDW Publishing when they agreed to release my original horror comic series titled "Wire Hangers," which I both wrote and illustrated. The series developed a following and I continued to release more titles through IDW every year after that. Series include "Crawl to Me" and "Killogy." Crawl to Me is in the process of being adapted into a live-action feature film, and Killogy is being developed as an animated series and video game.Q3. Who or what has inspired you?AR: Growing up I was inspired by comic artists like Mike Zeck (The Punisher), Mike Mignola (Hellboy), Dave McKean (Batman: Arkham Asylum), Frank Miller (Sin City), etc. Inspiration also comes from films. I'm a big movie guy. I soak everything in. I'm also inspired by trying new techniques.  I purposely challenge myself to try different styles when taking on new projects. In fact, each of my books has its own unique look to them. This was done intentionally. Sometimes it takes me several months to refine the style before beginning the actual pages.
For The Beauty of Horror: A GOREgeous Coloring Book, I tried something completely new. I inked the pages using consistent, thin line weight. No use of shadows, no thick outlines. That was a challenge for me, especially coming off my last comic series "Killogy" which was done using a lot of thick, heavy strokes and shadows. Q4. What materials do you enjoy using?   AR: My pen and ink illustrations are mostly done by hand, scanned into the computer and then digitally enhanced. For inking, I mostly use Pigma Microns on Bristol Board.   Q5. Do you like to color in your designs or prefer to have others do that?   AR: For my various comic book series, I colored everything digitally in using Adobe Creative Suite. It's been a lot of fun having complete creative control…especially since I am illustrating my own stories. That being said, I am so looking forward to seeing what colorists out there do with my illustrations from The Beauty of Horror! That is really super exciting for me. I am constantly blown away by the posts I've seen online by adult coloring book enthusiasts. There are some seriously incredibly talented people out there. Q6. What supplies (brands) to you recommend for your book(s)?   AR: I personally enjoy Faber Castell Polychromos sets and LYRA Rembrandt Polycolors, but as I've learned by creating my own art, sometimes you need to try new things in order to find the right style. I'm always eager to try a new brand out.
Q7. What is your favorite coloring book other than your own?   AR: All of Johanna Basford's books are amazing. I also really dig the Animorphia series.   Q8. What is your favorite thing to do when you aren't doing art? AR: Spending time with my family and rockin' on stage with Life of Agony. Q9. Who is your favorite coloring book artist?AR: Johanna Basford. Q10. Can you tell us about any other projects you are working on?AR: We are wrapping up the latest Life of Agony record and headed out on tour overseas in November & December. The record drops in early 2017. Other than that, my film production team and I are gearing up to film the live-action Crawl to Me movie this winter… and you never know, with all the excitement surrounding The Beauty of Horror, I just may have to draw a sequel!   Readers can find out more: on Alan Robert's Official Website
This book by Hannah Lynn has rave reviews like this one "I absolutely LOVE this coloring book!! I will be coloring EVERY single picture in this book. Nice crisp white pages with perfectly clean lines, no errors whatsoever in the linework." There are 30 different illustrations with 2 copies of each for a total of 60 coloring pages with Createspace paper so suitable for colored pencils, most markers will bleed through this paper so be sure to put a divider between your work and the next page. *It was included by special requests from our Facebook members.
Order Enchanted Halloween Amazon US   ~  UK  ~  Canada
Jasmine Becket-Griffith shares her Halloween dreams with beautiful gothic maidens, magical autumn fairies, characters from Dia de los Muertos, and a fun mix of pumpkins, witches, and skeletons. Each coloring pattern features a description of the painting it's based on. I have her first coloring book and the paper is just glorious which is the reason for the price being higher than your CreateSpace books.
Order Jasmine's Halloween Book on Amazon US   ~  UK  ~  Canada
While not specifically geared to Halloween, Grim Fairy Tales includes 45 pages of truly spooky illustrations. You can bring these pages to life from playful costumed, fairy tales characters to frighteningly chilling monsters. This book has some sexy coloring images in it as well following a similar take on the material as the original.
Grimm Fairy Tales on  Amazon US  ~  UK  ~ Canada
Global Doodle Gems Halloween Collections
Global Doodle Gems has just come out with two spooky Halloween Coloring books and the thing I really love about their books is that so many artists are represented so they are the perfect books to pull out when friends and family come over.. Everyone is sure to find an image they want to color.
(Author), Nancy Sutton Lewin, Illustrated by DomDomx, Lynni Ex, Dianne Comeau, Orbleue's, Nadege Zenfeerie, Lynne McGee, T J, Velvet Comeau, Amandine Cyril M.L , Debbie Lai Leen Margot, Yaya, Audrey Sagh, Alfred E Villanueva, Ondine Summers, TaSo, Johanna Ans, Jenny Wei, and many more.
Global Doodle Gems Halloween Collection coloring book offers you 52 designs to color from 26 artists. Having a wide variety of artists allows them to accommodate more levels and tastes of color enthusiasts. The paper quality isn't the best but they are 1 sided so you could copy to nicer paper if desired.
Global Doodle Gems Halloween Amazon US  ~  UK  ~ Canada
Thirty full-page patterns to color feature all of Halloween's eagerly anticipated symbols: skeletons, candy, haunted houses, jack-o'-lanterns, and a host of creepy creatures, from Frankenstein and Dracula to wizards, werewolves, and witches on broomsticks. Check the reviews at the bottom of the page for more views of some of the pages. Click to order
If you prefer more of a cute whimsical style to color then we recommend the Happy Halloween Coloring book. This one will also appeal to the cat lovers with quite a few black cats adorning the pages throughout. Picture a cat dressed as a ballerina, an owl outfitted as a wizard, a dog in a mummy costume, and a skeleton pig juggling candy. Even the youngest trick-or-treaters will delight in these 30 illustrations to color, featuring cute and cuddly animals in Halloween costumes.
Support more artists by purchasing from your Favorite Etsy Store.
The Chubby Mermaid is one of our favorite stores to shop in for coloring books. Her images are adorable and unique.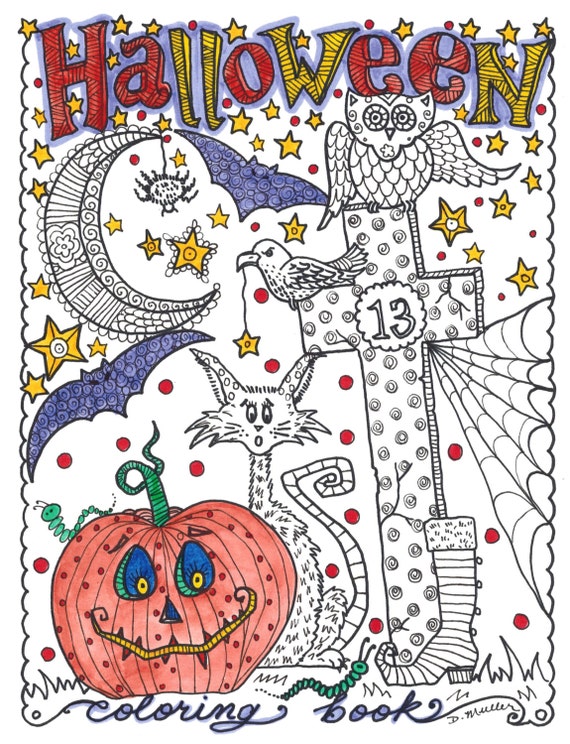 Coloring Book Full of Halloween Coloring Fun is filled with Sculls, witches, bats, zombies, crows 20 pages of funny and spooky characters.
These cute little Halloween drawings are gonna make you smile. 20 wonderful pages of black and white pictures of everything fun and Halloween! All original art was created by the Chubby Mermaid. Printed on 110 lb. professional-grade cardstock ready for you to color with markers, colored pencils, crayons or light watercolors. Professionally spiral bound in a book printed on one side so you can take them out and frame them or hang them.
The Chubby Mermaid also has a Zombie Girl Coloring Book here – I don't even like Zombie stuff but this is pretty awesome.. take a look!
Some artists on Etsy offer coloring pages one at a time rather than in book format. Here is a Sugar Skull from LaSoffittaDiSte. Instant Download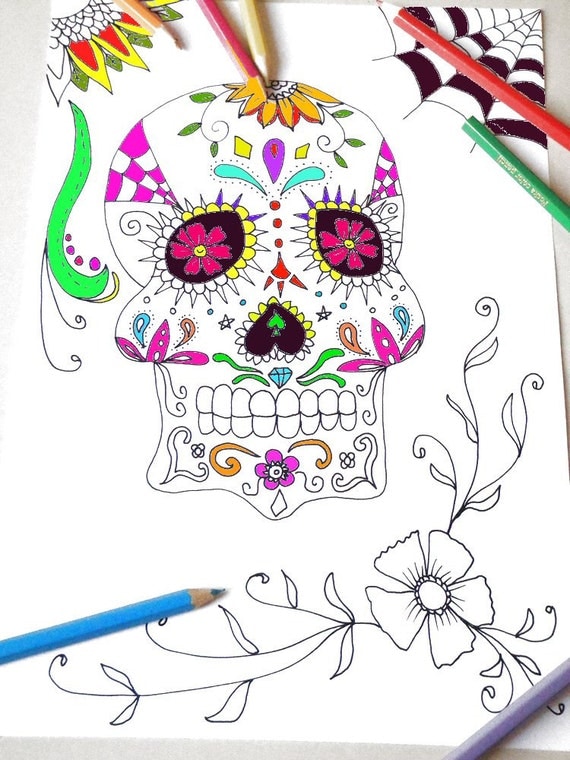 FairyTangle is another favorite artist and she has a single page download as well. Instant Digital Download here You can see more of her work here.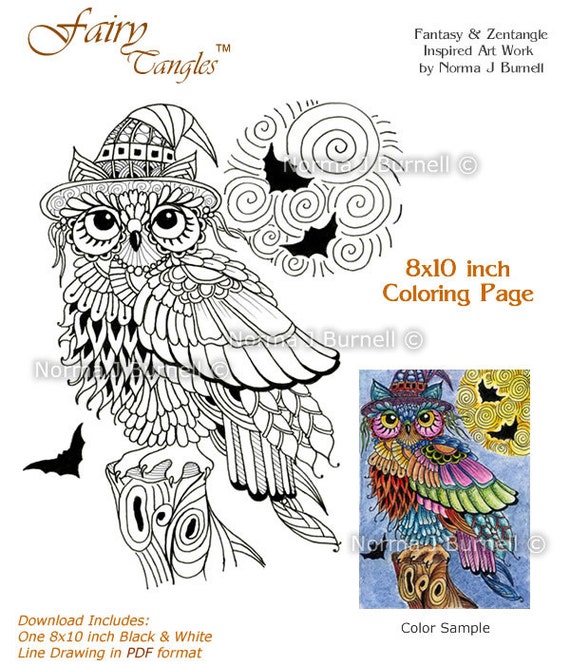 Browse Etsy to see if there are any other artists that appeal to you. Etsy provides you instant gratification with artists like this one.
How to save some money…
I recommend downloading the Michaels App & Joanns App to your smartphone. That way you always have the coupons with you. Being the clumsy person I am.. I ALWAY forget the coupons at home or in the other car or the other purse.. you get me, right? AMAZON PRIME – If you aren't a member you should look into it. You get free 2-day shipping every day at Amazon with Amazon Prime. You can try it for free right now.
The Amazon Prime membership program offers other special benefits per year. Members can instantly watch over 40,000 movies and TV episodes and borrow thousands of books from the Kindle Owners' Lending Library.
Have other favorites we should add? Let me know in the comments below!