I found Tamara Laporte through a couple of artist friends when I was asking for a recommendation for a multi-teacher class, she and Lifebook came highly recommended. I am not exaggerating when I say that following along with Tam as she teaches you to draw and paint adorable whimsical girls has so changed my life in magical ways.
Click to Order Amazon US, UK, Canada, Mexico, Spain or France or Book Depository
Tamara Laporte Online Mixed Media Art Classes
The most famous of Tam's classes and now the subject of her first-ever book, "Lifebook" runs annually with early-bird pricing showing up in December through January and then for full price the remainder of the year. You really could join in at any time because for your art class purchase you are allowed do download ALL of the hundreds of videos so you could go back at any time. The thing you would miss however is the amazingly supportive community that Tamara and her team work to create in the Facebook and Ning groups that comprise all the other artists and artists in training. You'll find brand new mixed-media people like me, to professional artists, side by side going through the weekly lessons together. At first, it IS a bit intimidating, I won't lie, but the support you are given when you share just a bit is a bit humbling and has brought me to tears a few times, not only for the support and help that I have received but when I've seen it with others in the class.
Tamara has also created a couple of stencils for mixed media artists that I simply adore and use all the time in my art journal but I'm not sure where you can purchase them now.
Ever After Create Fairy Tale-Inspired Mixed-Media Art Projects to Develop Your Personal Artistic Style 
Click to Order US, UK, Canada, Spain, France or Mexico or Book Depository Worldwide
---
Tamara Laporte's Artwork for Sale
If you feel the need to see Tam's happy world every day in your home, she has lots of options for you on Society6.
Society 6 has the largest variety because you can turn Tam's gorgeous art into items you'll use every day. I'm having such a hard time deciding what I want first!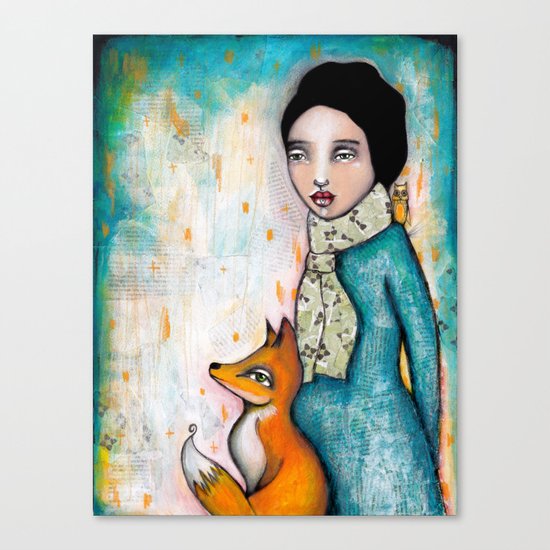 It's really so hard to decide which Tam thing you want where but I think I'm going to start with a couple of iPhone skins!
Thank you for all the happy positive vibes you are sending out into the universe, I see so many whose lives have been touched in wonderful ways by your art, your classes and your genuine caring for others.