Getting back into art as an adult is all due to the adult coloring book trend for me. I had given it all up and had been concentrating on the serious things in life. Getting back to my creative side has, however, made all the parts of my life better. The more art supplies I bought to color with, the more I wanted to play with my other art supplies that I'd tucked away. The more I played with color, the more I wanted to create and grow and learn and be able to call myself an artist too. Enter Life Book!
Just use LOVEBOMB2020 when you check out for 20% off the already low price.
You can sign up at any time! There is now lifetime access so you are never behind!
I looked for art classes in my area in watercolor and painting and drawing and couldn't really find much but to improve the look of my Facebook newsfeed I'd started following artists in all areas that appealed to me. I tend to love looking at bright happy colors and beautiful whimsical characters, mermaids, and fairies, hand-lettered pages, and bits of ephemera adding to the artisticness of the piece. That opened me up to all of the artists across the world that give art classes online. What's cool is that these classes in many ways are even better than going to a class locally because I don't have to pack up all my supplies and I can stop the teacher and rewind everything they say whenever I need to. Many of the classes are lifetime access and some even allow you to download the videos of the classes for your own use.
Since 2018 Life Book has become more inclusive and holistic by opening the course up to other art forms (like clay work, photography, and writing) + Tamara is also bringing in some more wellness experts that will support people on their wellness/ personal development journey!!
I really can't explain how much I am enjoying this art journaling -art therapy – get messy and happy experience led by Tamara Laporte from Willowing Arts. She heads up a team of a whole bunch of wonderful artists who share new lessons with our big group of loving and lovable beginning to expert artists to learn and enjoy.
Click here to view more details
Life Book 2017 opened up my art world improved in Life Book 2018 but then I took a break in 2019. Now 2020 is calling me again.
It doesn't matter that this class has already started, you have access to all the lessons for LIFE now AND you can download them to use offline whenever you'd like as well.
I'm just LOVING Lifebook! So fun, empowering and helping me SO much with my art skills!
Tam is joined by 30 incredible artists, crafters, and healers who are all gearing up to share their art, crafting and personal growth techniques with YOU! With a holistic approach to creativity, self-development, and healing, you'll be creating several loose mixed media art journal pages per month which by the end of the year you will bind into a glorious journal (a Life Book)! This year you will also be able to try out other art crafts like art doll making & basket weaving and we will also provide you with nurturing and nourishing personal development activities (like yoga and NVC) to support any personal development you're undertaking. Your final book with your artwork in it will function as a wonderful keepsake that you can treasure for the rest of your life.
What exactly do you get in LIFEBOOK 2020?
In a nutshell, this is the Incredible Life Book offer:
◙ A minimum of 6-8 in-depth Mixed Media Art Lessons + a Minimum of 4 Bonus Sessions by me: Tam (it usually ends up being more than that though because I get excited about all the new things I learn and find it difficult not to share haha!)
◙ 21 In-depth Mixed Media Art Lessons by Spectacular Guest Teachers (see below who the 2020 guest teachers are)
◙ Between 12 – 18 additional arts & craft and wellness sessions with experts in this field (check the teacher profile doc to see what each expert has to offer)
◙ 21 (Smaller) Bonus Activities like: extra PDF prompts & step by steps/ artist interviews/ ATC swaps/ giveaways/ audio meditations/ writing prompts etc by Tam & Guest Teachers
◙ 3 Facebook Live Sessions with me, Tam (1 per term)
◙ Access to all summit content
◙ The Life Book Gift Bag with lots of goodies/ free classes and discounts!
In other words: you get over 80+ inspiring, creative, uplifting and life enriching sessions this year with creative and wellness experts that will blow your mind!
I have been checking out other resources to help me with drawing whimsical faces and have found a few that I LOVE and have been amazed at my results after only a bit of practice. Still not quite ready for prime time but enjoyable to me in my art journaling and that's really the point of it all.
Oh and just so you know; if you can't wait until Jan 1st to get art-making, we've made some of our 'premium packages' EXTRA affordable this year! If you sign up to one of the premium packages, you get access to the self-study courses you've chosen IMMEDIATELY! YAY! So you can get your creative juices flowing in prep for Life Book 2020! Yay! You won't have to wait until Jan 1st to access to your extra courses. Cool huh?!
Click here to sign up for Life Book 2020 and get started on your Art Journey in 2020.
Create your Life Book by Tamara Laporte
Want to learn more about Life Book? Tamara has written a book about her art journaling baby. Available now on Amazon or Book Depository
Tamera has a new book out that explores her love of fairy tale characters.
Fairy Tales, Fables & Fiction
Featured stories include:
Alice's Adventures in Wonderland
Bambi
Beauty & the Beast
Goldilocks & the Three Bears
Mulan
Peter Pan
Sleeping Beauty
The Little Mermaid
Click to Order Amazon US, UK or Canada or Worldwide at Book Depository
Life Book – Tam's Online Art Lessons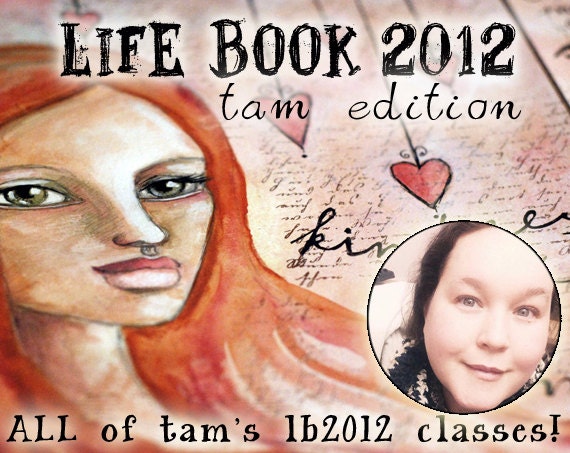 Includes:
Celebrating Your Goddess Superpowers
Paint over Collage
Photo Altering
Honoring Your Past – Front Facing Portrait
Honoring the Present – Lettering
Blob Art & Totem Animals
Healing the Inner Critic & Profile Portraits
Creating a little love house (childhood healing)
Creating Mandalas for Intuitive Healing
Creating a paper/ fabric collage
Creating Whimsical Characters
Binding your Life Book
Bonus Lesson – Stencils (Fast Forward)
---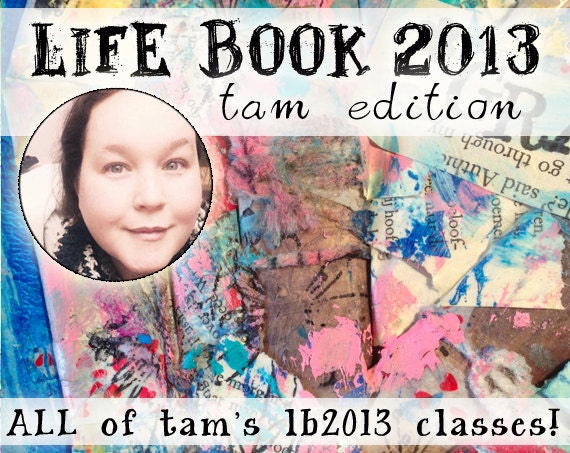 Celebration and Journey (includes warm-up lesson: Creating your Fairy Art Mother/Father)
Celebration and Courage (includes drawing a full-figured body and using spray inks)
Celebrating Heart Connections
A series of Quirky Birds lesson – Very Popular! She's still making these cuties now.
Honouring your Feelings
Embracing All of You
Radical Forgiveness
Mindfulness Art
Celebrating Earth (using stencils, masking and using and making stamps)
Bonus: Halloween Queen (Paint over Collage)
Inspiration – A Graphite Feather (working with graphite)
Binding your Life Book – each year Tamara has a new idea to bind your Life Book.
---
Tam's Life Book 2014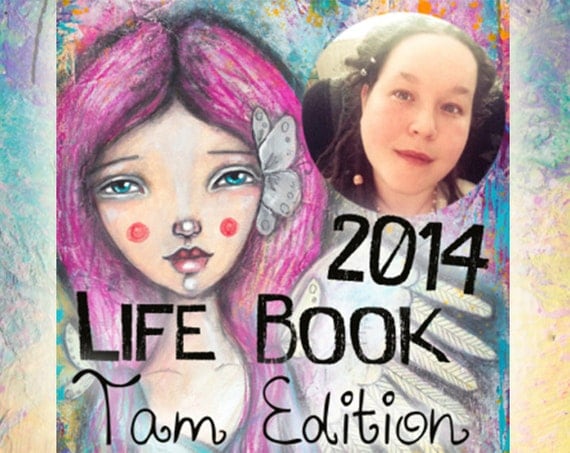 Tam's lessons from Life Book 2014
Celebration of New Beginnings (includes main project: Creating your Inner Artist Guardian and a warm-up and colour theory lesson – includes optional guided meditation)
Celebration of Our Positive Qualities (includes drawing a side facing portrait and using spray inks. Added bonus: playing with composition and negative space)
Celebrating your Positive Connections in Life (we create a portrait using Paint Over Collage technique)
Tree of Life smaller bonus lesson (alludes to the interconnection of all life on our planet, and is symbolic of the theme "Celebration of our Connections in Life")
A series of Quirky Animals (celebrate their (and your) imperfections, they -in fact- LOVE flaws because they think it makes life more interesting!)
Honouring & Ritual (draw a beautiful, strong, mysterious Stag and experiment with bringing pattern into your work as a focal (or foreground) element rather than a background element)
Healing & The Sacred (draw your Sacred Inner Eye and work with positive affirmations – using spray inks – includes an optional guided meditation)
Healing & Play (exploring intuition – includes various techniques using a variety of your art supplies)
Celebration & Growth (celebrate your achievements using imagery – collage, paint, paint markers, salt, and alcohol technique)
Expressive Florals smaller bonus lesson (a fun bonus lesson using paint to create big colourful messy expressionist flowers)
Celebration & Courage – Exploring Brave Courageous You using an Acrylics Transfer technique
Binding your Life Book
Click to Order Tam's lessons from the 2014 Life Book edition
---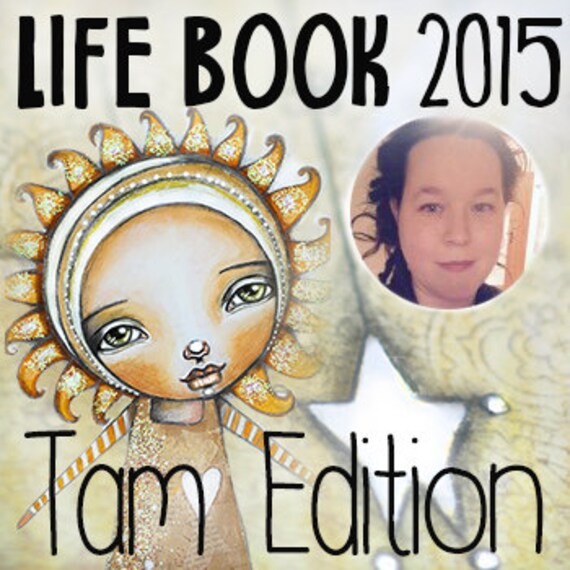 Tam's Life Book 2015 Art Lessons include:
Celebration of New Beginnings (includes main project: creating our Beacon of Light – Art Bites for Newbies & Beginners, an introduction to color theory and warm up exercise – includes optional guided meditation (Releasing Fears/ Worries + Welcoming in the New)
Letting Go Ceremony & Celebration Jar smaller bonus lesson (Setting An Intention (or word) for the Year)
Affirmation Feather smaller bonus lesson
Celebration of Closeness & Community in your Life (includes main project: Seeds of Love creating a tree that has 'sprouted' from our 'seeds of love' – includes a video on 'value contrast' and a deepener on color theory)
Celebration & Gratitude (includes main project: Layers of Your Heart creating a layered heart by combining several collage elements)
Honoring the Here and Now (includes the main project: It's the Little Things incorporating a 3/4 face, working with black and white, experimenting with 'intuitive creation' and looking at shape contrast also)
Honoring Shadow & Light (Tam's Apple smaller bonus lesson looking at light and shadow and painting an apple – includes warm-up exercise)
Honouring, Courage & The Masculine Archetype (includes main project: Magic, Vulnerability & Courage exploring our own vulnerability, our own courage and work with what we discover in a male portrait of 'the magician)
Healing & Empathy (includes main project: Layers of You exploring the concepts of 'needs', guiding you through a self-empathy exercise and creating a self-portrait through a 'paint over collage' method)
Healing & The Divine Feminine Archetype (includes main project: You Are Wise working with the feminine archetype 'The Wise Woman', exploring our deeper truths and knowns and creating a character or animal in flight that 'soars' above our limiting beliefs in wisdom and joy)
Celebration & Play (includes main project: If you could do anything… exploring how we play, IF we play, what we can do to create more PLAY and being playful, colourful, intuitive and including a playful/ magical character)
An introduction to Gelli-plating smaller bonus lesson
A Painterly Face smaller bonus lesson
How to Bind Your Life Book
Click here to purchase LB2015 from Tam
---
Life Book 2016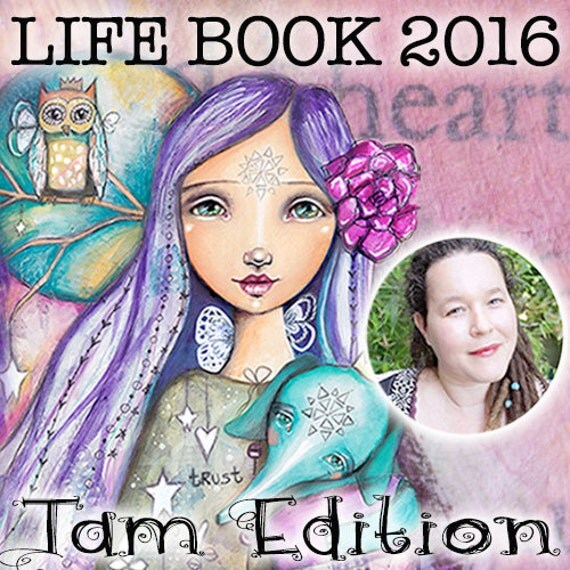 The Happy Traveller – Create a front-facing girl (your 'Happy Traveller') with 1 or more 'sacred soul animals' surrounding her. These 'sacred soul animals' will be with you on your journey. The idea is that you can invoke or refer to these animals as 'animal medicine', they are creatures that can guide you/ help you on your way.
Creativity Takes Courage – A great warm-up session to get your creative mojo started by going over some warm-up mixed media steps, both for the mind and for the hand.
Your Quirky Amazing Life – I love making Quirky Birds, they are super fun, relatively easy, get you in touch with your inner child and they bring smiles where ever they go! 😉 For this lesson, we use characteristics of people/ things we are grateful for and assign them to the quirky bird as a way to celebrate and honour them. Technique-wise we work with a very basic wet-in-wet technique and I also include a PDF on 'cultivating gratitude'.
Roots & Ground, Wings & Light – Create a mixed media front-facing portrait. We also reflect on the theme 'honouring and grounding', includes an optional meditation.
Your Story Matters, The Ripple Effect – Using the fun technique of foam marbling and reflecting on getting in touch with the interconnectedness of us all and how each and every one of us matters in this world. We symbolically represent this theme in the form of a drop of water falling into a larger body of water, making ripples.
Dancing With Shadow – Focusing on working with our inner critic and our creative blocks and using Tam's favourite 'paint over collage' art technique. Work with symbolism and transformation. 'Paint over collage' is a really interesting and different way to start a painting. It can really expand your understanding of shape & colour and lends itself well to go deeper. Includes optional meditation.
Embracing All of You – Working with the concept of 'embracing all of ourselves', including the sadder/ darker parts of ourselves. Includes a video and PDF on 'self – forgiveness'. Create a 'sitting' girl using a 'silhouetting' technique, gelli-plating and 'masking'.
Grow Free – Letting loose and become free-er by creating creative abstract flowers! It's so fun and liberating creating in this way. Includes an optional personal development exercise which works on transforming limiting beliefs into liberating beliefs.
Expressive Florals – smaller bonus lesson from Life Book 2014 (a fun bonus lesson using paint to create big colourful messy expressionist flowers).
Build Your Dream & Affirmation Board – Smaller 'bonus lesson' where we reflect on the connectedness of us all and celebrate our vulnerability and authenticity as a way into deeper connection with our fellow humans. I show you how I like creating a dream/ affirmation board in the non-traditional (just-Tam) way.
Zentangle Butterfly – smaller 'bonus lesson' where we create a zentangle butterfly on an inky background that flies towards everything you're wanting to call in more and leaves behind it a 'trail of what you want to let go of'.
Other bonus lessons include: 'art bites for beginners' which explains basic supplies and how they are used and Basic colour theory.
Pumpkin and Spice – working with the theme of Celebration & Play we experiment, explore, invent, thinking outside of the box, doing something different to what you usually do. Create a beautiful Autumn wreath and make some super cute quirky pumpkins!
How to Bind Your Life Book
Click to Order LB 2016 from Tam
Tamara Laporte also sells prints of her lovely girls and creatures on her Etsy Page here.