Adult Calendars to Color in 2023
Keep your favorite hobby close at hand with these beautiful Coloring Calendars for Adults.
The problem with Coloring Calendars for me is keeping up, so go ahead and get started on your 2023 calendars now so you are ready for the new year.
I just discovered this stunning artist's work and she has created a calendar. 2023 Illustrated Wall Calendar // 12 monthly Illustrations, Nature, Landscape, Animals, Magical Flowers by Melpomeni Chatzipanagiotou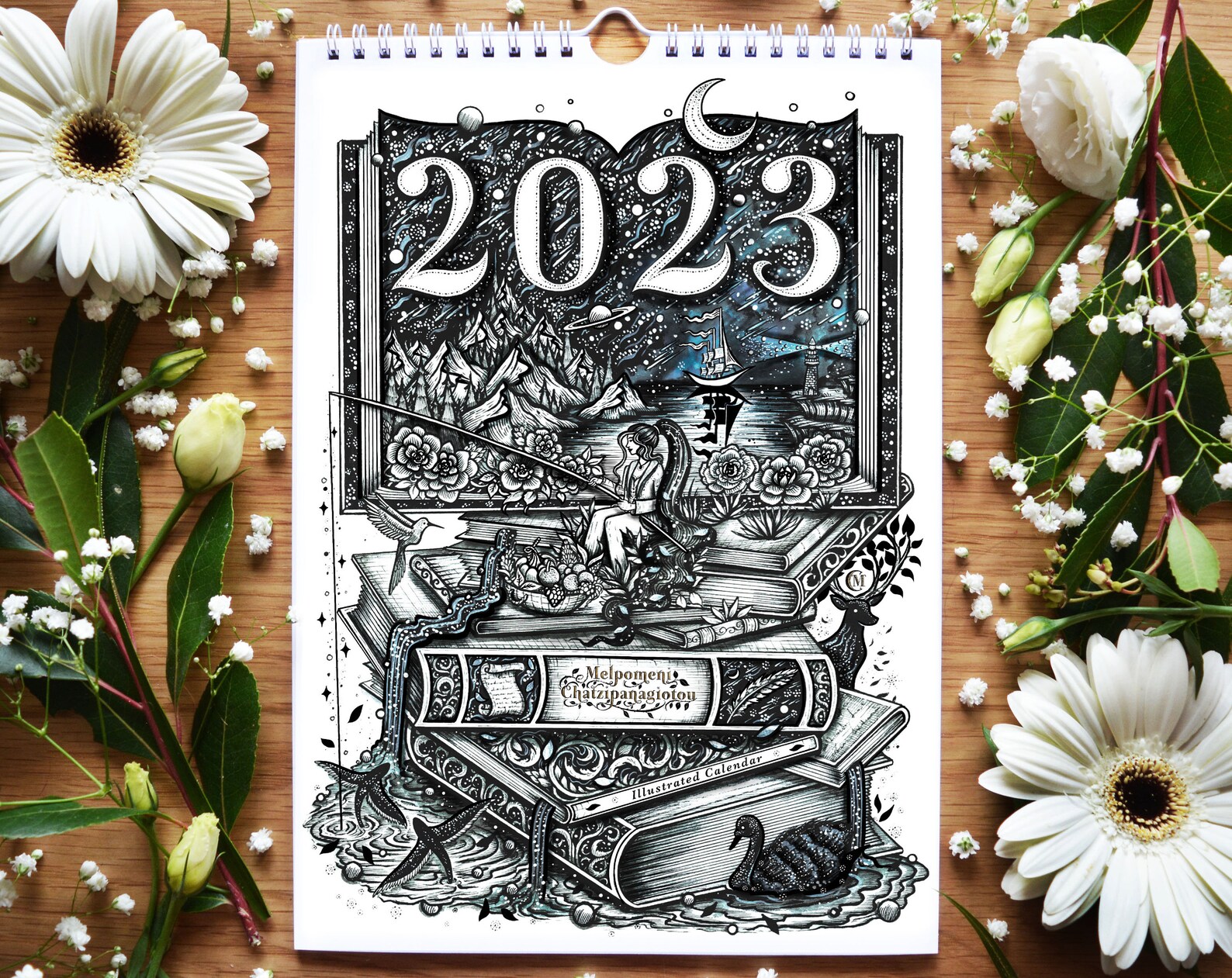 Click here to explore the rest of her Etsy Shop as well. It's all stunning.
---
Johanna Basford is always the first to start a trend and coloring calendars are no different. Here are her Coloring Calendars for 2023.
Worlds of Wonder 2023 Coloring Wall Calendar: A 2023 Coloring Calendar for the Curious
This calendar is spiral-bound with a purple-foil-accented cover.
Planning spread for September–December 2023
High-quality paper stock to provide best coloring results
Generous grids offer space to add appointments and reminders
Opens to 12 inches x 24 inches
Includes widely celebrated and nationally recognized holidays, moon phases and observances
Printed on FSC-certified paper with soy-based ink
Click to Order Amazon US, UK or Canada
I just received this datebook at our coloring group's holiday gift exchange. It is my favorite with selections of Johanna's coloring books each day, with the smaller format allowing you to finish in a short amount of time. Each image is printed on one side with the dates on the other so you can use markers on these too.
Detailed illustrations throughout from one of Johanna's eight best-selling books—How to Draw Inky Wonderlands, World of Flowers, Ivy and the Inky Butterfly, Magical Jungle, Johanna's Christmas, Lost Ocean, Enchanted Forest, and Secret Garden. It's spiral bound and the cover features rose-gold foil accents.
Click to Order Amazon US, UK or Canada
Kerby Rosanes Coloring Calendars
Everyone's favorite magical ultra-detailed illustrator is offering calendars for 2023!
Order Amazon US, UK, France, Spain or Canada
Fragile World 2023 Wall Calendar with breathtaking black-and-white drawings of animals and landscapes in danger of disappearing by Kerby Rosanes
Order Amazon US, UK, France, Spain or Canada
An Irreverent Adult Coloring Calendar
Click to Order Amazon US, UK or Canada
I know a ton of people this calendar would be perfect for! What a great stocking stuffer gift.
Large Five-Year Planner with Flower Coloring Pages
Coloring Planners
With an inspiring blend of illustrations to color, seasonal spells and rituals, and monthly and weekly calendar pages, find yourself on the empowering journey of your own magical path.
Monthly calendar spreads
Weekly planning pages with lined space for each day
Moon phase and moon sign tracking
A spell for each month and a ritual idea for each Sabbat
Lots of magical illustrations to color and extra space for notes
Handy 6×9″ size
Hardback or spiral bound.
Click to Order Amazon US, UK, Spain, France or Canada
Have I missed your favorite? Please let me know…..