Micki Wilde's "Paint Happy" class was one of the first online classes I tried and fell in love with the entire concept of online art classes. She's fun and funny to watch and listen to and makes you feel like whatever you are going to do next with your art with be OK!
One of the favorite things to come out of the US election this year was that I had to get away from all the negative fighting banter that was happening on social media so one of my tactics was to start befriending and following artists on social media. This has been such a blessing and I suggest you do the same. SO much better to have a feed filled with happy furry friends, flowers, and fairytale girls than memes about Donald and Hillary.
A fun fairytale self-study mini-class with 3 full start to finish instructional painting videos.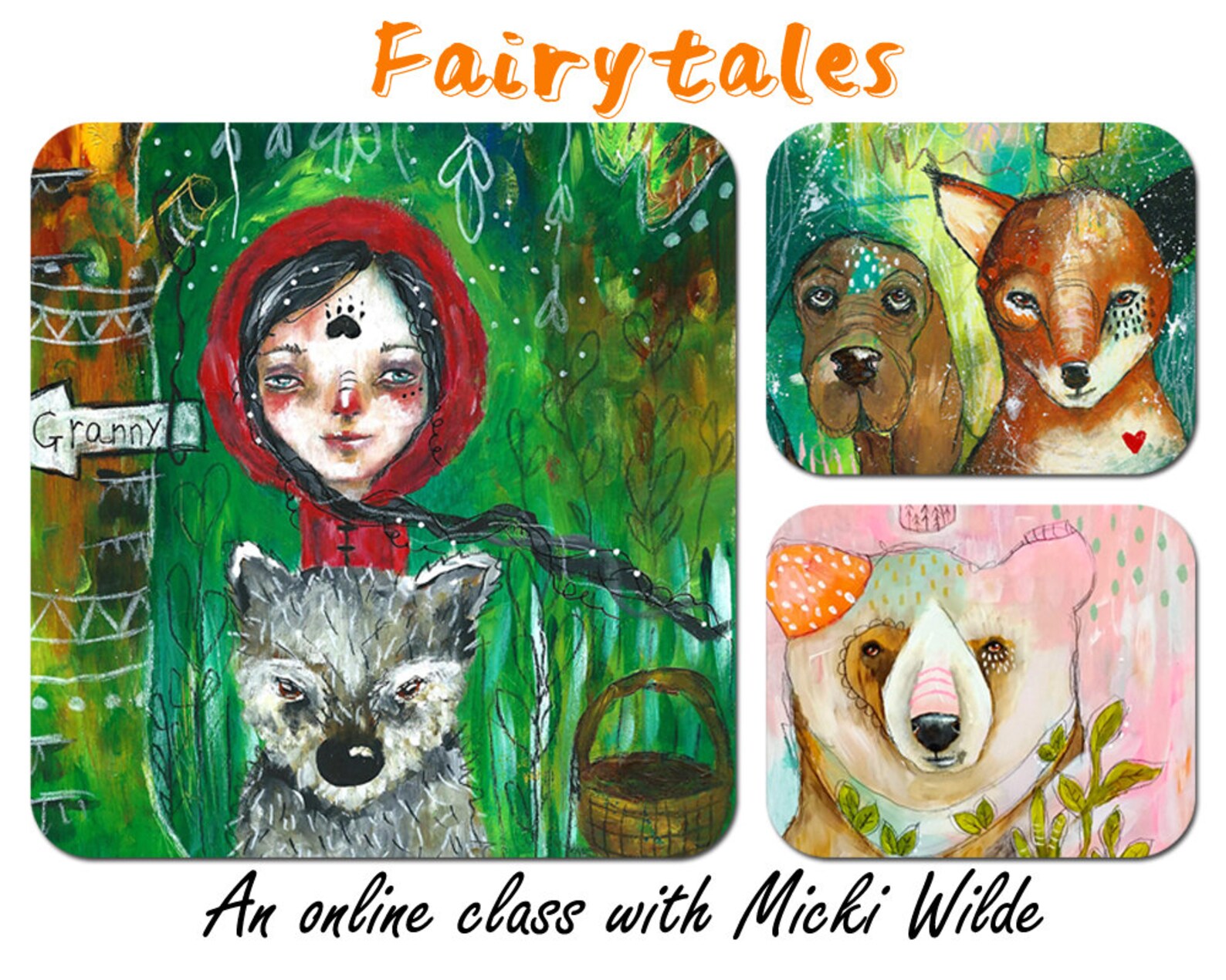 Micki started painting these wonderful whimsical animals several months ago and I fell in love with them all! Scads of her artsy friends continued to say.. PLEASE do a class!! Finally this week she has done it! I'm signing up right now. Join the Storytellers class here on Etsy.
THE STORY TELLERS ART WORKSHOP by MICKI WILDE
This class is a 'storyteller animals' themed mini class with a whimsical face tutorial plus 4 'Storyteller' wonderful whimsical animal paintings with a pastel color theme.
The animal paintings use Micki's personal symbols and markings to express her own life stories through art. She promises to share her drawing and painting techniques so that you can go forward painting in your own style, painting from your wild imaginations and using your own personal symbols to add meaning to your work.
Also included is teacher support with access to a private Facebook group. Teacher support/advice/critiques etc is always available throughout the duration of your time in the class. 
MICKI WILDE ART WORKSHOP SUPPLY LIST:
Supplies List for this class: (There are downloadable pdf's with exact items used in the class but here is the basic list)
Once you purchase the class all the lessons are available instantly so you can move through them at your own pace and interact with the other students who are as excited as you are. This is a self-paced painting workshop so you can move through the lessons in the order and the speed that you wish. You have access to the class for at least a year and you can download them to your own computer or memory stick to keep forever. (That's what I do)
Click to order in the US   or the UK 
Magical Things – A self paced online art workshop with Micki Wilde.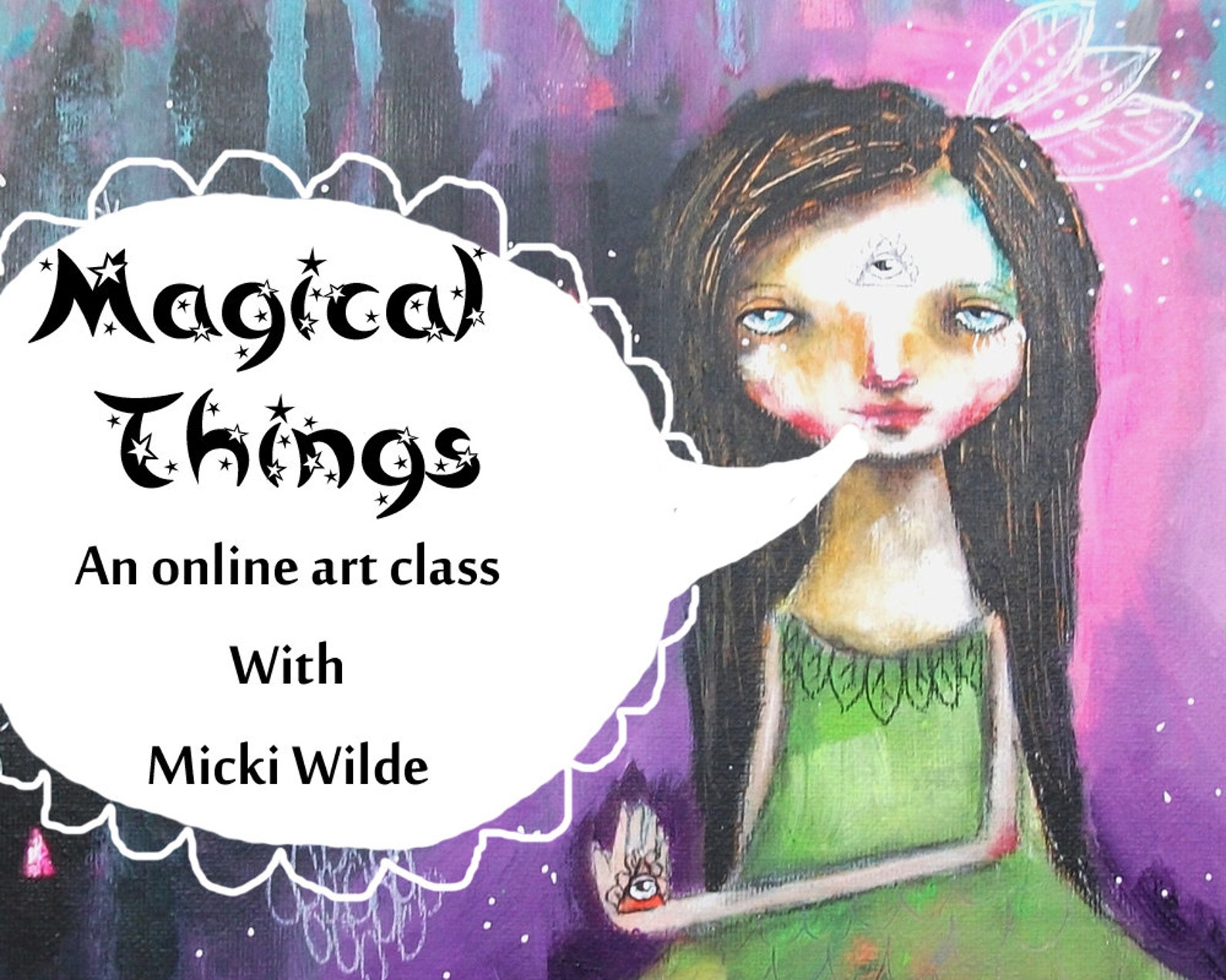 Click to join Micki's online class on Etsy here.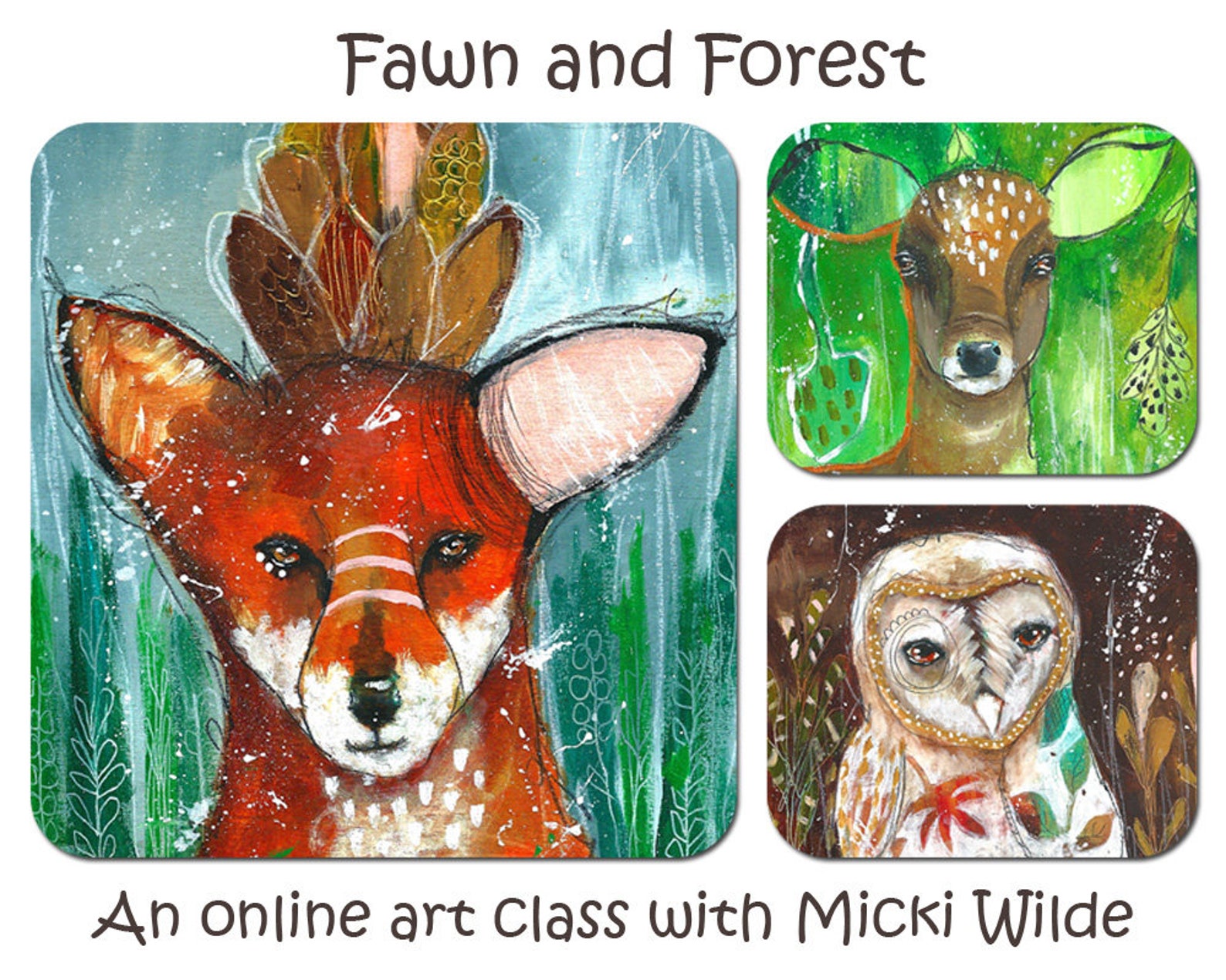 A fun 'forest animals' themed mini-class with 4 animal paintings, some sketch painting, and a 'little book of forest things. For this mini online class, Micki created some wonderfully whimsical animal paintings with an autumn color theme. She shares my drawing and painting techniques so that you can go forward painting in your own style from your wonderfully wild imaginations.
Click here to sign up and have instant access.
Micki also has wonderful posters and large postcards of her artwork for sale in her Etsy shop.