Skin comes in lots of beautiful shades and finally, there are coloring book illustrators who are creating for women of color.
We found some amazing books and instant downloads from Etsy artists, featuring people of color, take a look.
This Coloring Book features 20 little-known figures from black history plus four unique mandala designs for hours of education through creativity. Learn about Egyptian queens, engineers, and artists from around the world.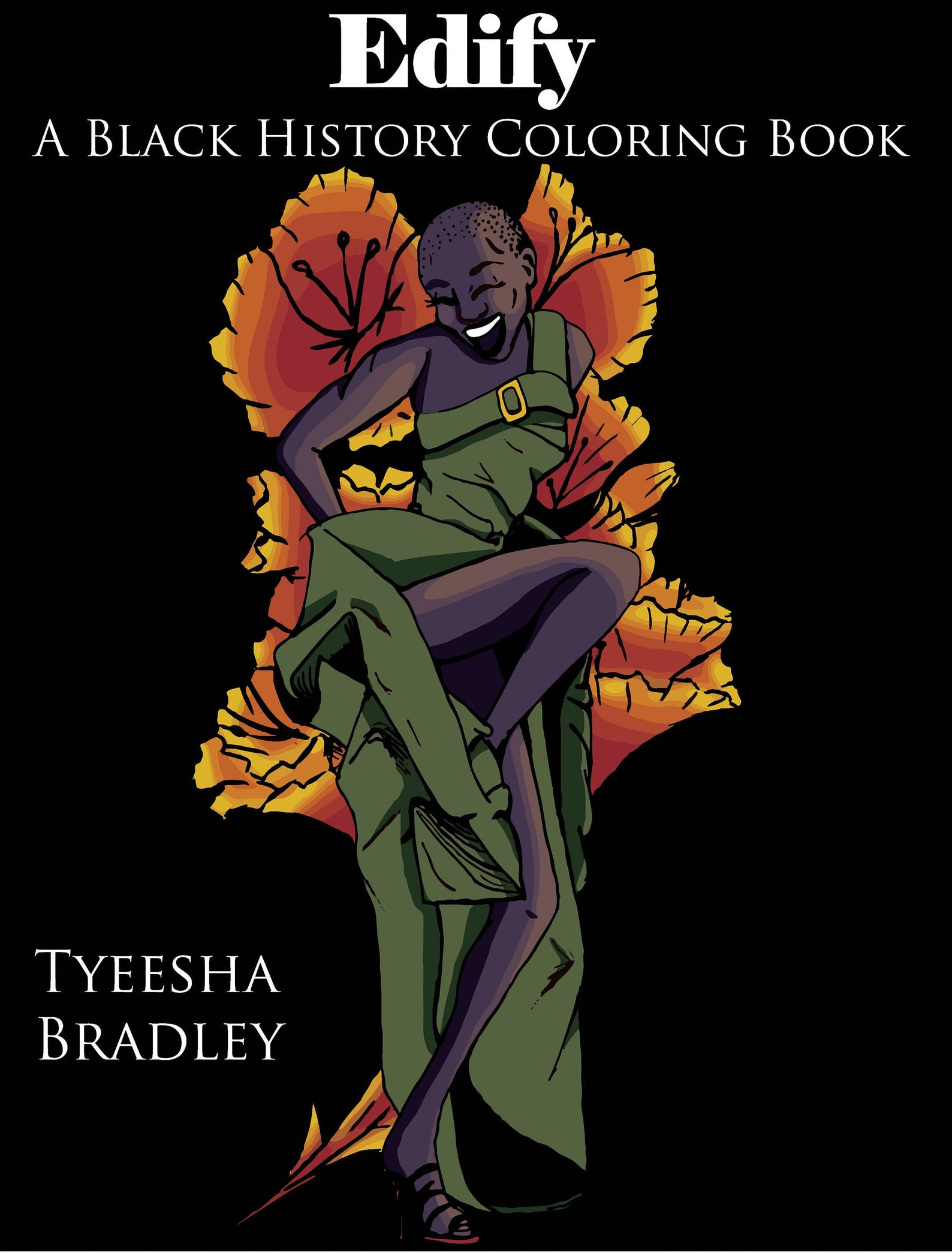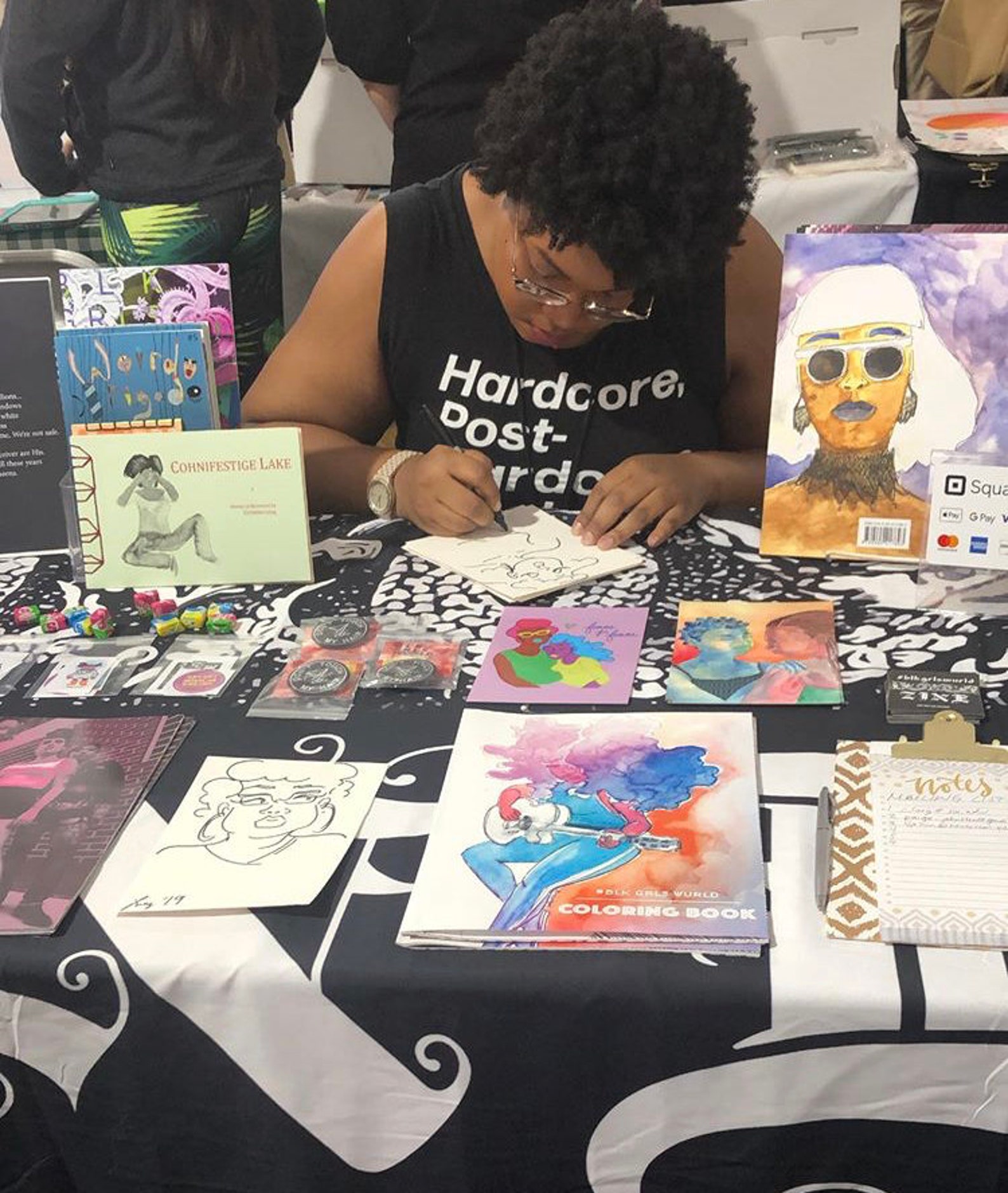 Content is family-friendly and welcome to all ages. Every order comes with a few of #BlkGrlsWurld's best stickers. Click here to Order from Etsy.
This Dark Skinned Warrior Princess is a PDF available for instant download.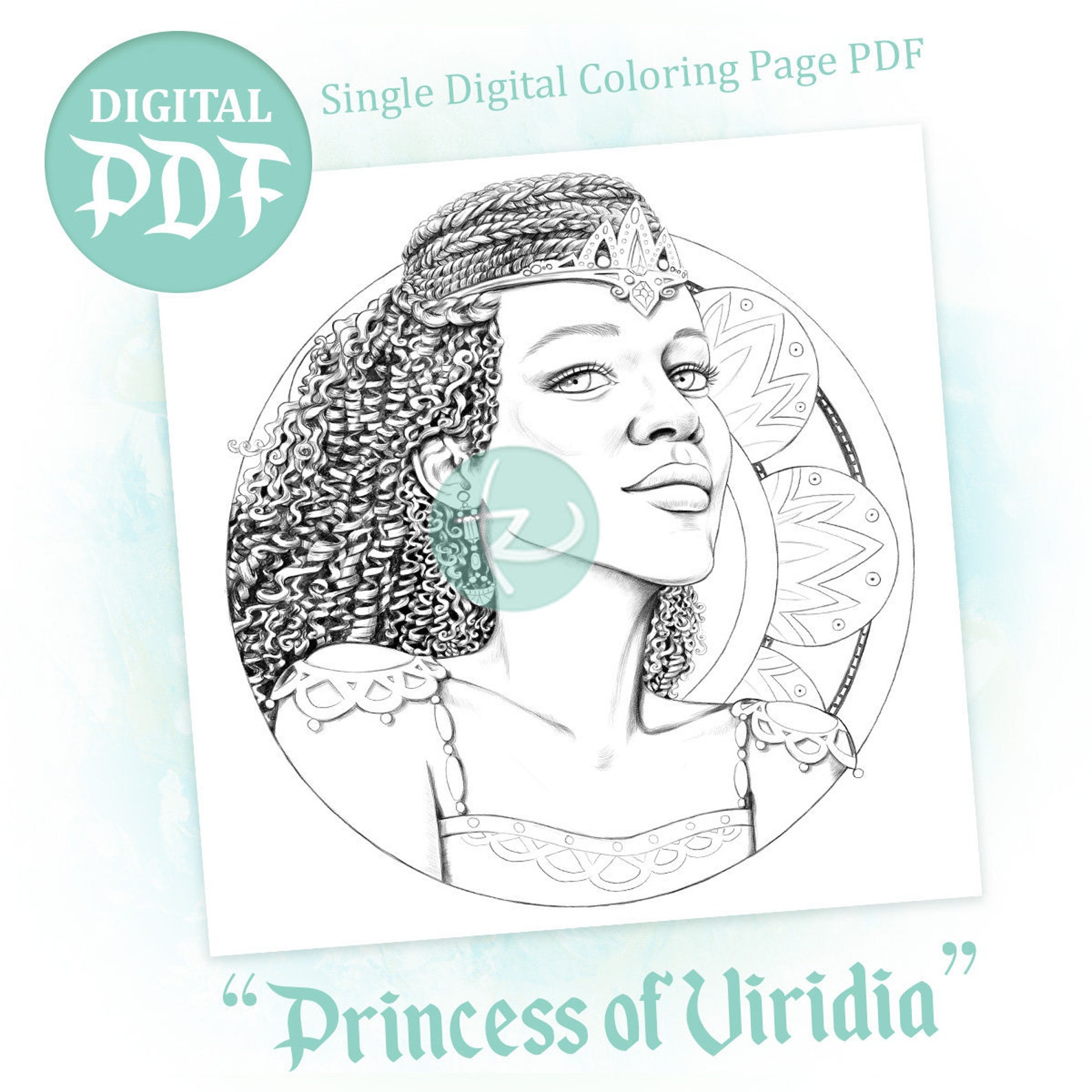 Click to Order Instant Download of Princess of Viridia
Snake Queen from Etsy Artist Derya Çakırsoy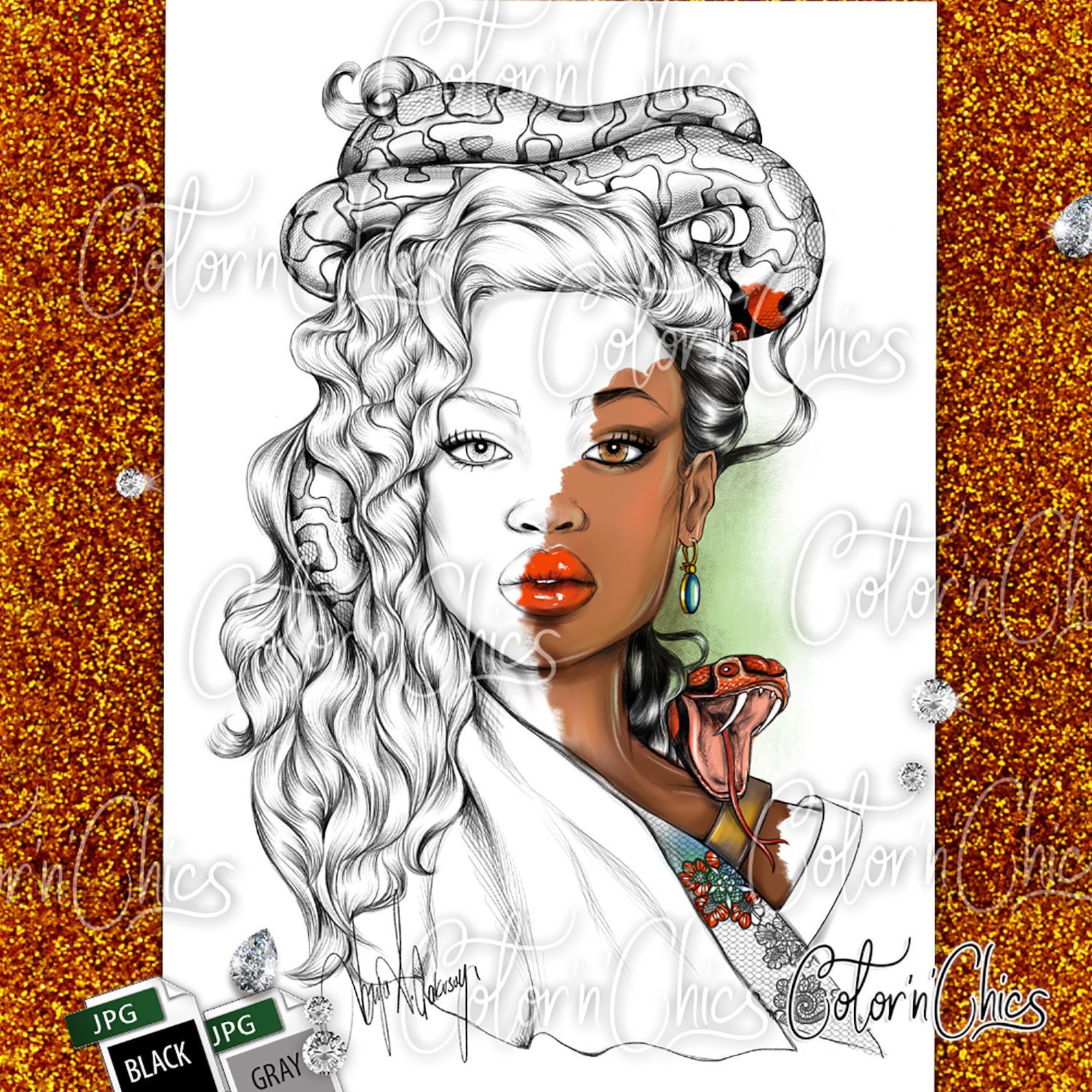 Click here to purchase and instantly download from this Etsy artist.
She's just gorgeous!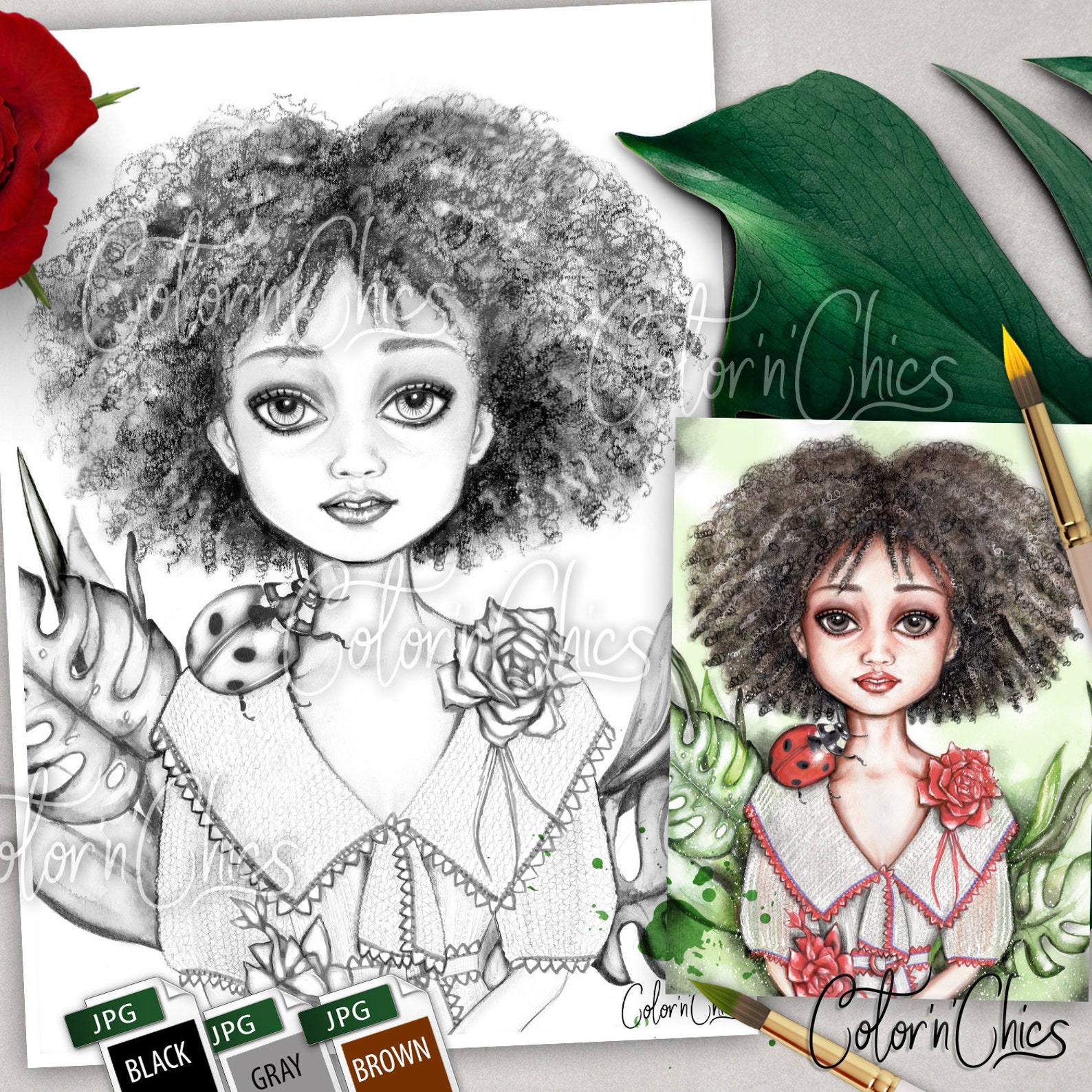 Click to purchase Instant Download of 3 options of line color from Etsy
30 BEAUTIFUL coloring pages with bold designs highlighted by the beauty of natural African American hair with an Afro-Punk twist! Styles featured are Bantu knots, twist-outs, dreads, TWA's and more!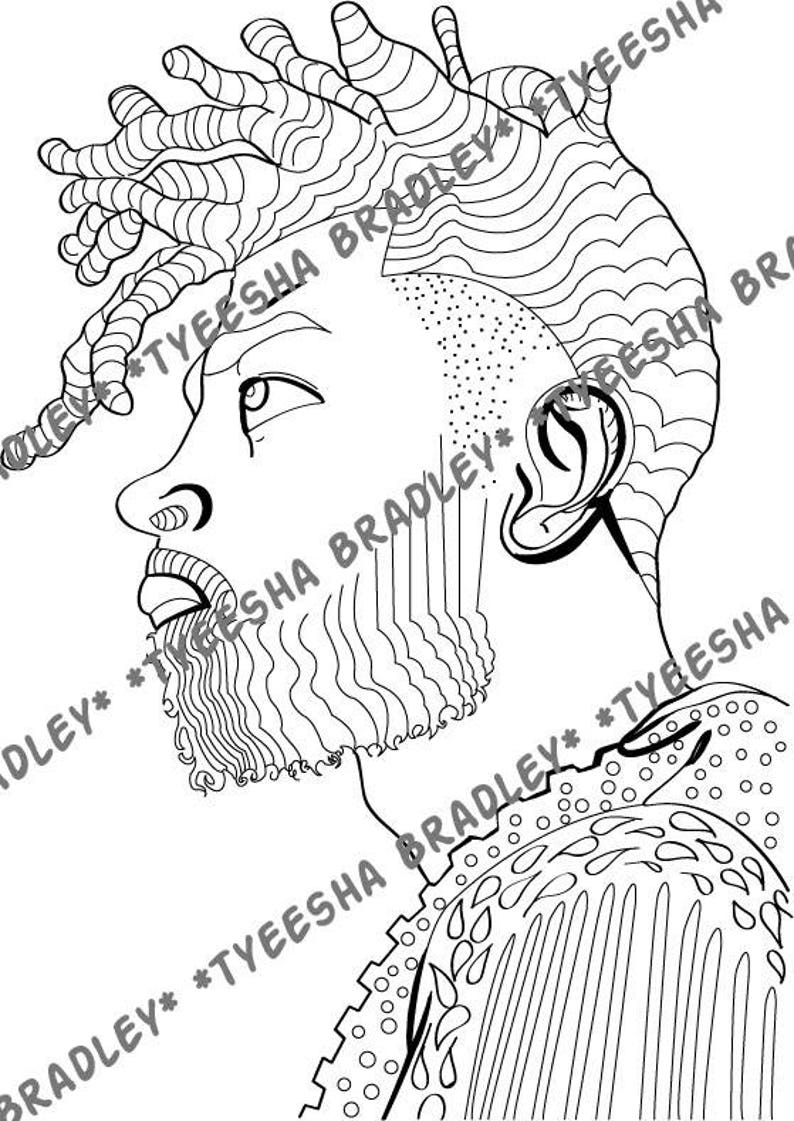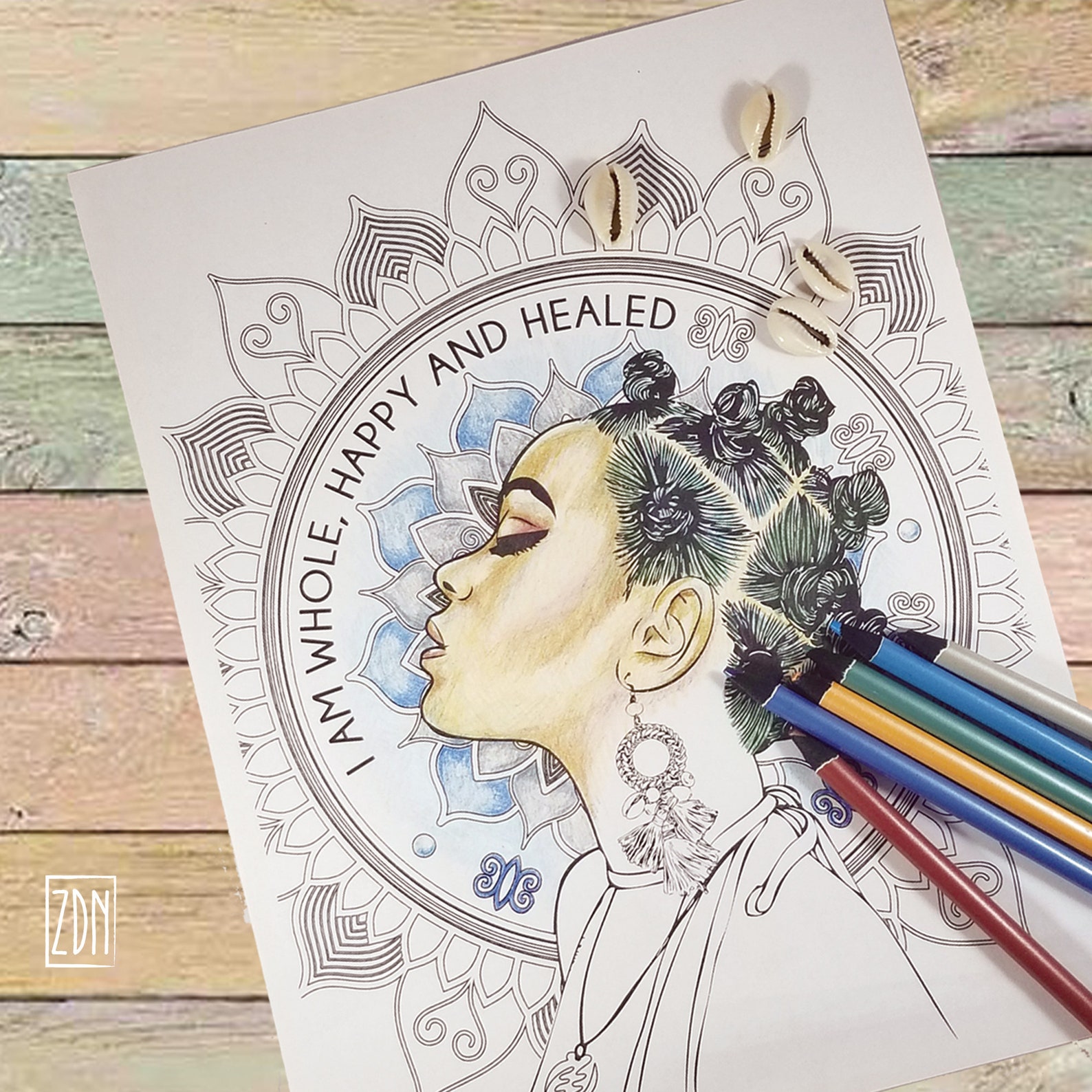 Featuring bold designs highlighted by the beauty of natural African American hair, these coloring book pages appeal to artistically urban men and women alike!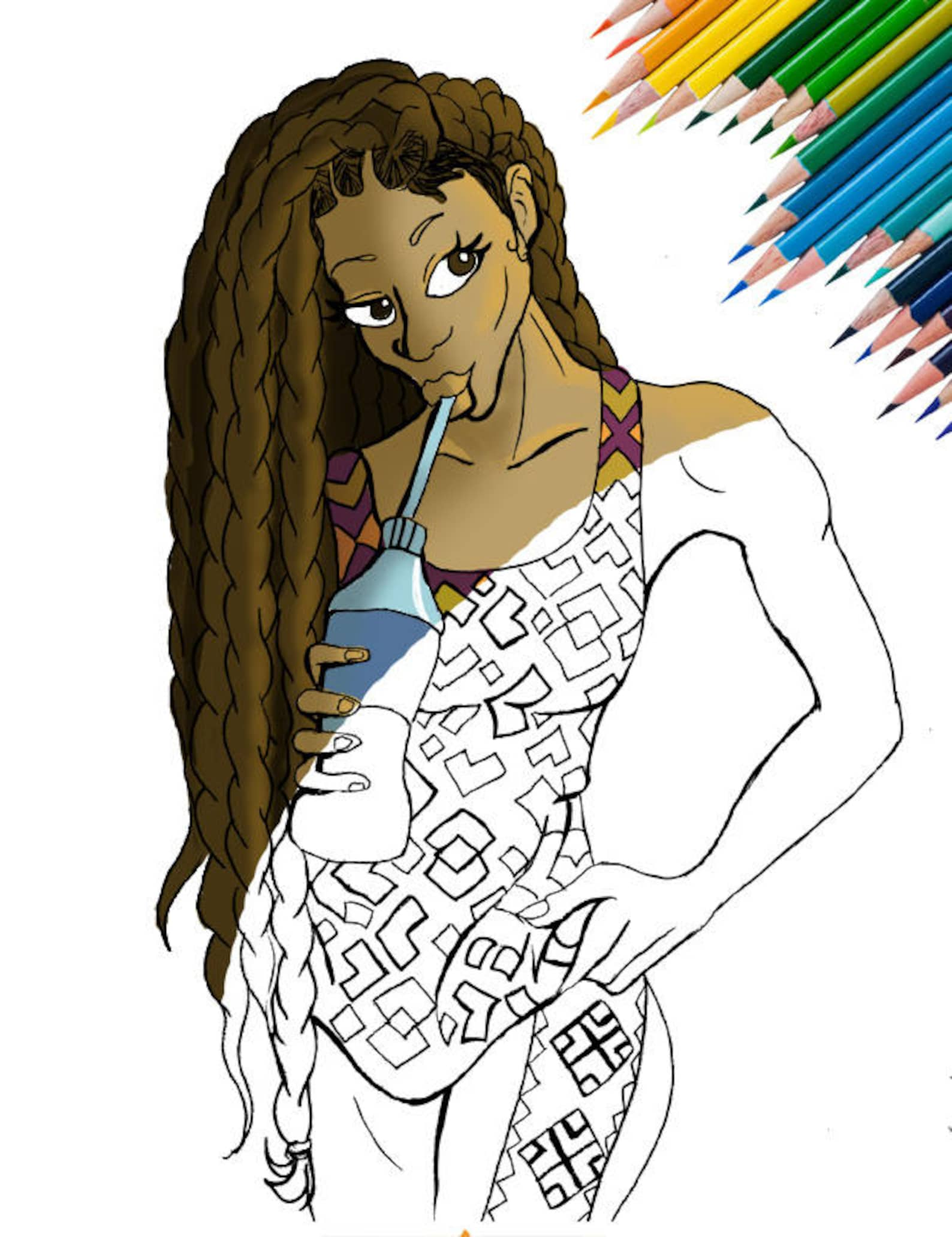 Beautiful African American Women Portraits | Coloring Book for Adults Celebrating Black and Brown Afro American Queens
Click to Order Amazon US, UK or Canada
100 Postcards Celebrating More Than 50 African American Women Who Changed the World
Click to Order Amazon US, UK or Canada
A Badass Black Girl's Coloring Book (Teen & Young Adult Maturing, Crafts, Women Biographies, For Fans of Badass Black Girl)
Click to Order Amazon US, UK or Canada
The "24 Shades of Business" by Latoya Nicole coloring book celebrates the beauty of melanin and black girl magic featuring CEO's and entrepreneurs. It's 24 pages contains crossword puzzles, activities and inspirational quotes and of course, boss women to color
Click to Order Amazon US, UK or Canada or Worldwide Book Depository
Historically Black Colleges and Universities aka HBCU. You'll find illustrations of women ranging from Sorority life and the Royal Court to STEM and science labs. Brought to you by Latoya Nicole.
Click to Order Alma Mater Amazon US, UK or Canada or Worldwide Book Depository
24 -8 1/2 x 11 illustrations have you remembering the time when hip hop and pop culture where in full effect. From jean jackets to jelly shoes and boom boxes. There's even a pink ribbon to search for and an activity to do once you find it in honor of Breast Cancer Awareness Month. This was Latoya Nicole's first coloring book.
Click to Order 80's Ladies Amazon US, UK or Canada
Latoya Nicole also has a Bosses Journal & Sermon Notes.
African Fashions Coloring Book
African Fashions features 24 women from 12 different countries in Africa: Morocco, Nigeria, Somalia, Kenya, Chad, Eritrea, Ghana, Malawi, Liberia, Senegal, Rwanda, and Gabon.
This 50-page coloring book includes natural hairstyles including Afros, braids, locks, short fades, curly twist, and more. The illustrations do have some thick black lines and are on the simpler side but there's lots of detail to the different hairdo's depicted. *Top Seller 2018*
Click to Order Naturally Cute Coloring Book
Naturally Cute Too has 50 pages that celebrate the beauty of natural hair and the power of sisterhood amongst black women.
Click to Order Amazon US, UK or Canada
A Natural Hair Coloring Book for Big Hair Lovers of All Ages
Click to Order Amazon US, UK or Canada
This is the first coloring book from Alisa Calder. It contains African women, animals and other scenes printed on one side of the paper.
There are 31 pictures in the African Glamour that include beautiful head wraps and gowns decorated with patterns in traditional African designs. The background includes animals, plants, and ornaments. The pages are perforated and printed on one side only for easy removal like all Creative Haven Coloring Books.
Color Me Beautiful, Women of the World
This book does include a few women of color and the artwork looks quite nice.
Coloring Supplies for BIPOC Skintones
My go-to colored pencils for neutral tones are my Prismacolors. If you have the full set already then you have all the skin tones needed for all races and colors of skin.
I just ran across this set of colored pencils specifically for dark skin tones so I wanted to add those to the post. I personally haven't used them yet but the reviews are good.
Flesh toned multi cultural markers
The 10 pack includes Sepia, Apricot, Mahogany, Tawny, Terra Cotta, Bronze, Golden Beige, Sienna, Tan, and Beige.
Click to Order US, UK or Canada

LYRA Color-Giants Unlacquered Colored Pencils, 6.25mm Cores, Set of 12, Skin Tone Color
Derwent Academy Watercolor Pencils, Skintones, Metal Tin, 12 Colors
Crayola 8 Count Washable Multicultural Colors Conical Tip Markers
Click to Order Amazon US, UK or Canada
Unfortunately, I couldn't find any other coloring books to represent women of other ethnicities to recommend to my readers. Please, if you have a favorite, please contact me here. I'd love to be inclusive.