Flower and Garden Coloring Books
Drawing and Coloring in pictures of flowers have been happening for centuries so of course flower and garden coloring books are the most popular one. We have shared our favorites below.
Here's another Swedish artist book that I've been eyeing for a while it's called Sagolikt or Fairy Tales in English. It looks glorious like my other two favorite illustrators from Sweden, Hanna Karlzon & Maria Trolle.
Click to order Amazon US Amazon UK Amazon CA
World of Flowers: A Coloring Book and Floral Adventure by Johanna Basford
Johanna's latest coloring book, "World of Flowers" is sure to delight her fans! If you look through the reviews on Amazon you'll see quite a few interior photos of some of the unique and interesting flower-filled designs Ms. Basford has created. I was a bit worried that this book would be too much of a copy of "Secret Garden" but if you know Johanna's background you know that she possesses her gardening grandfather's botanical books so she has so many other flowers to use for inspiration. Some US colorists have complained that the binding in this book is not as good as in past editions but most likely the publisher has fixed those problems.
Click here to order on Amazon US, UK Canada
I received this GORGEOUS coloring book from the artist and was blown away. The paper quality is fantastic and the spiral bound is so nice for having the pages lay down nice and flat. Each flower has it's own unique haiku to enchant the colorist. You can purchase this book on Etsy, and Amazon and there's even a print-at-home option on Etsy from Ellie Marks. Flower Haiku has centered around 26 framed short haiku poems for each letter of the English alphabet. Each poem is inspired by a flower with that letter. It's just lovely.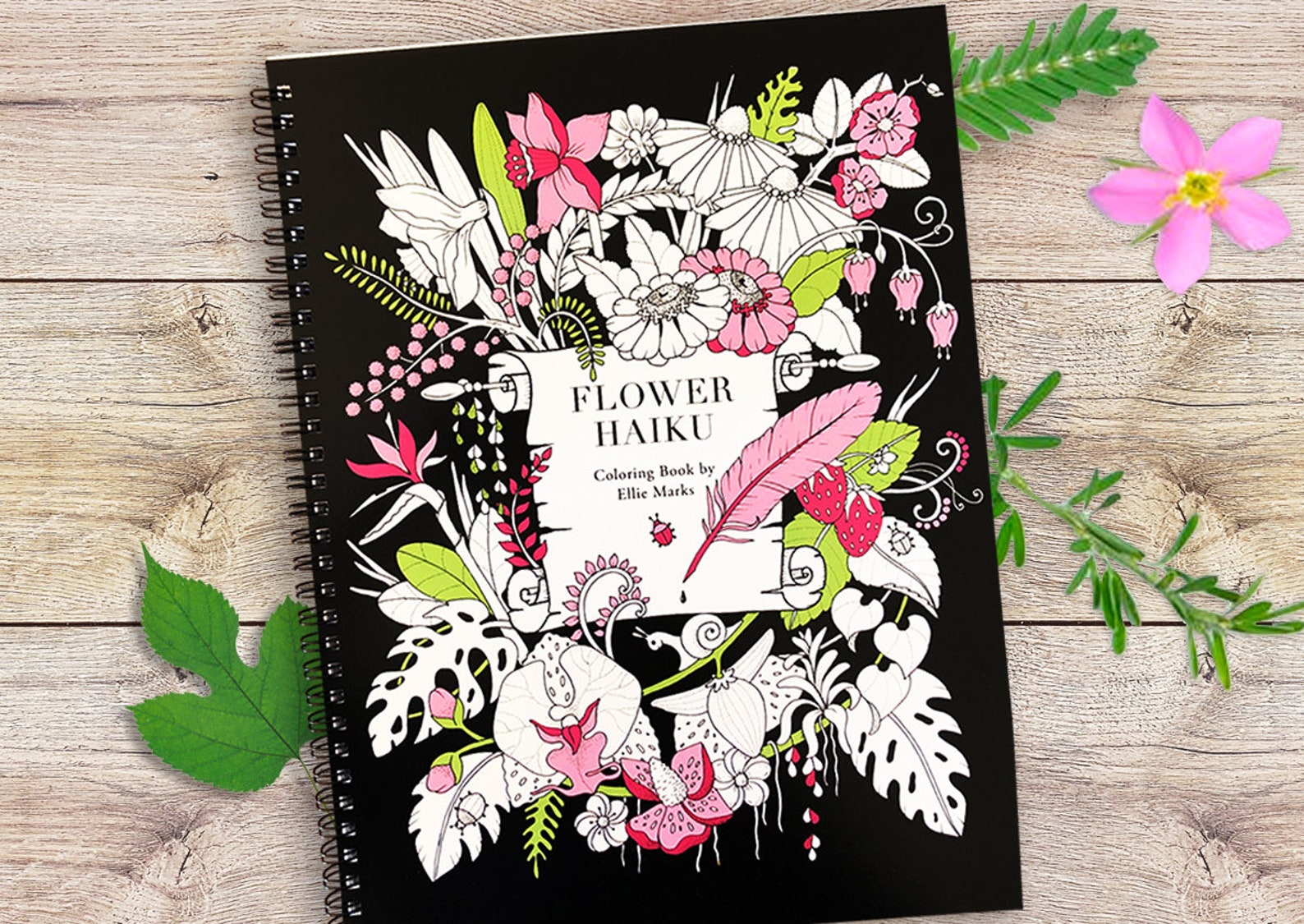 Click to Order the book on Etsy here or to download & print here.
Click to Order Amazon US, UK, Canada, France, Italy,
I really can't say enough wonderful things about this gorgeous book from illustrator Eleri Fowler. I get many books to look at from artists and publishers but was blown away by the quality of this beauty. It is indeed a joy to color in. The pages are of excellent quality with pages that actually fold down completely flat to color those two-page spreads. The images are beautiful, original, and very well put together and combine not only beautiful flowers but also inspirational sayings. I started with the title page and played with white Uniball gel pens for the first time for the dots and extra details on the flowers in my coloring here on Instagram.
Joyous Blooms to Color Click to Order – US UK Canada
Her second book looks just as gorgeous! Celebrate mom with color! Illustrator Eleri Fowler's intricate, gorgeous illustrations that depict the joy and tenderness of a mother's love are beautifully represented in this delicately rendered coloring book. From flowers to birds to hearts and more, these pages and pages of delicate pen-and-ink drawings are waiting to be brought to life through your artistry.
Click to order Amazon US UK Canada
CLICK TO ORDER AMAZON US UK Canada
I received these two books from Nosy Crow Publishers illustrated by Rebecca Jones and was completely THRILLED! Finally, something I can really share with my friends and family from my new addiction. Each page is perforated and is nice quality card stock. The front pages of the book are printed two cards to a page front and back so you can color all sides of your note card, the back pages are for the envelope you color and fold. One side is the inside with pretty little intricate images you can color (or leave for your friend to do) you color and then fold those pages into envelopes using the instructions on the front cover and then in the very bac,k there is a package of stickers to seal the envelope. Address… Mail and thrill the recipients with the time you took to hand color their card. I've finished two so far and received rave reviews to actually get something in the snail mail (other than coloring books from Amazon) that was worth opening. Here is my quickie video to further explain what it looks like in the end.
Possibly my favorite coloring book of all time. Hanna Karlzon's Dagdrommar aka DayDreams

Newcomers and old adherents to the coloring phenomenon will fall in love with Daydreams (Dagdrömmar) Coloring Book with 85 intricate illustrations: delicate flowers, buzzing bees, storybook homes, regal portraits, and more.
This 96-page hardbound edition lends a luxurious feel, encouraging artists to display their volume on a coffee table or bookshelf.
Click to Order on Amazon: US UK Canada
This new volume of the bestselling Hanna Karlzon's artwork has 85 illustrations of starry nights, fanciful gardens, underwater creatures, fantastic portraits, and more. Linger over long Scandinavian evenings, and watch the stars appear in the latest whimsical world of Hanna Karlzon's creating, Summer Nights. This 96-page hardbound edition lends a luxurious feel, encouraging artists to display on the coffee table or bookshelf.
Click to Order Now on Amazon: US UK Canada
I found this gorgeous botanical coloring book while I was on vacation in NYC and I was so happy that I had plenty of room in my suitcase for it as I didn't want to wait one more second. It's beautiful beyond measure and then let us talk about the PAPER!! Thick, thick with easy to remove pages perfect for those of you that like to take pictures out to color and then display or frame. These would make fantastic works of art for your home or for a gift. "Floribunda" contains 20 pages of illustrations and an introductory page as well as front and back colored images which are great examples if you are new to shading flowers. It measures 10 by 13 inches and is glue bound into a colorable matte finish cover. It features black and white botanical illustrations. It's not just me that has gone goofy for this book. Look at some excerpts from Amazon "This is the most beautiful and perfect coloring book for adults I have come across….I own many coloring books, but I only want to color in this one.~ Tom "This may be the most gorgeous adult coloring books that I have found. Even though I have a ton of adult coloring books, I am very, very picky about what I buy. Ms. Duly's book is a true work of art. ~ Kantar" All you marker people out there. THIS is the book for you. Copics, Spectrum Noir, Tombows, Sharpies.. whatever you coloring passion.
Click to Order Now Floribunda US ~ UK ~ Canada
(Note… check the Facebook Group and Instagram for a flip-through review as well.
I probably have more pictures colored in this book than any other. There's just something really magical about Maria Trolle's drawings and they are easy to figure out. The paper is SPECTACULAR! If you are familiar with Hanna Karlzon's books, this paper is the same Swedish type including the bookbinding. I purchased the Swedish edition from the Pen store, but the same publisher that recreated Hanah's books is also working with Maria Trolle so I'm sure they are going to be just fabulous. I promise you will want this one for your collection.
Click to Order Blomster Amazon US Amazon UK Amazon CA
Click to Order Amazon US Amazon UK Amazon CA
Click to Order Amazon US Amazon UK Amazon CA
If you follow Hanna ok Instagram you've probably already seen pictures from this gorgeous new book. Just pre-order it now so you'll get the lowest cost between now and the day it launches March 14, 2017

Click to order Amazon US Amazon UK Amazon CA
As if that weren't enough, I honestly can't wait to see the artist editions of her work! It consists of 20 images printed 8.2 x 11.6 inches on artist paper.
There is also a set of Magical Dawn postcards to go along with Hanna's newest designs
Click to order Amazon US Amazon UK Amazon CA
---
And if you don't have Johanna Basford's "Secret Garden" coloring book yet.. well then you need to add it to your collection ASAP. Flower gardens remind me of Spring and Johanna has some of the most beautiful flowers that you have ever seen.

This was one of the first coloring books I purchased and it's very nice to color in as well as look for the hidden treasures in the garden. When you open up the pages of this book, you'll find that you've been transported to a place where fairies frolic and gnomes are known to dwell. With images that offer a delightful balance between realism and whimsy, you'll discover scenes that feature a beautiful bird who has stopped by for a cup of tea as well as a cozy English cottage nestled among some greenery. As you color your way through this collection of images, be sure to search for the selection of items that have been tucked away for you to discover.
Click to Order Amazon US UK Canada
De-Ann Black has a large selection of Gardening Coloring Books including Fairie Garden Spring, Summer Garden, Flower Bee, Spring Garden, Autumn Garden, Wild Garden and Flower Hunter. I've not gotten the chance to color in any of hers YET but they look just beautiful and have great reviews. Her books are all printed on one side.
I recently colored pictures from this book at our local coloring event at the library and loved it! It's so nice to already have a background done. It makes you feel like you are half finished when you start and the colors really pop!
Click To order Amazon US UK Canada
Coloring for all Seasons – Spring
We received this coloring book for review from the Green Leaf Book group and were thrilled with the variety of flowering images to color. From whimsical to botanic drawings this flower-filled coloring book includes work from dozens of artists. The paper is medium weight and printed on one side only.
CLICK TO ORDER AMAZON US UK Canada
For those who prefer less intricate flower coloring, this book looks perfect for you! This collection of beautiful flower designs will captivate and excite both beginner and intermediate adult colorists. The designs are rather easy to color while still being intricate enough to challenge your creativity and be enjoyable. The images are printed on the fronts of pages only, so you don't need to worry about bleed-through if you choose to use markers.
CLICK TO ORDER AMAZON US UK Canada
Chalk-Style Botanicals Deluxe Coloring Book
All the beauty of coloring with chalk but without the mess! These 32 gorgeous hand-drawn floral designs feature all of the charming imperfections of original chalkboard art. Relax and fill them with color to create your own rustic-chic masterpiece. Each whimsical white line illustration is presented on a textured black background, just like a real chalkboard. You'll be delighted by the way warm colors, bright colors, neons, and lighter pastel shades really pop from these designs. Use light-colored pencils and gel pens to personalize your work with lettering, flourishes, and patterning. Talented chalkboard artist Valerie McKeehan provides useful coloring tips and tricks, along with beautifully colored examples to help get you inspired. Each design is printed on one side only of high-quality, extra-thick paper, perforated for easy removal and display. Valerie also has a shop on Etsy here to buy her gorgeous prints and designs.

Click to Order Chalk Style Botanicals on Amazon US UK Canada
Have a favorite we've missed? Let us know in the comments below, on Facebook or Instagram. Happy Coloring ~ Chrissy