The snow is falling and the Christmas lights are starting to go up so, of course, we need to have some Christmas Coloring Books to keep us calm before during and after Black Friday madness.
Now that Coloring Books for Adults are an institution, there are a whole lot of Christmas coloring books available including Christmas Coloring Cards this year. We have searched for the most beautiful choices for you. Please let me know in the comments or on social media if I've overlooked your favorite.
My Picks for Christmas Coloring Books for Adults 2023
My top choice this year is the Queen of Colorings' Christmas offering….
Something rather special for the festive season! Johanna's Christmas is available NOW!
This book features 40 collectible, perforated pull-out prints, ideal for framing or giving as gifts. The perfect Christmas present for coloring fans. The illustrations are printed on one side of the ivory paper only, to allow you to remove your work of art without sacrificing the image on the reverse.
Delicate tangles of holly and ivy, bauble-laden Christmas trees and mountains of exquisitely wrapped gifts are all waiting to be brought to life in this new collection of pull-out prints. From flurries of delicate snowflakes to deliciously decorated gingerbread houses and reindeer-led sleighs, Johanna's Christmas is a celebration of this wonderful holiday season that invites you to pick up your pens and pencils to color, complete or embellish each of the festive artworks.
Hidden in this book are a flock of elusive little robins – can you spot them all?
US, UK & Canada Amazon Order Link
Masja van den Berg is an artist in the Netherlands selling her books on Etsy. Her images are magical and her books are all beautiful hand-drawn
and printed on single-sided on thick environment-friendly paper. If you purchase $35 worth of products from her your shipping to the US is free. If you sign up for her mailing list you will get the download of this cover image for free to color. I've seen dozens of her images colored on Instagram and have fallen in love. This is a brand new book for 2019.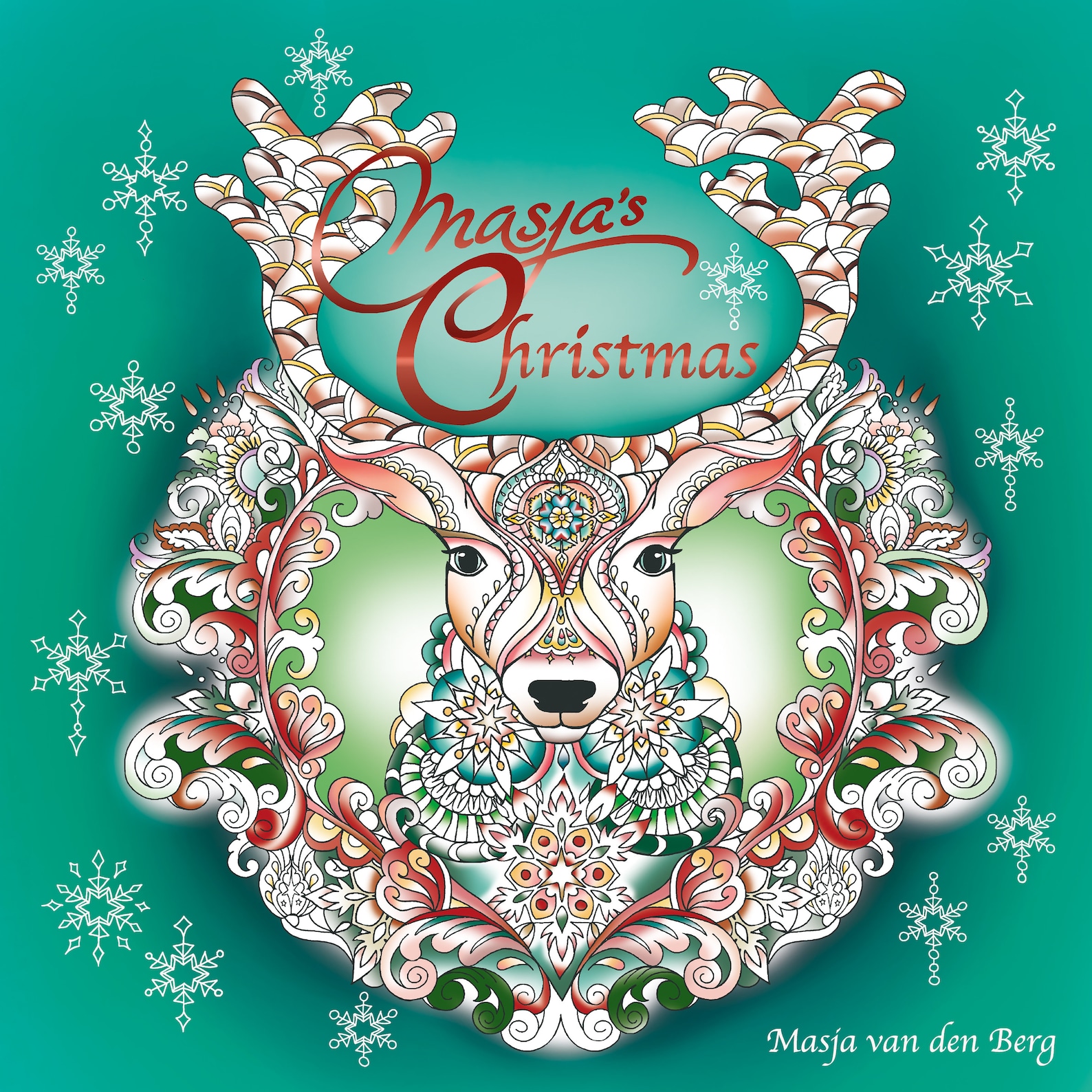 ---
If you haven't yet discovered the Good Wives & Warriors design team you are in for a treat. I am absolutely in love with the 5 books (plus one on pre-order) that I've received and colored in. They are all two-sided coloring books with nice paper for lots of blending, layering, and shading for colored pencil fans and they are smaller square books that allow you to finish up a project in a day or two of TV watching coloring.  
Escape to Christmas Past is an homage to Charles Dickens's "A Christmas Carol." Evocative Christmas scenes and characters from Charles Dickens's famous story of Ebenezer Scrooge and Marley's ghost threaded with imaginative, delicate patterns all clearly outlined in pen and ink, make ideal compositions to color. Pivotal extracts from the story are scattered throughout for inspiration, and there are spaces left within some of the compositions for individual design and embellishment. I promise you will adore this book.
Escape to Christmas Past Amazon US UK Canada
---
It has the perfect mix of traditional and whimsical, all hand-drawn with beautiful thick white paper.
Order Christmas to Color on Amazon US, UK or Canada
---
Sherri Baldy's My Besties "Winter Snowman" Coloring Book is the first time she has created holiday illustrations. Her fun big-eyed snow people besties are great coloring for all ages, adults, and children too. You get 50 coloring pages 2 of each image is printed single-sided so you can frame or give away your colorful Bestie creations. This is a simpler book than you are used to with just the cute girl on the page, so if you like them more complex, this isn't the book for you, but like you see in the picture above it does give you lots of space to play with background effects, chalk, and stencils.
Order Christmas to Color on Amazon US, UK or Canada
---
#6 All Is Bright: A Devotional Journey to Color Your Way to Christmas
I just received this gorgeous coloring book from the publisher Tyndale House and completely fell in love with it. It's an Advent coloring count-down, prayer journal, bible study, family activity book all rolled into one. The illustrations by Lizzie Preston are just beautiful depicting different scenes about the season and accompanying commentaries by Nancy Guthrie leading you from December 1 – December 31. The back pages even contain kid-friendly coloring pages along the same theme as the book. Now let's talk about the paper, it's glorious! The nice thick paper we all love to color on, the size is the standard large square 9.7 x 9.6. Check the YouTube channel for my flip through too.
Order All is Bright on Amazon US, UK Europe or Canada
---
English translation is My Winter Walk, making this coloring book not specifically Christmas but it has lots of Christmas as well as throughout the winter weather scenes to color. Rita Berman's illustration style is quite iconic and I'll be you'll become a fan and want all of her seasonal books. This book has 80 pages with a page size smaller than the standard Johanna Basford measuring 8″ x 8″.
Click to Order Amazon US, Europe, UK or Canada
---
The book is filled with 24 one-sided unique and fantasy-detailed riding animals of art by artist Olya Goloveshkina. You can see a colored version of this pretty bird in our Facebook group here.
Click to order Amazon US, UK or Canada
---
Come celebrate the holidays with Debbie Macomber with illustrations including quotes from her holiday novels and tidings from the queen of Christmas herself. This book includes not only coloring pages but also charming postcards, gift tags, recipes, and more.
Click to Order Amazon US, UK & Canada
---
Tatiana's second book is filled with her unbelievably adorable mice in the setting of her iconic "Nice Little Town" all dressed up for Christmas.
Click to Order Amazon US, UK or Canada or Digital Download on Etsy
Home for the Holidays: Travel Edition
Click to Order Amazon US, UK or Canada
---
This book is just GORGEOUS! 80 pages with a sewn binding, thick white paper printed on both sides.
Click to order A Christmas Carol Amazon US Amazon UK Amazon Canada
---
This is a smaller format than most of the books on this list but just fabulous! Cats in all sorts of holiday and winter scenes, whimsical and fun. It's printed on both sides with medium-thick paper, some with black backgrounds. I particularly liked the cat's ice-fishing page.
---
The only gray-scale coloring book I've found with Christmas images and this one is just GORGEOUS! Highly detailed page-by-page retelling of the famous poem of the holiday season. If you have never colored in a gray-scale book they really are quite magical and you can find some suggestions and tutorials here.  This is a Dover book so the paper won't be spectacular but you can always copy the images to cardstock for gifts or to frame.
The Night Before Christmas is available on Amazon US – UK – Canada
---
By the illustrator of the popular "Cats & Quilts" coloring book, "Santa's Cats" is a Christmas coloring book that contains twenty-four timeless, unique illustrations of cats and kittens getting into trouble, helping Santa and his elves as they prepare for the big day, and cuddling up with Jolly Old St Nick after an exhausting day in the workshop at the North Pole.
Each picture is printed on one side of 60 lb pure white paper to minimize scoring and bleed-through and appears in two sizes: large and half-size (4″x6″), both suitable for framing when completed.
Santa's Cats is available on Amazon US UK Canada
George's book is filled with traditional Christmas holiday scenes and is secular in nature with things like Santa, Christmas Trees, Stockings by the Fire and Winter Nature scenes. Images are printed on one side of the page and are perforated. These 46 images are designed for experienced colorists.
CLICK TO ORDER AMAZON US, UK OR CANADA
18. Christmas Magic Coloring Book by Deborah Muller
Deborah's book has Fairies, Mermaids, Unicorns, Snowmen and Magic all wrapped up in holiday fun.
Click to Order Amazon US, UK or Canada Deborah also has another Christmas book called Fairy Merry Christmas that you might want to see.
The Magical Christmas – A Colouring Book for Adults Illustrator Lizzie Mary Cullen This book is very popular however I had a really hard time coloring in it as the illustrations are SO busy and detailed and force you to color pretty much every inch of the paper. Many of the pages have sections where you aren't sure what it is you are coloring or where it stops and starts. I would recommend this only for very experienced colorists who don't frustrate easily.
Order Magical Christmas on Amazon US ~ Amazon UK ~ Amazon Canada
Click to Order Amazon US, UK or Canada or on Etsy here
Click to Order Amazon US, UK or Canada
A Festive Christmas Coloring Wonderland of Snowmen, Ice Skates, and Quirky Critters on High-Quality Perforated Pages that Resist Bleed Through from various artists at Design Originals
Click to Order Amazon US, UK or Canada
Click to Order Amazon US, UK or Canada
Christmas Joy is a coloring book filled with 24 pages of wonderful, cute images in the theme of Christmas hand-drawn by Swedish artist Sabine van Ee.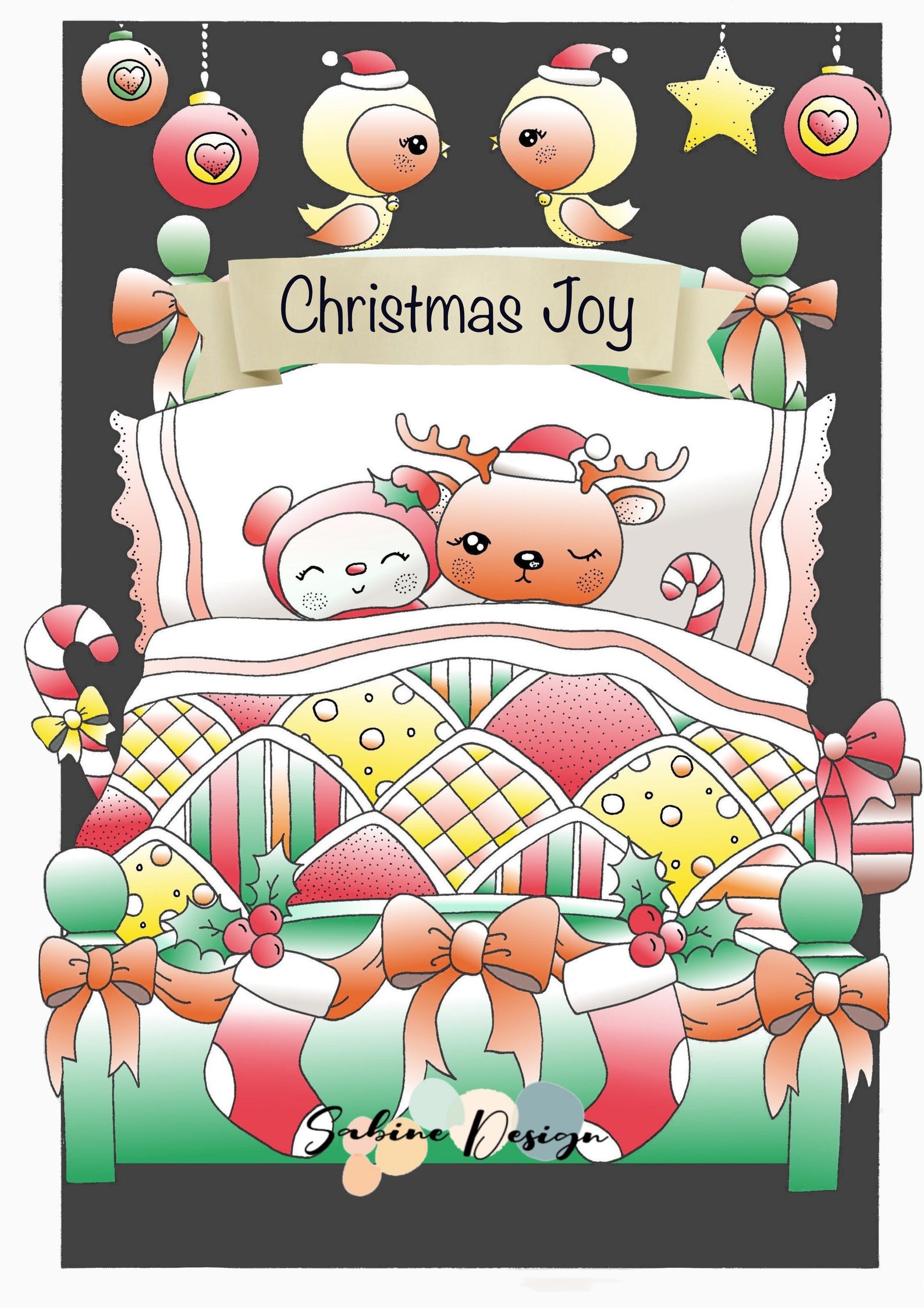 Click to Order Amazon US, UK or Canada or on Etsy Here
#25 Another of my favorite illustrators created a Christmas Coloring book "The Gift" original title or "Night Voyage" for the English market
"The Night Voyage: A Magical Adventure and Coloring Book"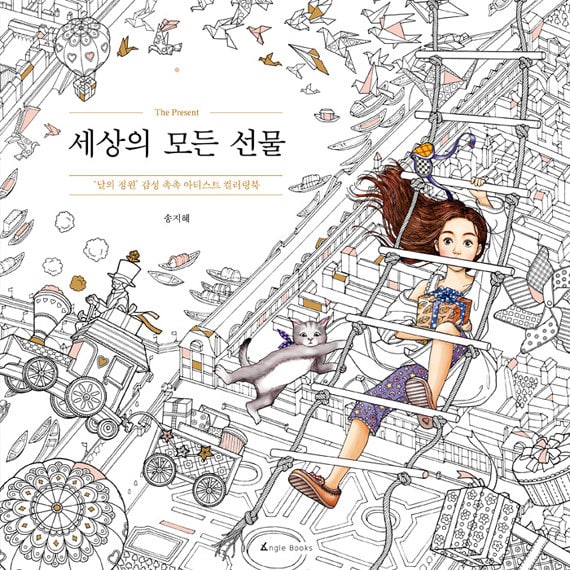 The tabby cat you see in this image is throughout the book for you cat lovers that are also Daria Song fans. Her Christmas book follows the little girl on a new nighttime adventure when the conductor of her toy train comes to life and helps her distribute gifts across the world
This gorgeous Christmas book is available to Order from Amazon US – UK – Canada
---
Tatiana is known for her "Little Town" series and this Christmas coloring book has some of those adorable mouse house, little town-type illustrations but it also has other images, and the one that won me over was the adorable gnome colorings I saw a few times on Instagram. I contacted the artist on Etsy and she answered me almost immediately that I could find that image in her first Christmas book. Honestly, at this price point and for the ability to instantly download and color I've already got it printed and you'll be seeing it posted on my social channels very soon. I think I also might shrink it down and make it into gift tags. I may be a little bit behind the times but Christmas gnomes are making me really happy this year.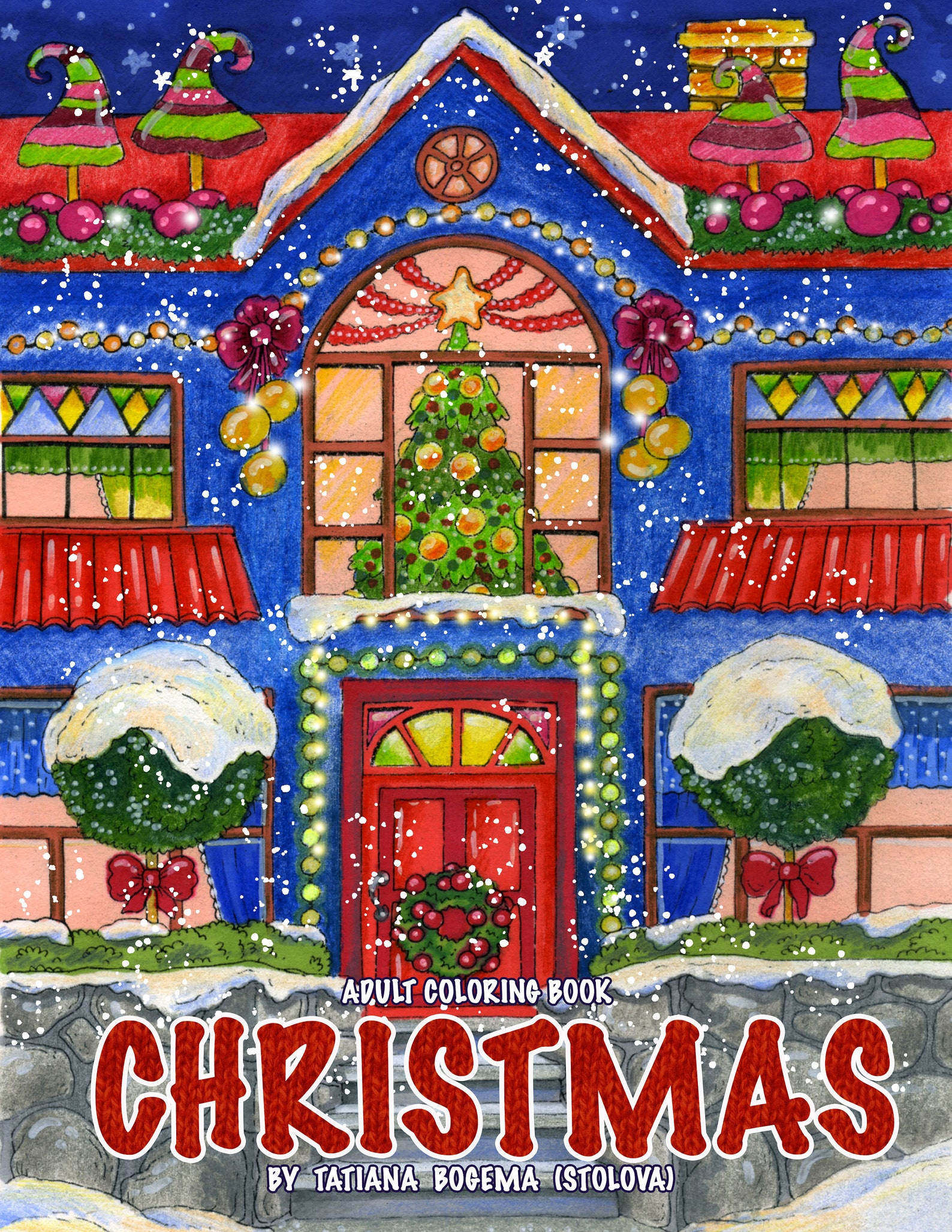 Click to order the Instant Download here Or The Printed Book on Amazon US, UK or Canada here.
Angela Porter's work is really fun to color in. It has just enough detail to make it interesting but not so tiny that you get fatigued with a page. This is a Creative Haven book so images are printed on one side of the paper and are a bright white nice quality paper.
Click to Order Amazon US, UK & Canada
Something a little different, if those coloring fingers are getting tired, try your hand at Coloring by Sticker.
Click to Order Sticker By Number Christmas Amazon US, UK or Canada
From the same illustrator that brought you Creative Cats, Marjorie has tons of detail for you to highlight or have blend into the background, the choice is yours.
Click to Order Amazon US, UK or Canada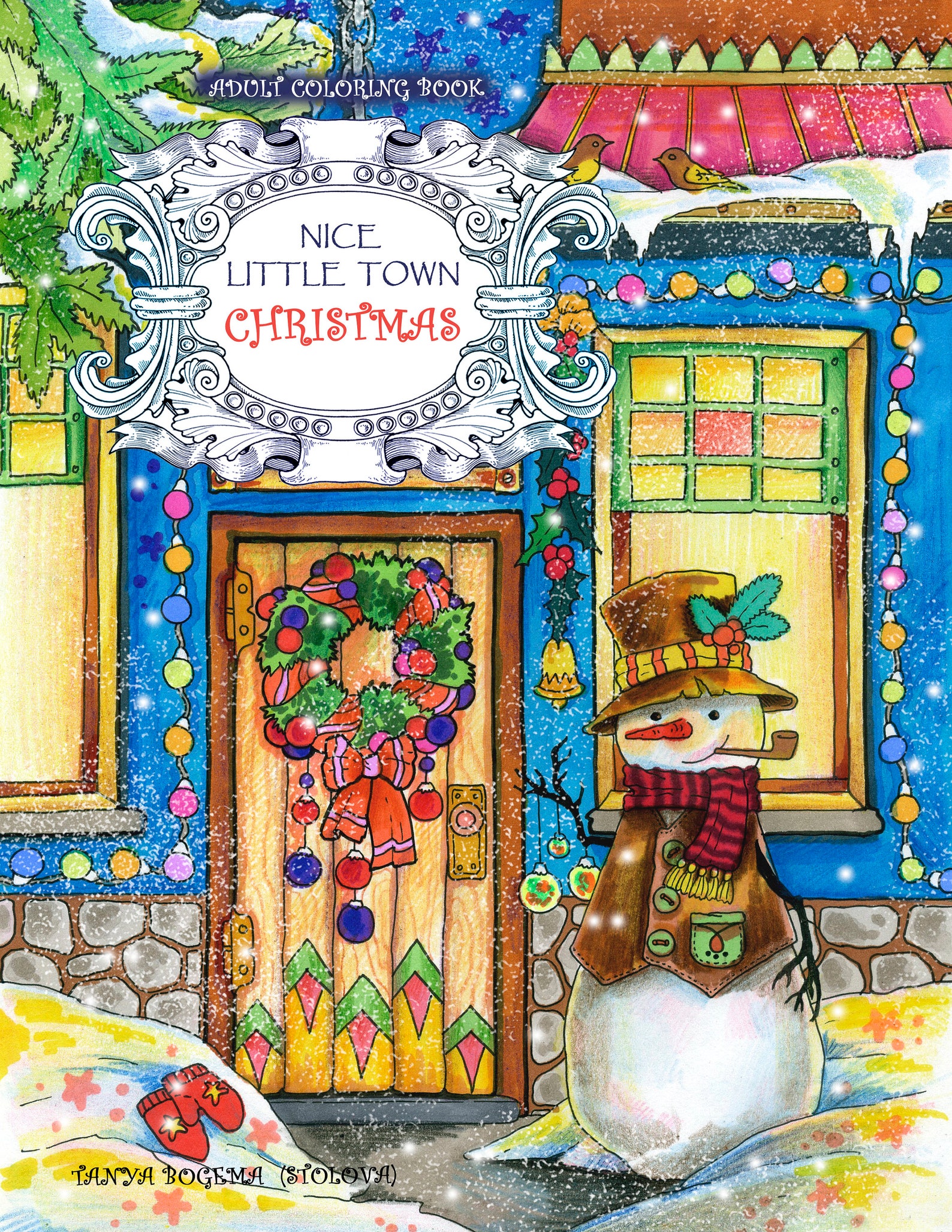 This book from Tatiana is from 2017. If you look in the review section on Amazon there is a full flip-through showing all the images included.
Click to Order Amazon US, UK or Canada or Instant Download on Etsy
We all adore how Debbie paints a picture of coziness in her books and movies and now there's a coloring book where you can help create her worlds.
Order Amazon US, UK, Canada, Spain or France
The Fart Before Christmas – A brand new funny coloring book that would be great for school-age kids as well as adults. This new coloring book is quite clever and funny. If you have school-aged kiddos or grandkids you know that anything to do with farting is always massively hilarious.

Click to Order Amazon US, UK & Canada
Not sure how to get started with Adult Coloring Books? Check here for Where to Start with Adult Colouring and Top 13 Tips for New Colorists. Best Coloring Pencils, Gel Pens and markers to use in Adult Coloring Books.
If you know of any others please contact me and let me know. If you are an illustrator with a holiday project for the 2023 or 24 holidays please send me a copy to review so I can add it to my curated lists.