Autumn Moon is offering a FREE Rolodex art class now! She was one of the teachers in a year-long course I took a bit ago and ever since then, I've followed her on Instagram and love her work. I call her the Queen of Pinks! Her 100-Day project was swatching all of her pinks and it was glorious.
RolArtDex using a Rolodex
She recently posted about a new FREE art course called RolArtDex! I had seen a bit of a fad of Rolodex art from a few of my other favorite artists like Erin Bishop @EBMixedMedia on Instagram here, and Dee Dee Catron here.
I loved what they were doing and even went so far as to find a used Rolodex but I just couldn't get into it until Autumn posted a video about her class. A pretty way to organize my art practice. Ok.. that got my attention! I think the biggest issue in my creative journey, particularly with mixed media, is to remember where I've put things, what colors I love using together, and what technique I used to get a certain outcome.
Autumn's workshop fixes those problems in a very pretty way as you can see above.
She's offering this whole course for FREE!
There is an opportunity to support Autumn and her talents as a patron. It's only $14 for 9 weeks of bonus content including printables & more.
I just joined today and there is already so much there! Lots of printables, and swatching of supplies I'd never heard of before, and now want more like these Brushos! She shares ideas for art dexing up your category cards and soon-to-come stencil techniques not shared in the free class. The free class is all you need but I DO like to support artists in their journey.
Rolodex Art aka RolArtDexing Supplies
The best part of the Rolodex art course is…. the supplies for this class are MOSTLY what you have on hand. That's sort of the whole point is to organize and use YOUR art supplies.
All you'll need is a Rolodex, either a traditional one or a mini, and either a rotary or box type.
Check your local charity shop, thrift store, local free Facebook pages, or your local Buy Nothing group first! I couldn't find one so I ended up choosing between Walmart & Amazon.
Standard Rotary Rolodex that includes 500 cards plus A-Z Index card. Cards are 2 1/2 x 4″ The paper is NOT as sturdy as you may remember from your administrative days of yesteryear.
UK Standard Rolodex
Rolodex® Mini Classic Rotary Card File, 2 1/4 x 4″, 500 Cards *(Please note that there are other mini Rotary Rolodex that have different sized cards and the refills will not fit.
UK Mini Rolodex
Mini Card Refills Unruled 100 Cards
Tailored Chaos on Etsy has some fun vintage Rolodex cards that I'm thinking about! I'm sure they are the sturdy sort I remember from my days as a secretary.
I found a couple of options for making your own rolodex cards, Heidiswap makes this model and it works well but is a bit pricey! There are YouTube videos showing using a regular hole punch and then cutting out the narrower piece at the end, or you can do what Autumn shows in her videos and cut them yourself.
If you decide to just cut the shapes yourself, please take a look at my article on best fussy-cutting scissors here.
There are also some really fun and funky Rolodex options on Etsy.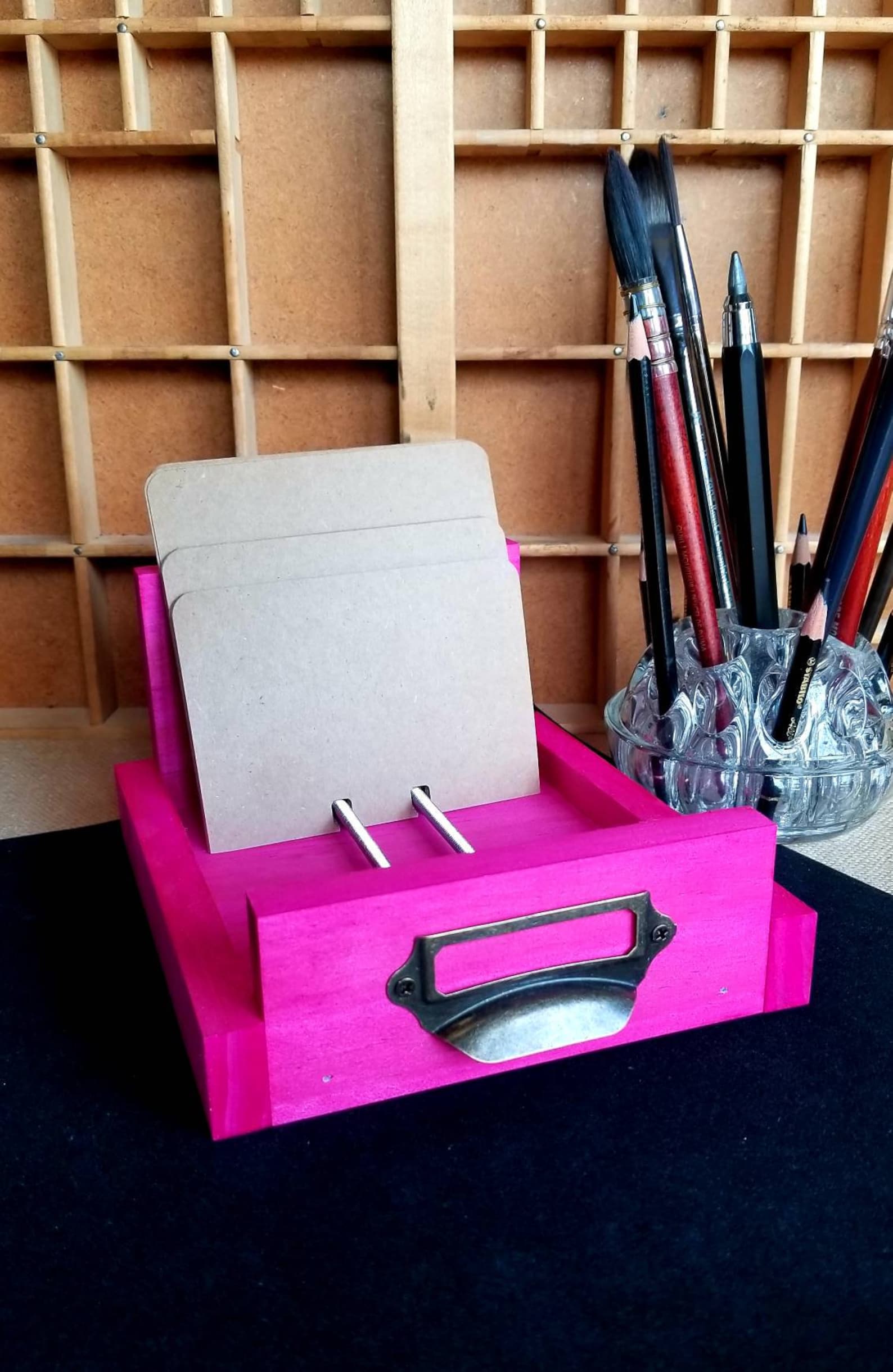 I plan on funking my standard one up myself but this hot pink number is an option!
The class is on week 3 and I've already learned some really fun techniques with stencils and stamping that I never would have thought of.
Autumn Moon also offers a free art journaling course here, and other wonderful courses as well. I have taken her Wild Writing & Gatefold Journal course and it's fabulous!