A new year is coming and that means a new selection of year-long mixed media art courses to sign up for. I honestly haven't ever taken one I've not gotten more than my money's worth because you get to meet 12-30 new art teachers and learn their specialties and usually new to me techniques.
Some of the more popular ones are Lifebook, Ugly Art Club, Wanderlust, Fodder School, Book of Days, Art Bundles for Good, Gratitude Junk Journal, and Bad Ass Art Journal to name a few. I'm sure there are dozens more.
When I first started taking these classes I would get overwhelmed with all the supplies that were being used. For instance, with Lifebook, you get 2-3 different lessons per week with 35 different teachers from all over the world. Often you can't get the exact art supply that they are using. But I promise you… It's ok. You can make beautiful mixed media art without having the most expensive supplies often using your junk mail and scrapbook papers you still have around from the 90s.
I'm going to list the supplies I use in almost every lesson from any of these courses and then some that are nice to have if your budget allows. I'm assuming at least at this point in your life, that you are not planning to become a prolific art seller, as there are differences in paint and other supplies when it comes to lightfastness. (That might be a different post)
Mixed Media Art Supplies
Paint
You will only use acrylic paint and watercolor paint in most mixed-media classes. We MM artists are MUCH too impatient to use oil paints as they take too long to dry.
Best Acrylic Paint to use for Mixed Media Art
If you still have bottles of paint from that art project you did with the kids and the paint is still good, use that. If you have chalk paint left over from that Annie Sloan furniture you wanted to paint, use that, if you have leftover housepaint, you can use that. Honestly, anything that has pigment in it, you can use.
Craft Paints
If you really want to be budget minded those small bottles of paint at Michaels, Joanns, Walmart, and Dick Blick, are just fine to use. I still have Americana paints from the 90s and it has stood the test of time. With any acrylic paint, you do need to reseal them well because they are mostly plastic and pigment so they will dry to plastic if you leave the cap off for too long. You can even learn to mix your own colors with just a few basic primary colors, or just buy your favorite colors plus black & white. I buy the large jugs of black & white acrylic paint at Walmart and then pour that into smaller bottles to use. I go through a LOT of black & white.
Student Grade Paints
If I'm buying new paint, these are usually the ones I go with. They are larger so I don't go through them as quickly, and the price point is decent.. These paints don't come in the fast number of colors as the craft paints do but I think that's a good thing because learning to mix your own custom colors is what starts to give you that recognizable style that starts to be the goal once you get past your fear of your creative side. The two I use are Amsterdam and Liquitex. I'm particularly fond of Amsterdam's metallic paints.
Professional Acrylic Paints
Golden are the "Gold" standard when it comes to acrylic paint and the "real" artists.. whatever that means… do tend to use these. I have bought a few, usually, specialty paints that aren't available in other brands like fluid acrylics and high flow acrylics which have a ton of pigment in them but have a watery consistency but are not watered down. There are also some specific transparent colors that I've become addicted to but these beauties are just too expensive for my budget and my uses.
Stencils
Stencils are NOT a must-buy, and you can make marks with many household items but I really love using stencils in my background and to fussy cut focal points from so for me they ARE a must-have. The best prices I've seen EVER online are at Joggles and this year Wendy Solganic's Stencil for Fodder School 2 is selling there. I'm so excited about her lesson. It's a cute one with butterflies, bugs & dragonflies. I really love the larger bug bodies you can add your own wings to. FUN! And the prices at Joggles are so great!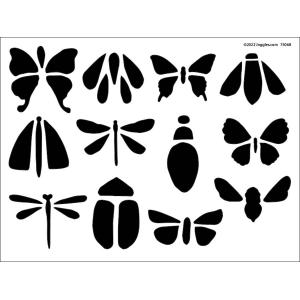 Fodder School 1 included mixed media artist & teacher Megan Quinlan and her sets of stencils are fantastic. I particularly loved the hand stencil set, but since her class, she's dropped several new series of stencils. This one has some bugs plus some other options so this is one of those instances where you might not need to buy the exact stencil the teacher is using, you might like the idea of some of these other designs to be added or go completely on your own. You can see the rest of her stencils here on Etsy and follow her on social media to see how she uses her stencils to make beautiful art.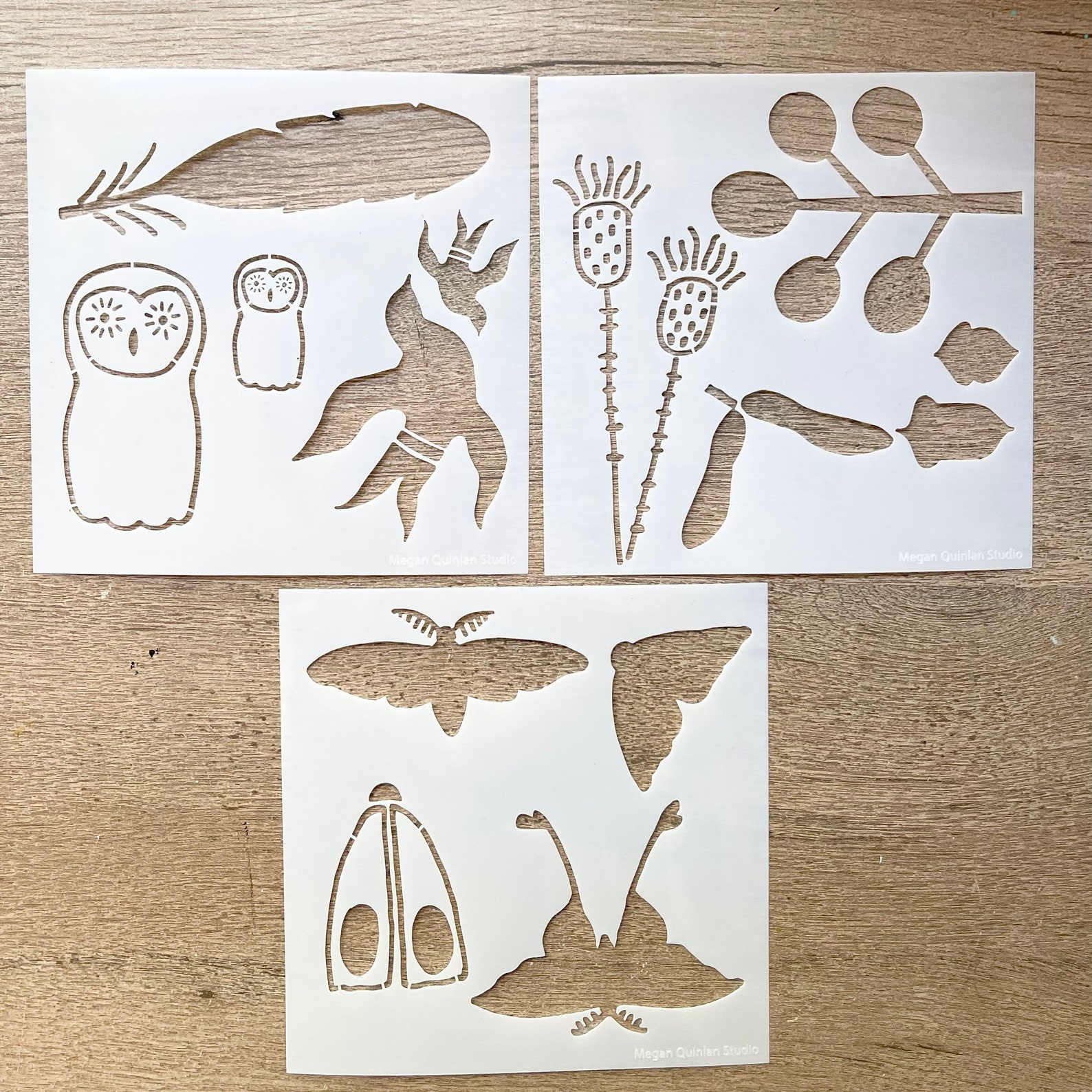 These types of stencils are perfect to use for fussy cutting focal points which have become a love of mine during Fodder School 1. I love to have little projects I can work on while watching TV with the family. I just have to have my hands busy.
The other types of stencils you'll want to use are background stencils that you layer to make collage papers or backgrounds in your art journal or canvas projects, assemblage art, shareable art, etc. Tim Holtz kind of invented this type but of course now there are many other artists that create this sort of stencil. Here are a few examples of how to use stencils.
These dresses I made for Roxanne Padgetts Fodder School lesson show lots of layered background stencils with a limited palette of blue & yellow. Roxanne even has a book about her processes here.
It looks like this is going to be a long post so I'm going to stop with my two favorite items, don't forget to look at my favorite glue, collage supplies, and fussy cutting scissors on these links.