The art of collage goes back to early childhood for most of us, that first paper mache covered balloon project or that jar we made for mom or dad covered in pretty tissue paper started a love for creating art from layering.
You just have a go with collage ideas with Modpodge (for temporary items) or Matt Medium for those that last a bit longer or get some inspiration from a few books I've been devouring lately.
I find my collage most pleasing when I do have some sort of color scheme or texture ideas to start with. It looks better if you have different sizes and shapes of ephemera and I rarely like to see a flat edge unless it's a fancy cut item or die-cut. I like the look of the ripped edges of papers. Remember to layout the papers in all different directions too so your page has the look of organized chaos. If you need more color, use watercolors, watercolor crayons, Tombow brush pens or spray inks, whatever your favorite water-soluble medium is. If you have gotten it too bright and need to bring back the color a bit use your white gesso and the brayer. You can also use a cloth to wipe back the white if you have gone overboard. That's what I adore about collage, you really can't ruin it, and more layers make it even yummier.
Collage Idea Books
Click to Order Amazon US, UK or Canada or Book Depository
Please note that this is a TINY book with lots of BIG idea inside.
Click to Order Amazon US, UK or Canada or Book Depository
Collage is the art of reinvention. This magical and tactile process invites you to collect, experiment, combine and transform. These creative mashups don't require specialist equipment, only everyday materials. It is an art form for everyone and every budget.

Bev Speight
Click to Order Amazon US, UK or Canada
Click to Order Amazon US, UK or Canada
Easy and Colorful Collage Paintings. Step-by-step instructions for creating your own painted paper collage–from underpainting and directional ripping and tearing to auditioning your papers and combining collage with mixed media by Elizabeth St. Hilaire.
Click to Order Amazon US, UK or Canada
Collage Supplies
Supplies can really be anything you have at hand for collage projects. My favorite paper to use is old books, letters, music sheets, maps, dictionaries & bibles.
This really can be free or very cheap! You can use non-glossy magazine pages, old books, old music sheets, letters, envelopes, if you belong to a Buy Nothing Group ask for some there, people are always trying to get rid of their accumulated stuff.
Click to Order Amazon US, UK Europe or Canada
Scrapbook Paper
If you were or still are a scrapbooker, raid those supplies! The non-cardstock versions work perfectly for collage.
Supporting Independent Artists has been my goal since I created this website and mixed media artists are no exception.
One of my favorite teachers Toni Burt offers some of her delicious collaged papers to use in your own art journal in her Etsy shop.
Mulberry Paper
I've recently discovered this magical paper with bits of leaves and flower petals and other lovely textures.
This selection has bright lovely colors and contains 50 Sheets Mixed Colors A4 Sheets Thin Mulberry Paper
Click to Order Amazon US, Europe, UK or Canada
This lovely stuff has bits of Tamarind Leaves, Onion, Banana Tree Fiber, Rice Straw and more.
Click to Order Amazon US, Europe, UK or Canada
Click to Order Mulberry Paper US, UK, Canada or Europe
Dick Blick has a really inexpensive pack of 6×6″ mulberry paper scraps that would be perfect for your collage needs. Each pack is different so you could order several
Click to Order from Dick Blick Here
Vintage Papers are a favorite of mine, they add such warmth to the page. This Etsy seller has a huge variety to offer.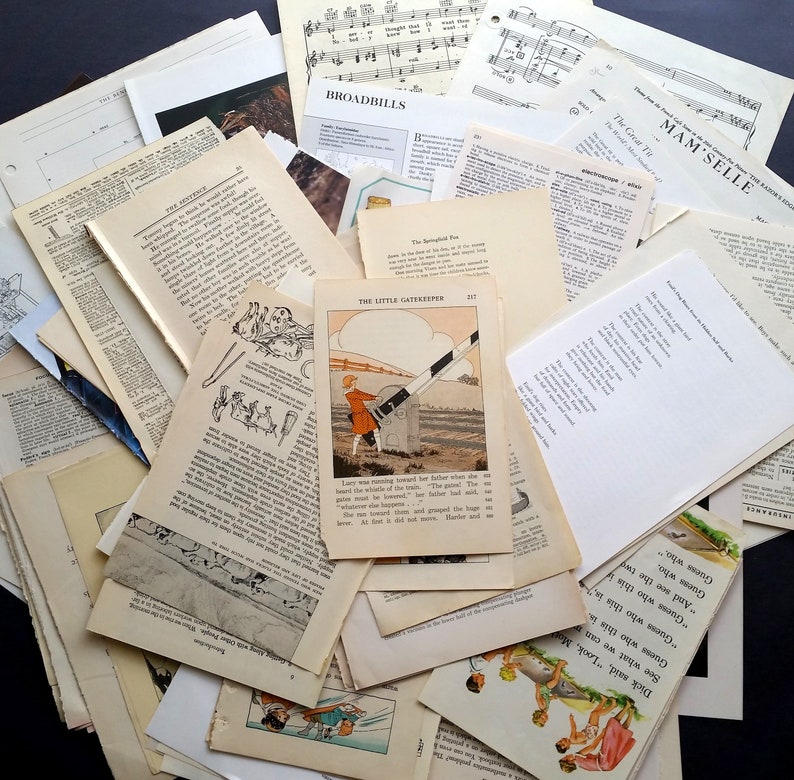 Ephemera
Such a fancy word for junk paper! Really this is anything you have laying about, old tickets, envelopes, cards, paper scraps of any kind, things you've cut out of magazines or ads. Tim Holtz is the king of cool ephemera so you can find a TON at Michaels or Amazon.
Die Cuts
The fancy cutting is already done for you on these vintage flowers & butterflies.
Serviettes – Paper Napkins
If you attend any parties, start snagging up a napkin to take home for your stash! If you have some artsy friends, see if you can do some trading. One of my favorites spots in the US to get pretty napkins is Tuesday Morning! Michaels has some bright colored basics with holiday ones emerging of course. Watch for those sales on those!
Amazon has a decent selection as well. I love using napkins in my collages.
This is a fabulous printed tissue paper assortment.
The Graphics Fairy has a ton of inexpensive papers you can print here as well as some amazing ideas and tutorials.
Rubber Brayer
This essential little tool really comes in handy for making sure your layers of collage stay tidy and don't crumple but you'll need to to spread gesso too.
This speedball one at Michaels is perfect, remember to use your 40% off coupon, that's how I built up my art supply stash for sure.
The best selection of brayers I've seen is at Dick Blick so take a look here.
Lots of Speedball Brayer options on Amazon too
Click to Order Amazon US, UK, Europe or Canada
You just need cheap paint brushes, they will get all gloppy with the glue anyway so use your old ones.
This is a great selection and price if you want a few brushes to get started with. If you get serious about acrylic painting or watercolor, that is the time to invest in good brushes, for art journaling and collage, there really is not need. Save your money for pretty inks.
I did a full writeup on using stencils in your mixed media work and I've also used them for back grounds on my coloring pages as well.
Dick Blick has a large selection of all sorts of stencils including furniture DIY and adhesive stencils here.
I'm pretty obsessed with all of Tim Holtz layering stencils here at Michaels & a bigger selection here at Amazon.
Etsy has a huge selection of stencils from Indie Artists! These accidentally just spilled into my cart last night. OOPS!
ASC Supplies has some gorgeous stencils I'd never seen before
NEW Foliage Stencil by Lavinia Stamps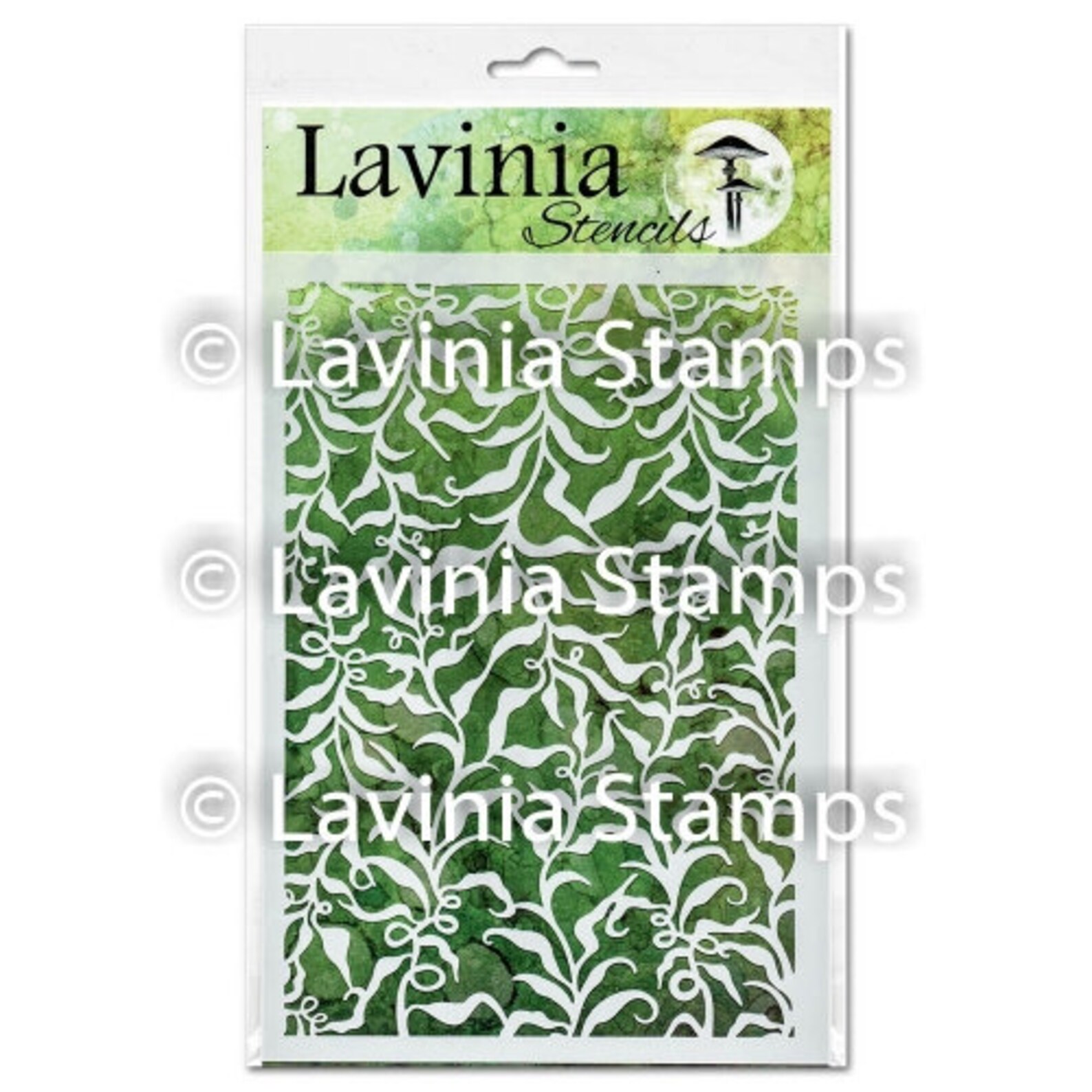 Wallpaper Fantasy by Stamperia
I fell in love with this stencil, it has everything I like on my pages, music notes, words, and random patterns.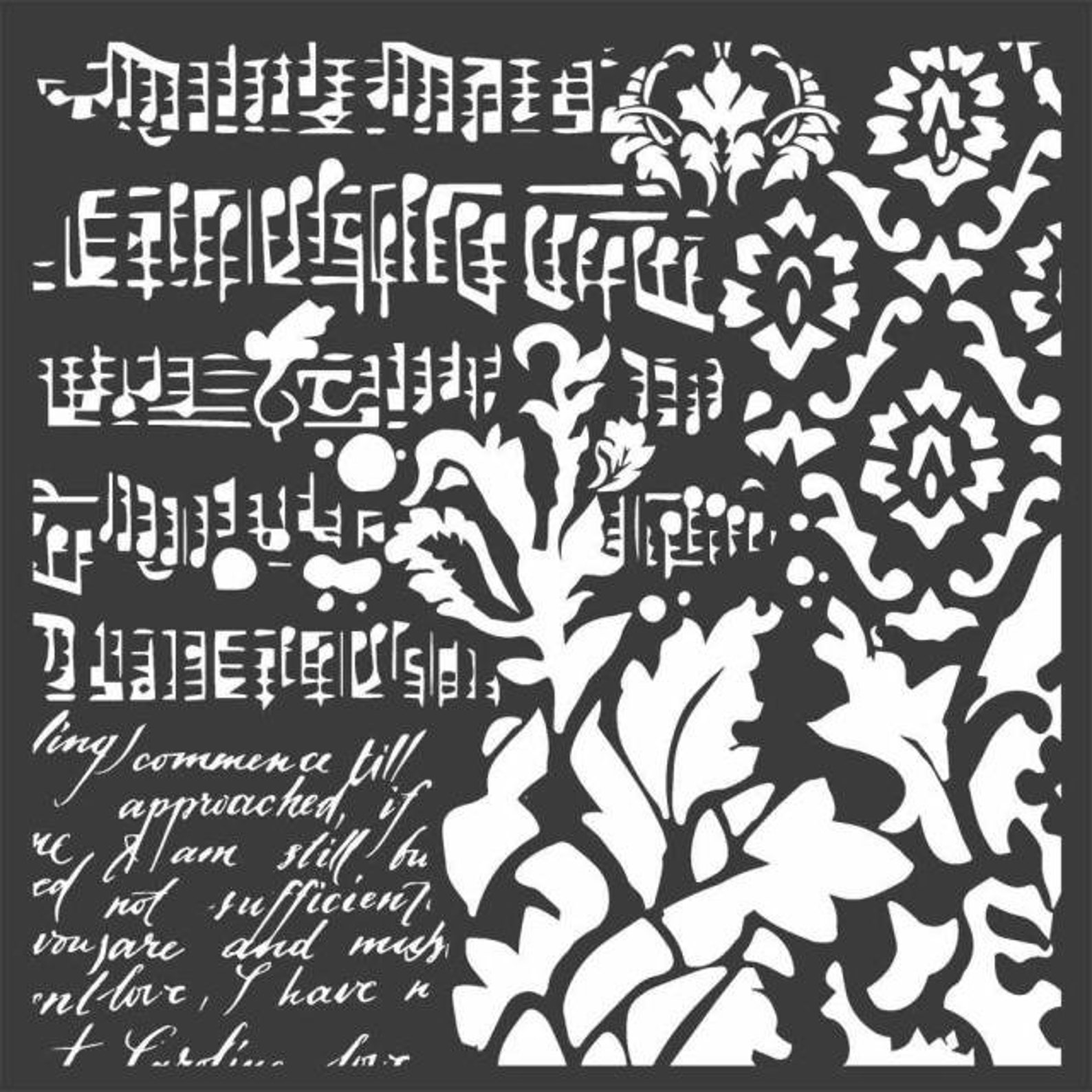 I have these Tim Holtz Stencils on my Christmas Wish List
These layering flower stencils hold so much promise don't they? I must have them!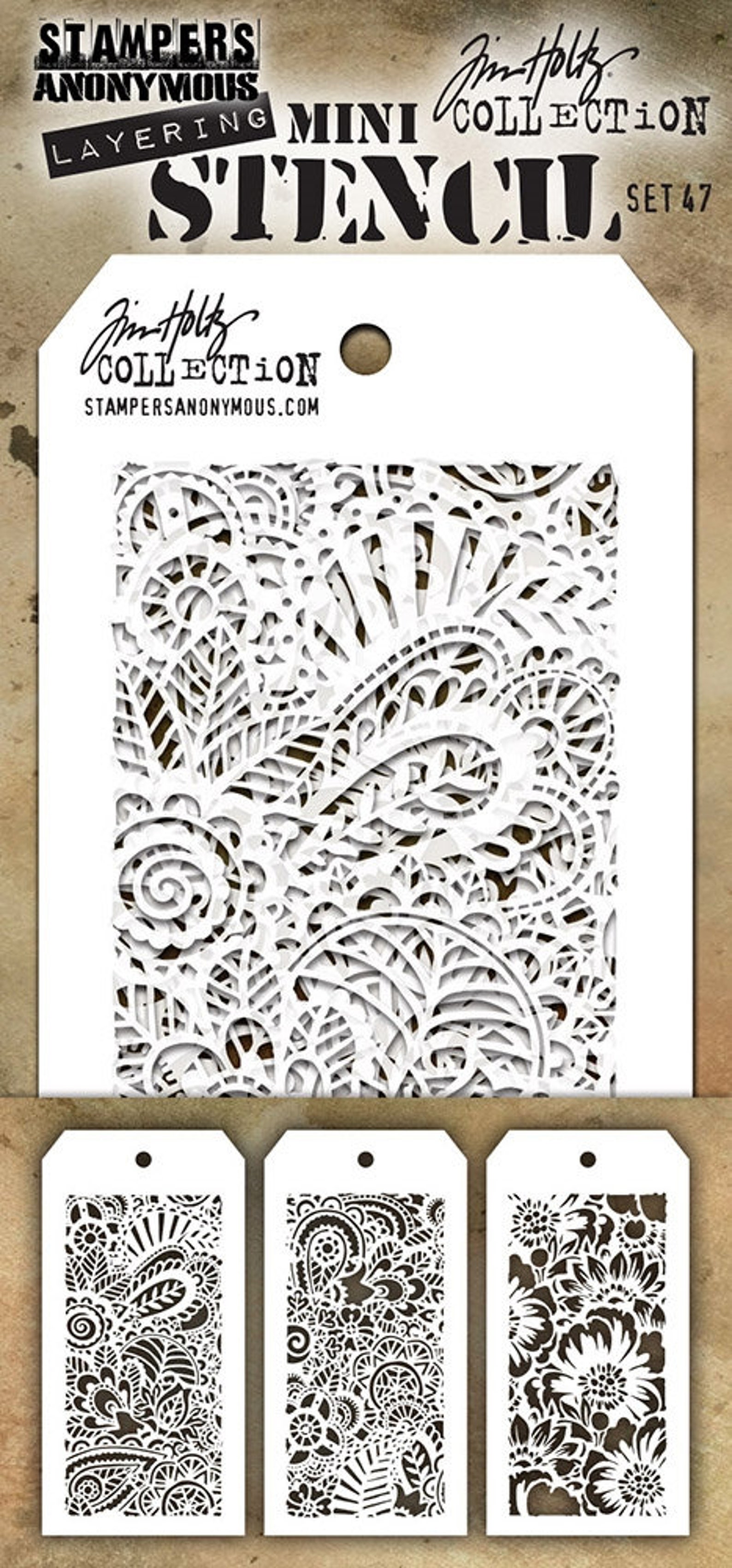 All of the art classes I've talked about on the site also use all sorts of ideas and methods with Collage, Tamara Laport in Lifebook, Jane Davenport in her art journals, Micki Wilde in her creature paintings, really all mixed media artists use this fun technique to create a layer to either show through or be part of the story they are telling with their art. Give it a try, I think you might just fall in love with the art form.