If nothing else, the current political climate has energized a new generation of women in the United States to become politically aware and active. Our grandmother's fought for the vote, our mothers fought for reliable birth control and the right to choose and now this generation is fighting to end sexual assault and bullying in the workplace. Are you Woke? Are you Ready? By the way, there are some magnificent, confident, strong men who are feminists too. Your daughters are watching.
These feminist coloring books and activity books are a great place to both get out your frustrations and to energize you and give you the confidence you need to move forward.
---
This book features whimsical drawings of strong women from Beyonce to Ruth Bader Ginsburg, Dolly Parton to Malala, Tina Fey to Serena Williams. Each page has a portrait and an activity like connect the dots to conjure J.K. Rowling's Patronus or the Shonda Rimes word scramble.
Click to order Amazon US, UK or Canada
---
The Feminist Activity Book features activities like the Feminist All-Star Trading Cards, Destroy the Page-Triarchy, Sexist Social Media Bingo, and the Feminist ABC's.
Click to Order Amazon US, UK or Canada
---
Click to order Amazon US, UK or Canada
---
This book contains empowering statements and is a Midnight version (black background with white lettering and design work)
Click to order Amazon US, UK or Canada
---
An Inspirational Adult Coloring Book for Feminists Supporting Women's Rights.
Click to order Amazon US, UK or Canada
---
Strong and powerful women waiting for color by Nathanial Wake. Inspired by incredible women, this book features a plethora of mighty ladies, from Amazonian warrior queens to intrepid pirates sailing on the seven seas.
Buy Fierce Females US, UK or Canada
---
A Coloring Book for Strength, Encouragement, and Awesomeness for the Feminist in your life
Click to Order Amazon US, UK or Canada
Order Badass Feminist US, UK or Canada
---
An Adult Coloring Book for the Feminist in All of Us. We ARE enough
Click to order Amazon US, UK or Canada
---
A social justice coloring book
Click to order Amazon US, UK or Canada
---
A motivational coloring book, mantras to live by.
---
An adult coloring book for Boss Chicks
Click to Order US, UK & Canada
100 Remarkable Women Who Changed the World (Women in History Book, Book of Women Who Changed the World
Click to Order on Amazon US, UK & Canada
---
Another Anti-Trump Coloring Book for Adults to try to color away the anger of the election with some hilarious notions to color in
Love Trumps Hate
This Pussy has Claws
Impeachment Watch
Power to the People
We Shall Overcomb
Stay Woke
Real Men Are Feminists
Grab Him By His (tiny) Balls
Order We Shall Overcome US, UK or Canada
---
A totally inappropriate self-affirming adult coloring book (Totally Inappropriate Series)
Click to Order on Amazon US, UK & Canada
Still upset about the election.. this might help.
---
The adult coloring book for Hillary fans and foes by America's most widely syndicated editorial cartoonist, Daryl Cagle, a perfect gift for the political junkie in your life.

Click to Order Amazon US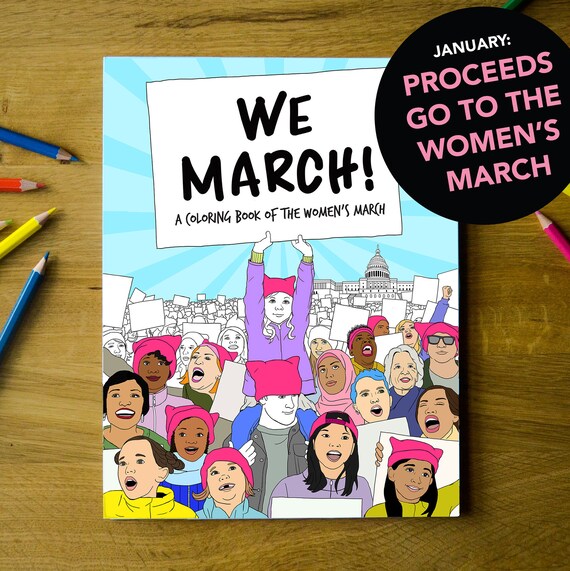 The women inside: Josephine Baker, Nellie Bly, Rachel Carson, Soong Ching-Ling, Hillary Clinton, Claudette Colvin, Marie Curie, Sor Juana Ines de la Cruz, Indira Gandhi, Emma Goldman, Sheikh Hasina, Billie Holiday, Mae Jemison, Mary Harris "Mother" Jones, Frida Kahlo, Billie Jean King, Tina Modotti, Annie Oakley, Michelle Obama, Georgia O'Keeffe, Yoko Ono, Betty Shabazz, and Madame C. J. Walker.
This Etsy artist has several single sheet coloring pages to download instantly with feminist quotes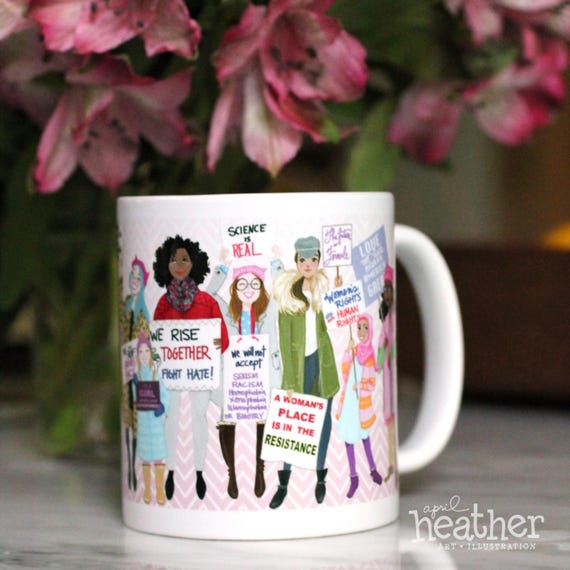 I purchased a mug and a tote bag from this Artist on Etsy that included images of women from all walks of life along with appropriate sayings for a gift for my daughter. She LOVED this illustration. The feminist in your life will love it too.
Feminist T-shirts to Wear while you Color!
There are so many great messages on t-shirts for women of all ages, here are a few of my favorite you can wear while you are color so people will know you are not someone to be trifled with!
If you feel the need to cuss some more on paper… here are the top Swear Word Coloring Books, Coloring Books for Women of Color and Coloring Books for Mom. There are quite a few more political coloring books here too. Want to create your own pages to share, explore learning some hand-lettering techniques here.