Spring of 2020 has brought us a new lifestyle indoors to keep ourselves and others safe from the Covid-19 Corona Virus. The heroes of our lives are the doctors, nurses and medical staff on the front lines of this pandemic fighting to keep our friends and family alive and themselves safe with a shortage of personal protective equipment. These Coloring Books featuring doctors, nurses & EMT's are a great way to honor and support them and many of these would make the perfect gift for your favorite medical professional.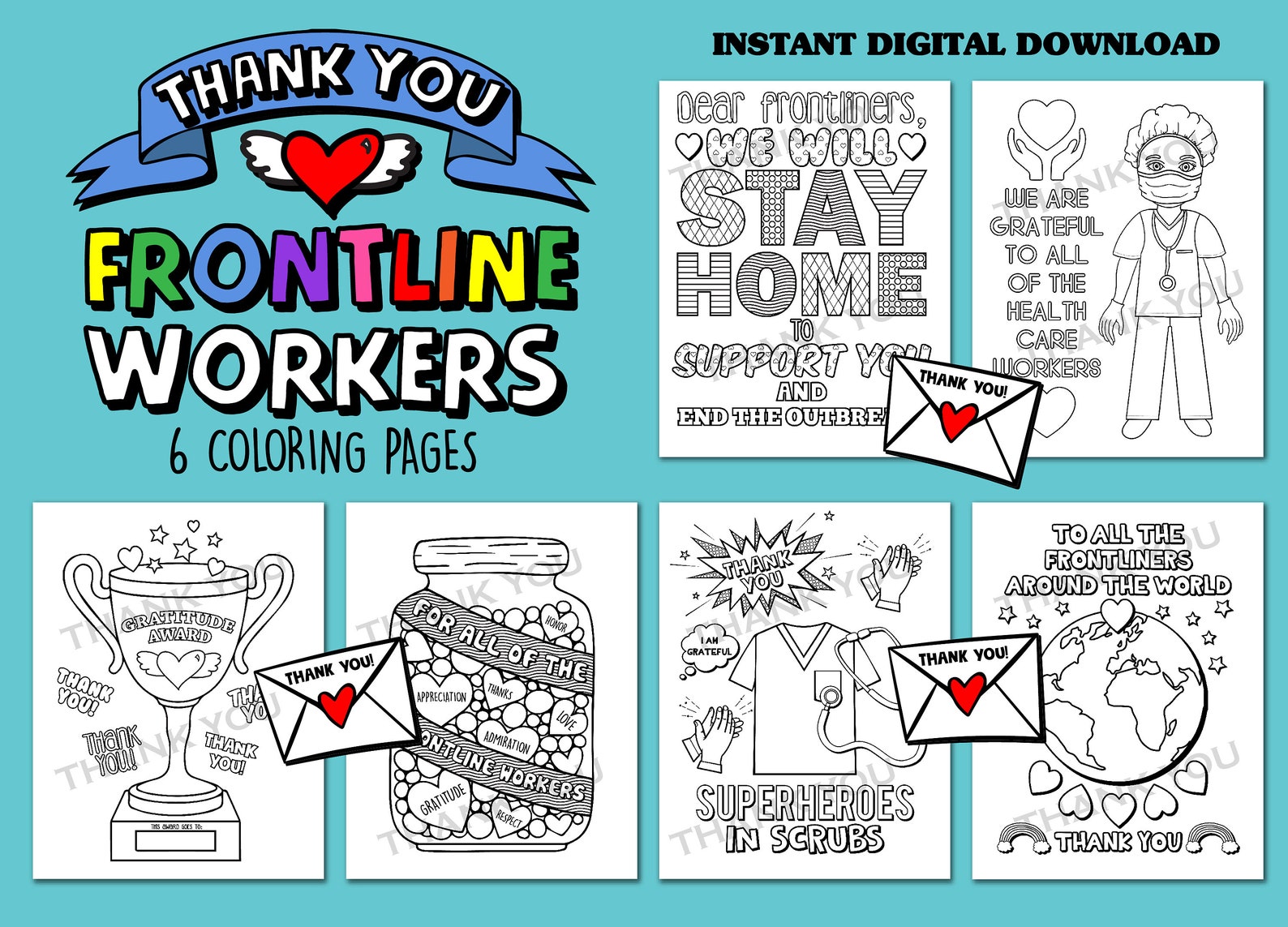 This is an instant download from Etsy artist Dani Kates "Dear Frontliners, we will stay home to support you and end the outbreak. We are grateful to all of the healthcare workers, thank you superheroes in scrubs and more." Click here for your PDF of these 6 designs
COLORING BOOKS HONORING NURSES
Right on the front lines are our medical hero nurses. These coloring books will give them a smile or a laugh or a moment of relaxation. I recommend either coloring some pages and getting them to your favorite nurses or purchasing the books to gift your favorite hero.
A Humorous, Snarky & Unique Adult Coloring Book for Registered Nurses, Nurse Practitioners and Nursing Students for Stress Relief and Relaxation.
Click to Order the Nurse Coloring Book
Click to Order the Nurse Adult Coloring Book
Midnight simply refers to the background, in midnight coloring books the background is black.
Click to Order Nurse Coloring Book
Nurse Swear Word Coloring Books
A Totally Relatable Swear Word Adult Coloring Book Filled with Nurse Problems. A review from Amazon states "If you are a nurse, no matter what type ER to OB to Oncology to LTC.. you'll get a kick out of these. Absolutely hilarious and a perfect gift for a fellow nurse… or of course, yourself." "Midnight Edition simply means the backgrounds of the pages is black.
Click to Order Midnight Nurse Coloring Book
A Nurse Coloring Book Of Snarky, Sweary Nurse Humor
From Bedpans to Bleedouts, What They Didn't Tell You In Nursing School. Reviews state this one does contain vulgar words.
A Sweary Adult Coloring Book For Nurse Relaxation And Art Therapy
Click to Order This Nurse Needs …
A Kit of Coloring Quotes for Nurses, this book contains 100 pages with repeated quotes for sharing and coloring together if you want. From Amazon…
"I'm sure it's a surprise, but as your nurse, I'd like to inform you that the big "H" you saw in front of this building does not mean "Hilton."

Nurses are incredible people who definitely need to be appreciated more. You sometimes deal with extremely difficult patients and find new meaning in "it's a dirty job but someone's got to do it." We think you're all saints!

Peaceful Mind Adult Coloring Books
Funny Stress Relieving and Mood Lifting Coloring Book for a Nurse Funny Nurse Quotes Coloring Book Birthday or Coworker Gift for Nurses.
Click to Order Swearing Nurse Book
A Snarky Coloring Book for Adults: A Funny Adult Coloring Book for Anesthesiologists, CRNAs (Certified Registered Nurse Anesthetist)
A Gruesome Colouring Therapy Adventure. The Infectious Disease Coloring Book has 35 images of syphilis, parasitic worms and infectious diseases, you have never seen an adult coloring book like it – until now.
Click to Order Infectious Disease Colouring Book
Coloring Books Honoring Doctors
The path to doctorhood is nothing short of impressive, paved with one impossible challenge right after another. As a doctor you perform miracles daily and seeing the relief on a patient's face makes you smile, knowing it was all worth it.

Papeterie Bleu
A Swear Word Coloring Book for Adults: A Funny Adult Coloring Book for Physicians, Medical Students & Residents for Stress Relief, Relaxation & Color Therapy.
Click to Order the Doctor Coloring Book
A Funny Adult Coloring Book for Obstetrician & Gynecological Physicians, OB-GYN Nurses, Scrub Techs & … Midwives, Doulas & Ultrasound Technicians
A Snarky, Relatable & Humorous Adult Coloring Book For Doctors
A Funny Adult Coloring Book for Radiologists, Radiologic Technologists, Radiology Technicians, … Sonographers & Medical Dosimetrists
A Funny Coloring Book for Adults for Surgical Technicians & Operating Room Technicians
We all owe our lives to these dedicated medical professionals on a regular basis but now they are nothing short of miraculous superheroes! They are working ungodly hours in the terrifying pandemic circumstances we now find ourselves in.
All we can say is Thank You!
If you are new to coloring or just want to dive in a little deeper be sure to read our expansive supply recommendations along with our tips and tricks articles.

*How to Get Started with Adult Coloring Best Colored Pencils
*Best Gel Pens
*Best Markers that Don't Bleed Through the Paper
* Background Supplies
*Coloring Tutorials
*13 Tips & Tricks for Colorists