Mermaids exist in the dreams of us all and date back to ancient times in both historical notes and Greek mythology. Today they still fascinate us all.
One of my very favorite illustrators Jasmine Becket Griffith brings us the 3rd of her gorgeous coloring books filled with 55 beautiful mystical mermaids. Her books are professionally printed on gorgeous thick artist paper that is one-sided so you don't have to worry about bleed-through.
We just received another amazingly gorgeous Jane F. Hankins coloring book that is Mermaid and underwater themed.
If you aren't familiar with her books they are quite remarkable. A HUGE size 11×17 on 80pound artist quality paper. So, if you've been frustrated that you can't use your fancy markers or paints, this is the book to do that all in. Each of the pages in all her books are perforated and spiral bound. Yes, they are more expensive than your average coloring book but once you have one in your hand you'll know why.
Click to order Amazon US, UK or Canada
Other titles in her collection include:
After the massive popularity of Denyse Klette's first coloring book, "Fairies in Dreamland"
Click to Order Mermaids in Paradise
This cover image is so enchanting and what drew me to buy my first book! Most of Selina's illustrations come from the full-color illustrations she creates for books and other projects. This Mermaid Dreams – A book of her artwork includes this full-color image
Click to Order Amazon US, UK & Canada
See the rest of Selina's adult coloring books here.
This is a beautiful highly details coloring book featuring lovely mermaids and their friends like fish, octopus, dolphins, turtles, seahorses, jellyfish, stingrays and of course sunken pirate ships.
This book features beautiful black mermaids with various natural hairstyles and was created to celebrate diversity and representation in fantasy art from A.C. Washington. I was lucky enough to receive this book for review and it's just so well done. You can see more of her work here.
Mermaids: A Mermaid Coloring Book with Mythical Ocean Goddesses, Enchanting Sea Life, and Lost Fantasy Realms
This book is a typical Createspace paper with two copies of each mermaid and includes a digital download.
Click to Order Jade Summers Mermaids Amazon US, UK or Canada
Pop Surrealist painter and graphic artist Camilla d'Errico creates beautiful signature manga-inspired mermaids, beasts of the ocean and beach scenes. I particularly like the mermaid building a sand castle.
This is a Creative Haven coloring book, always a great value for a professionally published book. The images are one-sided with perforated pages. Click to order Amazon US, UK or Canada.
This is the second book from Marcos Chin and it is quite detailed and probably best for intermediate to advanced colorists.
Click to Order Amazon US, UK Canada
Click to Order Amazon US, UK Canada
This has 25 gorgeous and clever mermaid illustrations included.
Click to Order Amazon US, UK or Canada
Click to Order Amazon US, UK or Canada
Hanna Lynn's coloring books are suitable for younger and beginning colorists as well as advanced who enjoy coloring mythical whimsical girls.
Click to order Amazon US, UK & Canada
Mythical Mermaids Coloring Book
One of the oldest Mermaid Coloring Book is by Marty Noble and was printed on the older Dover style book. It's got really wonderful illustrations a couple of which are nude so beware if you are purchasing for a gift. This one also contains a few Mermen.

Click to Order US, UK or Canada
Mer World Problems
A coloring book documenting hardships under the sea by illustrator Theo Nicole Lorenz, the mistress of funny coloring hits it out of the park again. Mermaids might seem to have it all, with their shiny tails and fancy seashell castles, but life under the sea is full of difficulties. This coloring book depicts the most pressing issues mermaids face, including socially inept sea turtles, interpersonal issues with fish, lack of wifi, and more.
Mermaid Coloring on Etsy
We love supporting independent artists who have Etsy shops.
Myka Jelina has some fabulous greyscale mermaid images for you in her store as well as 100 other fantasy girls to color in on digital download. Check out her Coloring pages in her Etsy Shop here.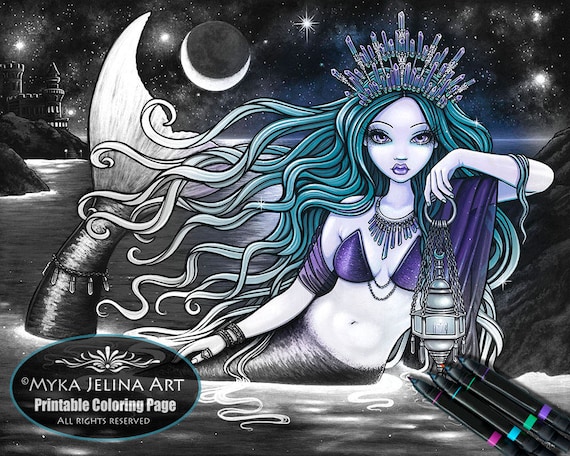 This girl "Merida" we though was just fabulous! Click to order
Never Die Art has a fun mermaid to download and color in her Etsy shop
Julia Spiria has some Mermaid Digi Stamps in her store here.
The Collected Mermaids by Ellen Million
This Etsy artist has peel and stick mermaid wallpaper. How adorable for your little girl's room!
Click here for even more Mermaid options on Etsy!
Coloring Tips for New Colorists
If you are new to Adult coloring books here are a couple of pages to help you get started.
I STRONGLY recommend downloading the Hobby Lobby & Michaels App to your smartphone. That way you always have the coupons with you. Being the clumsy person I am.. I ALWAY forget the coupons at home or in the other car or the other purse.. you get me, Right?
AMAZON PRIME – If you aren't a member you should look into it.
You get free 2-day shipping every day at Amazon with Amazon Prime. You can try it for free right now. The Amazon Prime membership program offers other special benefits. Members can instantly watch over 40,000 movies and TV episodes and borrow 1000's of books from the Kindle Owners' Lending Library.