Art Classes

Fairy Tale Art… what could be better?
Tamara has pulled together a collection of 15 mixed media artists, each one teaching a lesson using their favorite fairy tale characters and their own favorite techniques. Meet the 2018 Artists!
Snow White – Tamara Laporte
Fantastic Beasts & Where to Find Them – Marielle Stolp
Kuan Yin Goddess of Compassion – Lucy Chen
Pocohantas – Ady Almanza
Mists of Avalon (Moraine) Andrea Gomoll
Water of Life (Spanish Fairy Tale) Regina Lord
Little Matchstick Girl – Effy Wild
Alice in Wonderland – Cristin Stevenson
Jungle Book – Micki Wilde
Rapunzel – Kara Bullock
Princess & The Frog – Renata Loree
The Wizard of Oz – Lindsay Weirich
Lord of the Rings – Katrina Koltes
Sleeping Cutie – Tiare Smith
Raggedy Ann – Danielle Donaldson
It will run over a period of 4 months and you can join either 'Fairy Tales' or 'Fairy Tales with Style Development'. The first (fairy tale lessons only) can be taken by anyone; budding beginner artists, intermediates and the more experienced. It is for those who are interested in learning how to create beautiful fairy tale inspired paintings in a variety of mixed media art techniques. Each teacher on Ever After has chosen one fairytale, myth or magical story to work with and will use the beauty, storytelling, deeper meaning and symbolism of the fairy tale to inspire their lesson. The fairy tale only package on its own does not cover style development.
The second ('Fairy Tales with Style Development') contains all fairy tale lessons and all style development content. The fairy tale lessons will be used to explore and develop our styles as well as learning new techniques from the teachers. Many artists and students who've been on my courses over the years have struggled with developing their own style. There aren't really any courses out there that dedicate themselves to this element of what it means to be an artist, yet, it's one of the most frequently asked questions I get! So I felt called to finally create something! Yay! The style development content is very rich and in depth. We look at concepts such as: "the story of you", "inspiration, how to find it, how to use it", "stepping outside of comfort zones/ changing things up" and "creative blocks, like the inner critic, fears, comparison etc".
From NOW through July 5, 2018, you can get 20% off by using this code MAGIC2018 when you order!
Another BIG change is that you now have lifetime access to all the lessons! No more scrambling at the end to download the ones you haven't gotten to yet because the sunshine was calling your name.
For extra magic in your life! 😀 There is also an option to 'add on' the fairy tale lessons from previous Ever After courses. These 'Ever After Fairytale Bundles' (EA2016 Fairytale bundle and EA2017 Fairytale bundle) include all the fairy tale lessons from previous Ever After teachers).
2018 Basic Fairy Tale lessons only
$87.90 (Less 20% before July 5)
15 in-depth fairy-tale themed mixed media art lessons. Each lesson is inspired by a fairy-tale, myth or magical story.
15 In Depth/ Supporting PDFs
4 Bonus lessons from 2016 + 2017 with Tam
Click here to view more details or to sign up
Basic Full 2018 Course (Fairy Tale lessons + all Style Development Content)
All 15 fairy tale lessons with supporting PDF's
4 Bonus Lessons for 2016-2017 with Tam
An in-depth style development workbook (to be printed out by the student) (4 parts) plus video content with Tam explaining/ demonstrating how to work through the workbook
Several style development assignments
14 videos of guest teachers containing information on how they developed their own style, hints & tips on style development and some might demonstrate creatively on style development.
14 + Videos discussing monthly style development themes with Tamara Laporte:
The Story of You – Deepening the connection between

yourself and your story/ message through art. Discovering yourself and your unique message.

"Make it Your Own" with Tamara Laporte Inspiration, how to find it and how to use it. Includes copying vs being inspired by.
Productivity/ pushing ourselves/ changing things up/ stepping outside of our comfort zones to help with style development
Dealing with inner and outer critics + how to deal with distractions and pressure to conform to popular art styles.
Video content with Andy Mason (NVC Trainer/ Tam's husband) on: "How to Discover your True North"
5 Guided visualizations

/ meditations by Tam: Grounding Into You/ Opening to Inspiration/ Deepening Self Confidence & Strength & Esteem/ Working Through Creative Block/ Transforming limiting beliefs into liberating beliefs

4 Bonus Time Lapse Videos with Tam demonstrating how to create Tinkerbell/ Maleficent

/ Rapunzel and The Happy Princess

3 Bonus Videos on style development by Flora Bowley (she is part of the Style Development segment only)
---
Art Supplies Needed For Ever After Fairy Tale Art Classes
Paper:
Tamara works on 140lbs hotpressed watercolor paper.
Brand-wise Tam usually use: Daler-Rowney or Saunders & Waterford – She works either on 9 x 12" or 12 x 16". Cold pressed is fine too, but don't go for less than 140lbs in weight. Other brands that will also be fine: Fabriano/ Strathmore/ Canson. I recommend Strathmore or Fabriano, the Canson brand says it's 140lbs but if you compare it to the Strathmore it's much lighter and doesn't stand up to the "Tam Method" of scrubbing/blending on your faces.
Paints:
Water-soluble crayons – Caran D'ache Neocolor II
Tam has lots of high priced brands mentioned but unless you are going to be selling this art, or if it's going into your art journal, I use cheaper craft paints and am happy with my results. I have a few of these pricey options I use on occasion but they are NOT necessary for most of the projects. I love Ceramcoat, Americana etc available at Michaels, Hobby Lobby, Walmart etc.
Some Heavy-bodied Acrylic Paints – Daler Rowney/ Golden or Winsor Newton
Golden Fluid Acrylics (they are very expensive if you want to try these out, buy 2 or 3 of your favorite colors to start with)
Fun but expensive and optional: Golden High Flows (get only a few if you want them)
Pencils:
Watercolor pencils: Derwent Inktense/ Caran D'ache Supracolor (Optional)
Graphite pencils: 2b & heavier – I like the graphgear 1000 by pentel but any pencil will do – mechanical ones are better for finer detail.
Graphite crayons are fun but optional
Color pencils by Prismacolor or Caran D'ache. Prismacolor has some new erasable pencils that I am loving for sketching too.
Mediums:
Gel Medium: Golden or Liquitex I have both heavy and soft. If you just want to buy 1 go for soft matte. (Here again, I prefer Liquitex, both price point and that it's non-toxic with no smell.
Cheaper gel medium to use as an adhesive:

Daler- Rowney Impasto Gel Matt
Golden Matte Medium
Liquitex Matte Medium (There is a Liquitex Gel Medium too, it is stickier)
Collage Materials:
Variety of patterned scrapbooking papers, patterned napkins, magazine pages, book pages, music scores and photos – some washi tapes are fun too.
Tools:
Brayer
Palette Knives
Scissors
Rulers
Erasers/
Heat gun or Hair Dryer
Foam Brushes
Brushes (Tamara uses Pro Arte Acrylix brushes for her method with faces. In the US I could only find them from this UK seller on Ebay but there is no shipping. For her work any soft haired brushes will do)
Markers:
Posca pens (black/ white – fine-nibbed and thicker
nibbed) OR
Poster paint sharpies aka water based NOT oil based (black/ white – fine-nibbed and thicker nibbed)
Tombow Markers in your favorite colors
Mermaid Markers from Jane Davenport
Paint Over Pens from Jane Davenport
Inks/ Sprays:
Dylusions Ink Sprays (start with a few)
Daler Rowney Acrylic Artists Ink
Jane Davenport Inks (Available at Michaels)
India Ink (Small bottle)
Gesso:
White Gesso (Tamara uses Golden, but I prefer Liquitex, it's non-toxic and doesn't have a smell)
Transparent/ Clear Gesso
Stamping/ Stencilling
It'd be nice to have some/ a variety of some fun rubber stamps and some decorative stencils – for the rubbers stamps, you'll need some ink pads too. Stazon is a good waterproof ink pad.
Other Classes that Tamara Laport Offers include: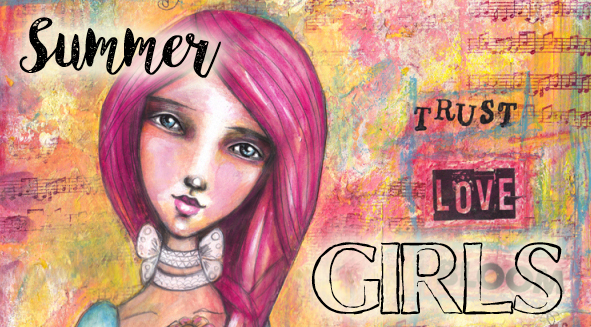 and a bunch more! you can click here to view more details!
Want to Color in some Fairy Tales too? Click here for my favorite Fairy Tale Coloring Books.
Micki Wilde's "Paint Happy" class was one of the first online classes I tried and fell in love with the entire concept of online art classes. She's fun and funny to watch and listen to and makes you feel like whatever you are going to do next with your art with be OK!
One of the favorite things to come out of the US election this year was that I had to get away from all the negative fighting banter that was happening on social media so one of my tactics was to start befriending and following artists on social media. This has been such a blessing and I suggest you do the same. SO much better to have a feed filled with happy furry friends, flowers and fairytale girls than memes about Donald and Hillary.
Micki started painting these wonderful whimsical animals several months ago and I fell in love with them all! Scads of her artsy friends continued to say.. PLEASE do a class!! Finally this week she has done it! I'm signing up right now
THE STORY TELLERS ART WORKSHOP by MICKI WILDE
This class is a 'storyteller animals' themed mini class with a whimsical face tutorial plus 4 'Storyteller' wonderful whimsical animal paintings with a pastel color theme.
The animal paintings use Micki's personal symbols and markings to express her own life stories through art. She promises to share her drawing and painting techniques so that you can go forward painting in your own style, painting from your wild imaginations and using your own personal symbols to add meaning to your work.
Also included is teacher support with access to a private Facebook group. Teacher support/advice/critiques etc is always available throughout the duration of your time in the class. MICKI WILDE SUPPLY LIST:
MICKI WILDE ART WORKSHOP SUPPLY LIST:
Supplies list for this class: (There are downloadable pdf's with exact items used in the class but here is the basic list)
Supplies list for this class: (There are downloadable pdf's with exact items used in the class but here is the basic list)
Once you purchase the class all the lessons are available instantly so you can move through them at your own pace and interact with the other students who are as excited as you are. This is a self-paced painting workshop so you can move through the lessons in the order and the speed that you wish. You have access to the class for at least a year and you can download them to your own computer or memory stick to keep forever. (That's what I do)
Click to order in the US   or the UK 
Micky also has wonderful posters and large postcards of her artwork for sale in her Etsy shop.