The first time I saw one of Daria Song's coloring books I fell completely in love with her illustration style. These are simply GORGEOUS Adult coloring books.
DARIA SONG is an author and artist from Seoul, Korea. Winner of the Kyung Hyang Arts Contest, Song has a master's degree in fiber arts and has exhibited at numerous galleries and museums in Korea, Singapore, Turkey, and Hong Kong. She spent five years of her childhood in San Francisco, California, before returning to Korea, and the sense of wonder and mystery that comes from living in a far-off place inspired The Time Garden.
Daria has gone and done it again, created a magical book that is completely different from anything else on the market. I received the book from her publishers and still can't bring myself to color in it or cut out anything because it's just that perfect. There are paper doll sets to cut out, puzzles to do, search for treasure and mostly just enjoying the amazing artwork throughout the book. This is much more than a coloring book. I did a flip-through for the members of the Facebook group here, so join us to see.
A young girl, playing in the countryside, enters a mysterious mansion and must solve a variety of puzzles and riddles to get out. With a range of different activities—from dot-to-dot, to intricate mazes, to optical illusions and coloring pages.

From the Illustrator on Amazon.
Click to Order Amazon US, UK or Canada or Book Depository Worldwide.
I was so excited to receive Daria's first book "The Time Garden" from Amazon and it is spectacular, gorgeous, intricate, whimsical I could gush on and on. If you like Johanna Basford's style of illustration I think you will love these intricate coloring books too. They are completely different in subject matter yet for some reason they seem similar to me. Perhaps it is the luscious thick paper printed with pictures on both sides of the paper telling a story.
Daria Song's Christmas Book "The Gift" or.. "Night Voyage"
The third book in Daria Song's "Time" series is available for pre-order in the US. Known throughout Asia as "The Gift," or "All Gifts of the World." The English version is called "The Night Voyage: A Magical Adventure and Coloring Book" I think I like "The Gift" better but I'm not in charge. I have seen Daria sharing images from this book since October and am beyond excited to get my hands on one of them.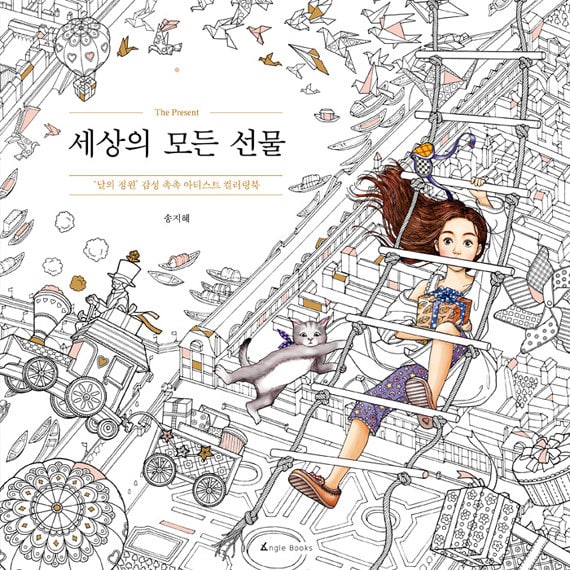 The tabby cat you see in this image is throughout the book for you cat lovers that are also Daria Song fans. Her Christmas book follows the little girl on a new nighttime adventure when the conductor of her toy train comes to life and helps her distribute gifts across the world.
The Night Voyage is an evocatively illustrated story of a little girl who is swept away on the eve of her birthday by her toy train conductor on a magical journey to distribute gifts around the globe. Taking devotees of The Time Garden and The Time Chamber on an imaginative new adventure, The Night Voyage continues Daria Song's wildly successful series with the beautifully intricate art that her fans have come to love, featuring a world of paper cranes, penny-farthing bicycles, trolleys, cityscapes, and hot air balloon-filled skies.
This gorgeous Christmas book is available on Amazon US – UK – Canada or Book Depository Worldwide. October 2016
In both of Daria's books, you get to travel along with her to her childhood imagination and then out into the pages that her talented hands create and illustrate. This first book "The Time Garden" has a little red-headed girl escaping from a coo-coo clock and exploring the big beautiful world outside. My best advice is to not stick to a traditional color palette and let your creativity wander while you fill in these gorgeous illustrations with color.
Order Online from Amazon US ~ UK ~ Canada ~ Book Depository
A dazzlingly beautiful coloring book for all ages, The Time Garden will sweep you away into a whimsical cuckoo clock–inspired world, created in intricate pen and ink by the internationally best-selling Korean artist Daria Song. Then, explore the magical world outside the clock through the eyes of a fairy in the sequel, The Time Chamber: A Magical Story and Coloring Book.

Journey through the doors of a mysterious cuckoo clock into its inky inner workings to discover a magical land of clock gears, rooftops, starry skies, and giant flying owls—all ready for you to customize with whatever colors you can dream up.
The Time Chamber: A Magical Story and Coloring Book
Korean artist Daria Song's sequel to The Time Garden takes readers on a visual journey into a magical nighttime world seen through the eyes of that same little ginger girl.
This second book in best-selling Korean artist Daria Song's coloring series features the voyage of a fairy who, when the cuckoo clock chimes midnight, enters the human world. To the tiny fairy, everything seems enormous and magical, from the curtains to the chandelier to a mystical rowboat that takes her further into an inky adventure. Filled with the imaginative, intricately detailed illustrations Song's readers have come to love, The Time Chamber presents a view of our world made new—and ready for coloring.
Click to order on Amazon US ~ UK ~ Canada ~ Book Depository
We are not kidding you need this book if you love intriguing detailed coloring books. You probably should get two because someone else is going to want it for a gift once they see it.
All of Daria's books feature extra-thick craft paper, ideal for non-bleed-through coloring, and the jacketed cover with flaps is removable and colorable. Special gold-foil stamping on the cover and spine and a To/From page make it perfect for gifting to adults and kids alike.
Daria Song's Christmas Coloring Book "The Gift"
Daria has created an AMAZING Christmas Coloring book this year as well but it is only available in Korea, Viet Nam, and the Philippines right now. If you follow her on social media I'm sure you have seen many of the colored images. It's fantastic and amazing and has everything wonderful about Christmas in it. At least Johanna gave us 4 intricate Christmas illustrations to color in this year but I am really hoping and praying for both these talented illustrators to give the UK and the US Christmas coloring books in 2016!
This is a picture from inside that Daria colored with Staedtler pencils & Staedtler fine liners
As soon as this book is available to the US & UK market we will have the links for you!
Which page of Daria's books is your favorite? We would love for you to share on our Facebook page here.
Daria Song Coloring Notebooks and Journals
A full coloring page faces each week so you can enjoy coloring on the go and keep yourself organized.
Purchase Daria Song coloring books, note cards, and journals US ~ UK ~ Canada ~ Book Depository
Happy Coloring!