My favorite type of coloring books to color in are the more complicated ones. I think that is what first drew me to Johanna Basford's books was her inky treasure hunts on each page. She has so many gorgeous details hiding throughout the pages. But since our Queen has caused the coloring sensation many other illustrators have started creating amazing intricate, complicated coloring books for adults to color in. A curated list of my favorites is below.
Top Complicated Illustrators
Joseph Catimbang
Mythographic Color and Discover: Wild Winter: An Artist's Coloring Book of Snowy Animals and Hidden Objects
His books contain intricate gorgeous illustrations with hidden images for you to find. They are nice thick paper that holds up well to gel pens & markers as well as heavy-handed colored pencil work and are printed on one side.
Click to order Amazon US, UK, Canada, Spain, Mexico or France.
Explore more of his complicated coloring books here.
Melpomeni Chatzipanagiotou
Melpomeni Chatzipanagiotou is a pen and ink artist from Greece. She holds a BA(Hons) degree in Graphic Design, throughout the time of taking her degree she became enamored with illustration and how you can communicate a feeling, a word or a thought through drawing. After graduating she delved further into the Fine Arts and pursued a career as an Illustrator.
A principal theme in her work is the natural habitat and its living inhabitants, with often an otherworldly touch.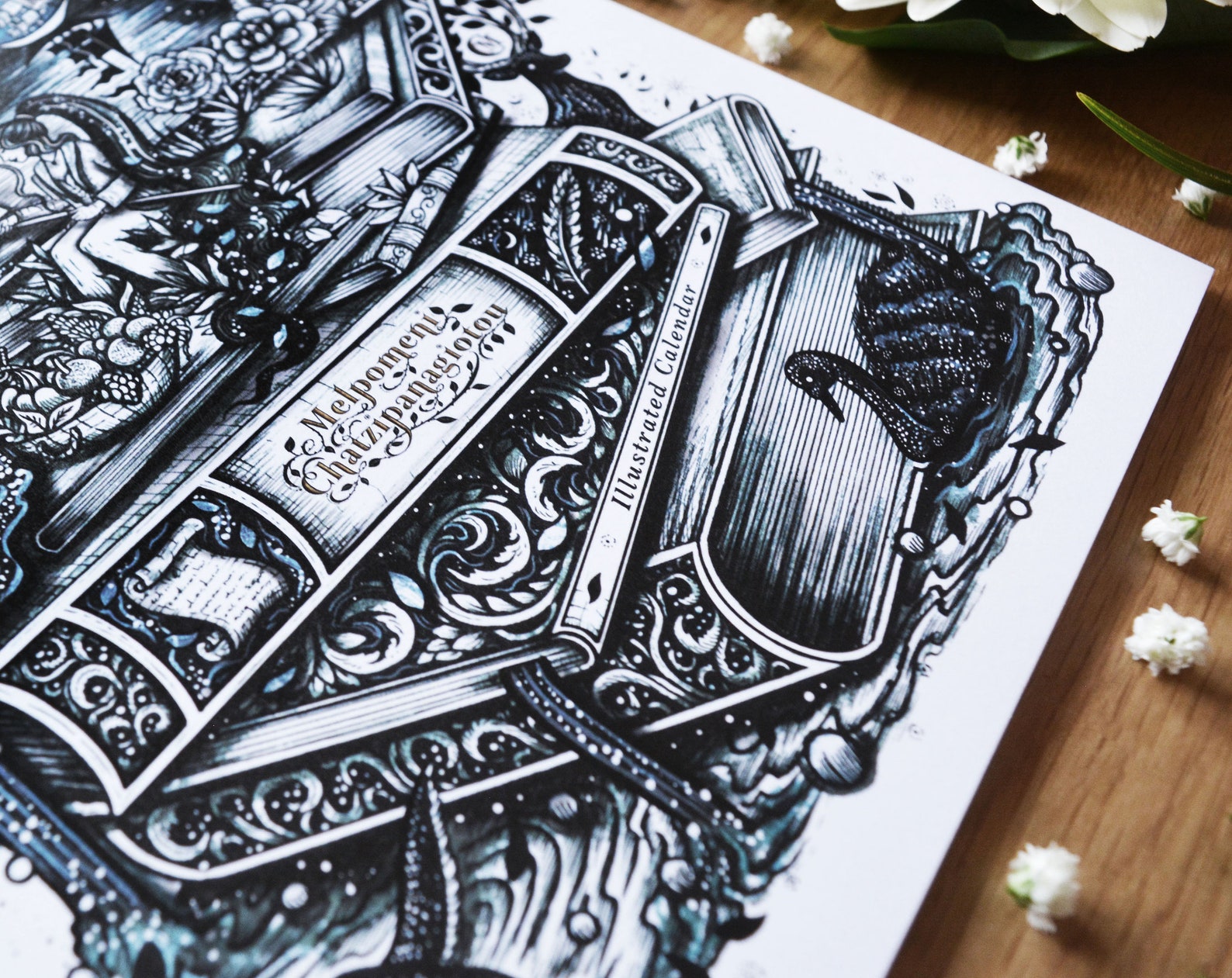 She also has her stunning original art for sale in her Etsy Shop here.
Click to Order Amazon US, UK, Canada, Europe or Mexico
Presale for this book launching April of 2023
Click to Order Amazon US, UK, Canada, Europe or Mexico
Abi Daker
Abi Daker is a freelance illustrator who works from a studio in Paphos, Cyprus. She specializes in creating unique, hand-rendered artwork for a variety of clients.
A member of the Facebook group shared her vertical greenhouse coloring from this book and it was stunning. This isn't a new book but it's new to me. The reviews say the details are even more intricate that Johanna, Daria or Millie Marotta so be sure you have some gel pens or fine-line markers ready to go with this one by Abi Daker.
Click to Order Amazon US, UK, Canada, Europe or Mexico
No list of complicated coloring could skip the amazing illustrator Kerby Rosanes. Kerby Rosanes is probably the first illustrator that comes to mind when you think of complex coloring. Sometimes you really have to concentrate to figure out where one section stops and another begins.
Kerby Rosane's newest book has some amazing images in it and you can see what our colorists in the Facebook groups are showing off. Come and join in the fun!
Click to Pre-order Amazon US, UK or Canada
Click to Order Colormorphia Amazon US, UK or Canada
Click to Order on Amazon: US UK Canada
Fantomorphia – Another Extreme Coloring and Search Challenge Coloring Book.
This book is like all his others, lots of cool images inside images, there are lots of skulls in this one and the designs are all one-sided. In the back of the book is the key to the search challenge portion. You can see my quick flip-through here on Instagram.
Click to Order Amazon US, UK or Canada
Click to Order on Amazon: US UK Canada
An amazing coloring book for adults featuring super-detailed animal images from artist Kerby Rosanes. Known for his popular Sketchy Stories blog, Kerby works in intricately detailed black and white line to create creatures, characters, patterns, and tiny elements to form compositions of mind-boggling complexity. Bring your creativity to complete the breath-taking drawings and find hidden treasures and creatures scattered throughout its pages
Order on Amazon US ~ Amazon UK ~ Amazon Canada
Fans of adult coloring books are invited to enter the weird and wonderful world of Kerby Rosanes, the illustrator behind the Sketchy Stories blog and Animorphia, the international phenomenon and New York Times bestseller. In Imagimorphia, animals and objects morph and explode into astounding detail. Bring each intricate image to life with color and find the objects hidden throughout the book.
Printed on quality paper, Imagimorphia is a quirky coloring and search book for fans of adult coloring books like no other.
Order on Amazon US ~ Amazon UK ~ Amazon Canada
Bennet Klein
Bennet Klein has come to the top of the newest sensational illustrators with both fine-line illustrations and grayscale drawings that are both wildly unique and intricately detailed. His latest book is Dragons.
All of the Bennett Klein Books are listed here.
It seems as if the most complicated coloring books are from artists and illustrators outside of the United States.
This gorgeous detailed complicated coloring book just became available to the US/UK market, just take a look at some of the pages on Instagram here. This second edition contains 60 unique hand-drawn illustrations printed on both sides of the perforated pages. It is also spiral bound on 100-pound thick paper stock. The second edition is reported to be much better than the first, the designs are not quite as tiny and the paper is nicer quality.
Click to Order on Amazon US ~ UK
Tim Jeffs Coloring Books
Tim Jeffs now has to intricately detailed coloring books on the market now. I have the first one and the interesting difference of this book than most is that it opens on the top, so no worries about where your hand rests or if you are right or left-handed.
Jeffs began experimenting with animal art during his free time. As his sketchbook filled with complex illustrations of creatures large and small, he realized he had found a powerful art form.
Once he decides upon a subject, a thirty-plus-hour process unfolds. Jeffs first researches the animal's habits, habitats, conservation status, and physical appearance. Using pen and ink and colored pencils, he channels his findings and artistic passion into creating an animal portrait on Bristol board. "Then," the artist says, "I cover the subject with a styled pattern of my own creation. It's almost like creating a mosaic of lines, shapes, or colors. Not so much photorealism but more of an impressionistic approach that creates a realistic view." It's the alchemy of science and creative license.
Order Intricate Ink in the US, UK or Canada
Order Intricate Ink in the US, UK or Canada
Order Intricate Ink in the US, UK or Canada
Illustrated by James Gulliver Hancock (You can't help but notice the middle name!) He has written several books on "how to draw" books and this book looks really fun to explore. This was always one of my favorite stories as a child.
Kanoku Egadu is a gorgeous book that Chris Cheng has been coloring in lately. Kanoko Egadu on Insta.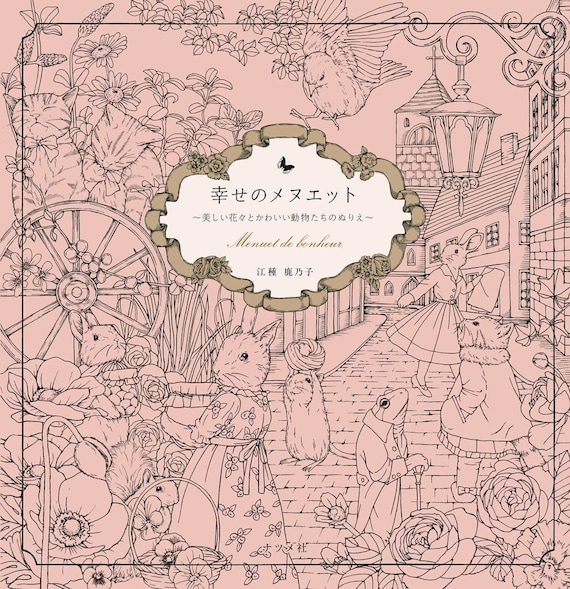 Japanese coloring books have a very distinctive style with loads of minute details that are just aching to have color applied to them.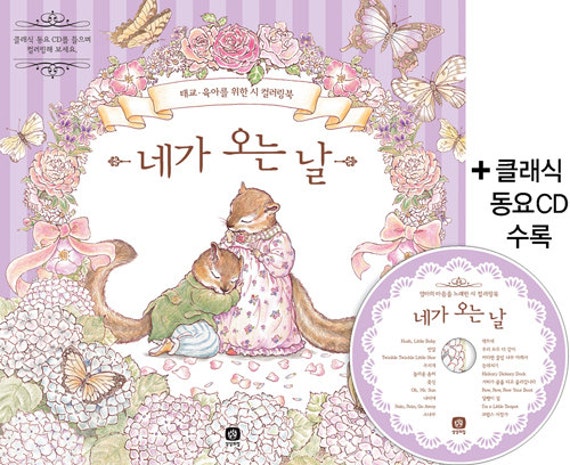 Daria Song
Daria Song was my first foray into complicated coloring and her books are so magical. Luscious thick paper printed with pictures on both sides of the paper telling a story.
In all of Daria's books, you get to travel along with her to her childhood imagination and then out into the pages that her talented hands create and illustrate. This first book "The Time Garden" has a little red-headed girl escaping from a coo coo clock and exploring the big beautiful world outside. My best advice is to not stick to a traditional color palette and let your creativity wander while you fill in these gorgeous illustrations with color.
Order Online from Amazon US ~ UK ~ Canada
Korean artist Daria Song's sequel to The Time Garden takes readers on a visual journey into a magical nighttime world seen through the eyes of that same little ginger girl.
This second book in best-selling Korean artist Daria Song's coloring series features the voyage of a fairy who, when the cuckoo clock chimes midnight, enters the human world. To the tiny fairy, everything seems enormous and magical, from the curtains to the chandelier to a mystical rowboat that takes her further into an inky adventure. Filled with the imaginative, intricately detailed illustrations Song's readers have come to love, The Time Chamber presents a view of our world made new—and ready for coloring.
Click to order on Amazon US ~ UK ~ Canada
Her third book takes you on a magical journey filled with gifts and adventure
Illustrated by Eriy in a unique way by using toothpicks to draw the illustrations. Inside are pages and pages of provincial delights for you to bring to life through coloring: magical forests filled with fairies, delightful town squares bustling with people, whimsical village scenes, charming castles with towers―and so much more, sure to delight people of all ages.
Romantic Country – The Second Tale
Romantic Country – The First Tale
Click to Order Amazon US Amazon UK Amazon Canada
Order Detailed Dogs US, UK or Canada
You can always make a complicated coloring book less complicated by seeing tiny spaces as one space and coloring them together. For the tiny spaces in some of these books, I recommend using fine-lined markers and/or gel pens. They also add a mixed media feel to your pages which I enjoy from an artist standpoint.
If you are new to coloring or just want to dive in a little deeper be sure to read our expansive supply recommendations along with our tips and tricks articles.

*How to Get Started with Adult Coloring Best Colored Pencils
*Best Gel Pens
*Best Markers that Don't Bleed Through the Paper
* Background Supplies
*Coloring Tutorials
*13 Tips & Tricks for Colorists