Listed below are my favorite coloring books SO FAR! These are the ones that I always come back to if I really am in the mood to color something fabulous.
These are MY favorite books so your results may vary.
Hanna Karlzon Coloring Books Dagdrömmar (
Daydreams)

Click to Order on Amazon:  US     UK     Canada 
I probably have more pictures colored in this book than any other. There's just something really magical about Maria Trolle's drawings and they are easy to figure out. The paper is SPECTACULAR! If you are familiar with Hanna Karlzon's books, this paper is the same Swedish type including the bookbinding. I purchased the Swedish edition from the Pen store, but the same publisher that recreated Hanan's books are also working with Maria Trolle so I'm sure they are going to be just fabulous. I promise you will want this one for your collection. My video flip-thru
Click to Order Blomster Amazon US   Amazon UK  Amazon CA
All four of the Good Wives & Warriors small-sized coloring books are my go-to for on-the-go coloring because of the compact size or just when I want to complete a page in an evening of TV "watching" and coloring.
Click to Pre-order on Amazon:  US     UK      Canada 
Of course, returning to Secret Garden is always a bit magical because like for many of you, it was the gateway drug to my coloring book addiction. It holds the very first adult colorings that now look quite childish to me by my new jaded standards but then again it's great to see how much my style has changed in the last year. This book is a bit of history and whimsey for those of us who started with Johanna as our coloring queen. Enchanted Forest is a close runner-up!
This one is very special for me because I discovered it while I was on a girl's weekend with my two favorite people on the planet, my two grown daughters. It's really a gorgeous book with artist-quality paper. You can order on Amazon Floribunda  US   ~    UK   ~   Canada 
Leila Duly has a new book for 2017 that looks gorgeous too. Done more in the Hanna Karlzon fashion as a 2-sided bound book. I can't wait to see a copy. It's called "The Flower Year"
Favorite Coloring Books that are harder to find
The adult coloring book craze started in Europe with Scottish illustrator Johanna's Secret Garden, so some of my favorite books aren't available in the US or on Amazon! I see them by following some fabulous colorists like Morena Vajak on Instagram. She's always posting colorings from books that I desperately NEED to have.
I received this GORGEOUS book from the author and have a flip thru on my social media channels. you can also see colorings from this little gem on Instagram here. The book ships direct to you from the Czech Republic via her Etsy profile here.
Klára's book reminds me quite a lot of the Swedish books from Hanna Karlzon and Maria Trolle that you know I love. If Amazon let me give it a 10-star review I would.
This coloring book is perfection! It's a real hardcover book that can sit on your bookshelf for years to be shared with your friends and family. I have recently thought what a wonderful keepsake this will be for my kids and grandkids to see gramma's books she colored in all those years ago. The paperback books will likely be tossed but not one like this. The pictures are fanciful and fun with just enough detail to make them interesting but not too much so that you are frustrated. The paper is luscious and toothy for we pencil addicts out there and printed on one side of the paper for you marker lovers. On the facing page, there is a little motive with an area for your name and a note. I've decided to put the date and the materials used to color it in. Thank you SO much for sending me this delightful book. I love it and it's on my list of favorite coveted coloring books.

While I adored her artwork, the CreateSpace paper on Amazon just didn't do it justice. I was thrilled to discover that she sells her books along with a ton of her art in both digital download formats as well as all of her coloring books on beautiful thick paper on Etsy. I immediately ordered both and am thrilled with the quality.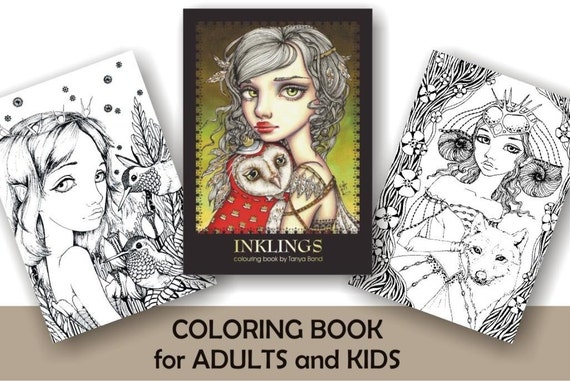 Tanya Bond's artwork is incredible with her iconic big-eyed girls most of which have their lovely animal friends as well. These books are printed on one side with gorgeous thick paper. You won't be disappointed. YES, they are more expensive than on Amazon but if you are a paper snob like I am, it's worth it.
She also has art that she has colored in to buy as well, along with downloadable PDF's for instant gratification.  All of Tanya Bond's coloring books are equally fabulous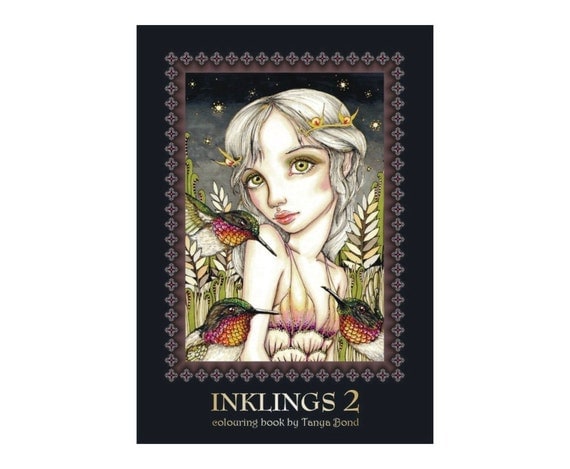 "Inklings 2" Click to order on Etsy. Inklings 3
Click to order Amazon US, UK or Canada
Maria Trolle another of my favorite Swedish illustrators has a book released in 2018 "Nightfall Coloring Book": Originally Published in Sweden as "Skymningstimman". It is already available in Sweden so there are lovely colored in photos floating around on social media. Maria's books are the gorgeous hardback style that is simply a dream for colorists to collect.
As you can see Chrissy the Coloring Book Addict's favorite coloring book choices tend towards pretty, detailed, and flowery coloring books with top-quality paper. If you think there are any I need to check out feel free to buzz me on social media.
Keep Coloring! ~ Chrissy
If you are new to coloring or just want to dive in a little deeper be sure to read our expansive supply recommendations along with our tips and tricks articles.

*How to Get Started with Adult Coloring Best Colored Pencils
*Best Gel Pens
*Best Markers that Don't Bleed Through the Paper
* Background Supplies
*Coloring Tutorials
*13 Tips & Tricks for Colorists