Looking for an adult coloring book with a dog in it? You are in luck!
Coloring Book artists and illustrators are starting to branch out from Adult Coloring Books filled with flowers and mandala's to focus on featuring the hobbies and preferences of the folks coloring in their books. We have already put together a huge list of cat lovers coloring books and coloring books for men, now we are have gathered all the coloring books we could find for dog lovers.
Coloring Books for Dog Lovers
Animal illustrator Lisa Marie has just published the second in the series of her Pet Lovers Coloring book. This book features hand-drawn greyscale drawings of adorable pooches you'll want to color in and adopt immediately.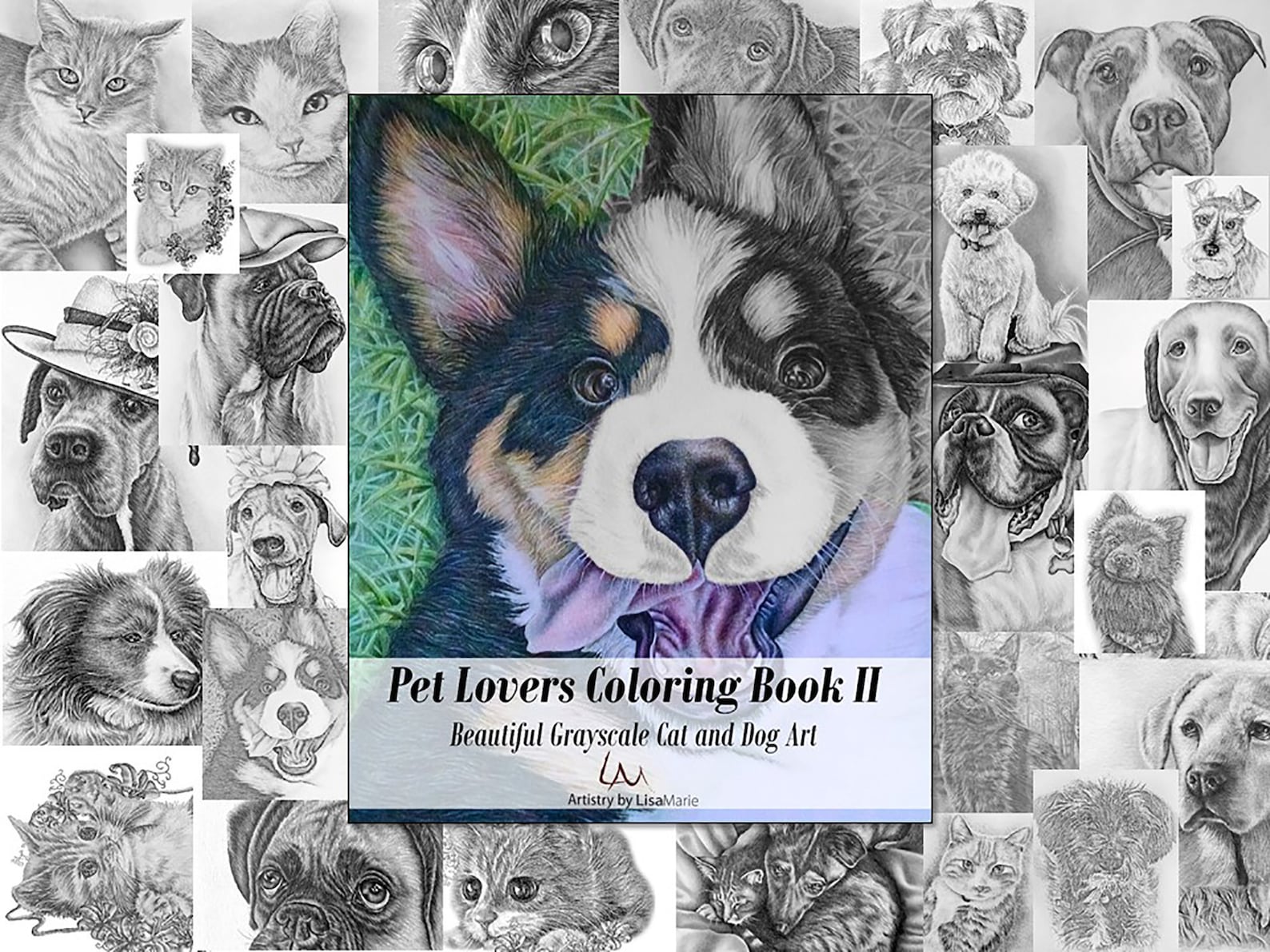 Her books are available on Etsy for purchase by clicking here.
I just received this adorable coloring book from the publisher. It follows the adventures of the King of "Pup" Culture through a tasting feast across the world. From pizza in New York, sausages in Germany and margarita's in Mexico with friends, you get to travel with this pug and color in his fun. This book also has word search puzzles, crossword puzzles, mazes and more. This happy pup also has books, calendars, and plush stuffies to bring your coloring adventures to live.

Click here to order Doug the Pug Coloring & Activity Book
This is a Creative Haven Coloring book with one-sided perforated pages and is in the same style as her super popular Creative Cats, Pampered Pets, Owls and Fanciful Foxes
Click to Order Amazon US, UK, Spain or France  Canada  & Book Depository
One-Sided Perforated Pictures of detailed cats and dogs in adorable settings in another one of Marjorie's animal coloring books.
I'm absolutely in love with the lab looking dog on the front cover. Brenda Abdoyan's whimsical style really captures the personality of the pooches she has in this 32 page one-sided professionally published coloring book. Design Originals always does a fabulous job with printing and this book is no exception.


Click to Order
Click to Order US, UK, Canada, France or Spain
I have copies of Cindy's horse lover books and she does really nice work. Some of the breeds included in this book are pitbulls, boxers, beagles, pharaoh hounds, great danes, chihuahuas, and rhodesian ridgebacks. All pages are printed on one side only.
I was first directed to this book because of a wonderful image of a pitbull that an artist in one of the Coloring Facebook pages did. It was so wonderful I even asked her if I could share it on Pooch and Claws. I also love the lab page and you can see a sample of it on the Amazon Reviews for this book.
Find the heart in each one as you color. Dogs in this book include several mix breeds as well as a Boston Terrier, Cairn Terrier, Papillion, Pitbull, Basset Hound, Bichon Frise, Border Collie, French Bulldog, Catahoula, Chihuahua, Corgi, Dalmatian, Dachshund, English Bulldog, Golden Retriever, Jack Russell Terrier, Labrador, Pug, Schnauzer, and Terrier Mix.


Who doesn't love Puppies? This book has 20 coloring pages which will steal your heart. 15 puppies who are the State Dogs of 15 states. Even if you do not live in the United States you will love these puppies. The page itself does not have any words that identify it as a "state dog." From the small pups to the large pups. 5 pages devoted to Dog Wisdom and ready to color. No matter where you live you will be captivated by these pups. Breeds in this book: Catahoula, Plott Hound, Boston Terrier, American Water Spaniel, Boykin Spaniel, Foxhound, Chesapeake Bay Retriever, Malamute, Siberian Husky, Great Dane, Blue Lucy, Cairn Terrier, Pitbull, Chinook, and Golden Retriever. Each Dog has a Story and I tell it in Color. When I hand draw each dog I love to think to myself – what is their story. There is no digital process in any of my art. All hand drawn with love and details that are fun and sometimes surprising.
Trianimals: Color Me Dog: 60 Color-by-Number Geometric Artworks with Bark 


Click to Order US, UK, Canada, France or Spain
This is a cute book with Createspace paper so use a sheet between pages if using markers.

Cali has created two volumes of Amazing Dogs covering several adorable breeds.
Amazing Dogs and Amazing Dogs 2
Each dog in this book is hand-dawn. Pages are single-sided. This collection of pups is just waiting to be colored. 30 pages to color and show your creativity. Alisann shows her passion for dogs in her latest Dog Coloring Book for Adults. As a trained Fine Artist, she loves creating dog "portraits" for everyone to enjoy. Small to Large they all are full of unconditional love. Breeds included in this book- Collie, Airedale, Boxer, Yorkshire Terrier, Cane Corso, Chihuahua, Greyhound, Australian Shepherd, St. Bernard, Australian Cattle Dog, Redbone Coon Hound, Shar-Pei, Beagle, Dalmatian Mix, Shih-Tzu, Pug, Basset Hound, Miniature Pinscher, German Shepherd, Vizsla, Weimaraner, Golden Doodle, Black Labrador, Corgi/Pitbull Mix and other Mixed Breeds. This is a book for all dog lovers and makes a great holiday gift.
Click here to order "I Love Dogs Coloring Book for Adults – Volume 2"
My favorite picture in the book that is shown in the video in the reviews is the Sweet Dreams with the human feet and the dog feet on the end of the bed.. that's just how it looks at my house.
Love Cats & Dogs: Creative Cats and Dogs Coloring Book
These stained glass images of 16 of the American Kennel Club's top dogs encompass a winning array of beloved breeds, including the sporting, hound, toy, and terrier groups. Pages are perforated for easy removal, so after coloring, they can be placed near a light source for glowing effects. Source: Amazon.
Nearly two dozen realistic portraits of dogs include retrievers, spaniels, pointers, a sheepdog, a Saint Bernard, and even adorable puppies. Colorists of all ages will enjoy painting or coloring these pages, which feature beautiful drawings, specially printed with light gray lines that virtually disappear with the addition of colors for a finished, professional look; high-quality paper, printed on one side only and suitable for watercolor, colored pencils, and other media; and perforated pages for easy removal from the book. Source: Amazon
This is a Dover book so you know the value is there for you.
Click here to order "Dogs – To Paint or Color"
Another book by John Green, we always check the reviews before recommending any book on Coloring Book Addict but haven't EVER seen one with 3 4- 5 star reviews and none under that number.
It contains Forty-two popular dogs — collie, poodle, dachshund, others — beautifully rendered. Captions, glossary, and brief history offer fascinating facts about humanity's "best friend." 40 black-and-white illustrations. Color illustrations on covers with an Introduction and captions by Soren Robertson.
There are quite a few more Dog Coloring Books on Amazon but all of them had pretty bad reviews so we didn't feature any but we are sure there will be more dog coloring books appearing so check this link to see the latest. AMAZON PRIME – If you aren't a member you should look into it.
You get free 2-day shipping every day at Amazon with Amazon Prime. You can try it for free right now.
The Amazon Prime membership program offers other special benefits. Members can instantly watch over 40,000 movies and TV episodes and borrow 1000's of books from the Kindle Owners' Lending Library.