Adult Coloring Books are not only helpful for reducing stress but they are also a wonderful meditative tool for your prayer life.
Coloring in scripture or a kind saying not only feeds your creative spirit but can help to put a balm on your soul.
This Devotional Coloring Book provides an artistic way to turn your thoughts from worry and fear, and toward God's hope and peace. The devotions match over 75 stress-relieving beautifully illustrated adult coloring pages with floral and pattern designs. 
Click to buy US, UK, Canada, Mexico or Europe.
Click to buy US, UK, Canada, Mexico or Europe.
Take a look at this gorgeous scripture-inspired journaling & coloring book. It is the first creation by Amarie Stocker and was published by Scripture Lullabies. It also includes a 13 song download of praise music to play while you color, meditate or journal. It has a lay-flat binding with one-sided pictures to color and bullet journaling areas to respond to the verses and devotionals by the author. You can see a few pages of the interior on my Instagram post here, and watch my Insta-stories for a feature as well.
Click to Order Amazon US, UK or Canada
I was blown away by two gorgeous new inspiration books. One is a fabulous coloring journal with verses, inspirational quotes, and spaces for you to journal and reflect along with meditative pictures to color throughout. The cover really sets it apart from other coloring journals. And the other is a Christmas devotional coloring book for the family that earned its spot on my top 25 Christmas books, it is called "All is Bright".
I just received this GORGEOUS Prayer and Coloring Journal from Tyndale and was blown away! The cover is the first of it's kind with a raised printed hardback that just invites you in the pray and color. Each page is special with either a scripture, prayer or inspirational quote and beautiful images to color and pray or meditate with as well. If you are like I am and a bit nervous to journal in the bible, this is the next best thing. I am sharing pages from it on our social media account so please be sure to click the links at the top of the page to see more.
Gratitude invites you to bring creative journaling and the calming act of coloring into your quiet time with God. This beautifully designed interactive prayer book from Tyndale's Living Expressions collection helps guide your thoughts as you pray about concerns such as health, overcoming stress, personal relationships, and more. Gratitude gives you a way to celebrate and give thanks to God for the many blessings he provides. Filled with over 100 designs to color, plenty of space for journaling and sketching, and 40 needs-based prayers, Gratitude helps you express your devotion to God with your whole heart. Sample page below.
Click to order Amazon US Amazon UK Amazon Canada Book Depository
We recently received this absolutely gorgeous bible verse coloring book and had to share it with our readers. Many requests come in for one-sided coloring books where people can use markers, well this one is it. SUPER thick one-sided illustrations featuring beautiful artwork from several artists along with hand-lettered bible verses. We have been blown away by the quality of this coloring book. The publishers didn't stop with just coloring, they have also created a playlist of worship music to go along with your coloring. This is my video flip through showing the pages of "Whatever is Lovely" and then below the promo video talking about various other aspects of the book.
We live in such a busy, hectic world—but what waits for you inside this adult coloring book is a way to quiet the noise, express creativity, and spend some sweet time with God. Each page features an original design from one of a dozen different artists, beautifully illustrating a contemplative quote from an inspirational writer, a beloved hymn, or Scripture.
When we create, we echo the heart of our Creative God who designed everything and gave us the capacity to recognize beauty.
To help set the perfect mood for worship, contemplation, and creative expression, a link to the "Whatever Is Lovely" playlist is included. Please use this hashtag on your colorings you share from this book #WhateverIsLovely and of course, add #ColoringBookAddict so we can share your work as well.
Click to buy: US ~ UK ~ Canada ~ Book Depository
Fifty Bible verses are accompanied by intricate pen-and-ink illustrations for you to color. As an added bonus, you'll learn simple techniques of hand lettering with easy-to-understand tutorials, tracing templates, and space to practice hand-lettering verses.
Click to order:  US ~ UK  ~ Canada
Click to buy US, UK, Canada, Mexico or Europe.
The inspirational messages and whimsical designs are drawn by a talented artist, Roxanne Glaser. The book includes 50 designs for you to color in.
Click to Order Amazon US, UK or Canada
Color your own unique Christian motivational masterpiece as you relax with joy and praise. Perforated one-sided pages in this unique coloring book.
Click to Order Amazon US, UK or Canada
The hardcover is glossy and tip spiral bound, perfect for lefties and it's also perforated and one-sided. It includes Gift Tags, Bookmarks & Cards to Color with a Presentation Page for Gift-Giving
This book measures 7 1/4 x 10 1/4 inch.
 Click to buy:  US ~ UK  ~ Canada ~ Book Depository
Soul Coats depicts bible stories throughout the old and new testament with a full key in the back with the full verse for each page. The paper is thick and the book is professionally published. I enjoyed using colored pencils, markers and gel pens on the pages I have colored so far. I don't recommend watercolors as the paper buckles quite a bit.
Click to Order Amazon US, UK or Canada
Zondervan is a respected name in the Christian publishing world for producing beautiful works and they have stepped forward in the coloring book world as well.
Click to buy: US ~ UK ~ Canada
Worst
Click to buy: US ~ UK ~ Canada
Amazing Grace – Part of the Coloring Faith Series

The illustrations are accompanied by words from the timeless, inspirational hymn "Amazing Grace." During moments of quiet reflection, this collection of peaceful images is sure to fill your heart with joy and rest as you delight in God's saving grace and His love for you while coloring these beautiful illustrations and lyrics.
Click to buy: US ~ UK ~ Canada
Click to Order Amazon US, UK or Canada
Click to buy: US ~ UK Book Depository
Joanne Fink – Inspirational Coloring Book Author
My very first journey into adult coloring books was with Joanne Finks Zenspiration series. She is very in touch with her faith when she is creating each of her books but particularly her Inspirations Designs to feed your spirit. You can color the pages in as well as pattern within some of the spaces using her technique that she teaches throughout her books and on YouTube.
Order Beautiful Angels Amazon US, UK & Canada
I have just begun a little bit of artistic bible journaling (yes coloring in your bible) and there are several coloring books I love to use because I'm not much of an artist but you can use these books to not only color inside of but as tracing patterns for the margins of your journaling bible.
Karla Dornacher – Devotional Coloring Books for Adults
I adore Author/Artist Karla Dornacher. She is passionate about sharing hope, encouragement, and inspiration in everything she does. She not only has two inspirational adult coloring books but Karla also writes and illustrates Christian Devotional books as well including "Love In Every Room," "The Sweet Taste of Friendship," "Sweet as Apple Pie" and "Down A Garden Path", as well as several other Christian Inspirational Gift and Devotional books of the same style.
Her two coloring books, Simple Blessings: Coloring Designs to Encourage Your Heart and Garden Blessings: Scriptures and Inspirations to Color Your World are perfect for my bible journaling and quiet time coloring/bible study and reflection time. Simply open the pages like you would your bible and look for God's words and Karla's illustrations to speak to you. These coloring books are 60 pages and printed on one side. Karla gives you permission to use her images for your own use in many ways (Color and Cut, use for bible Journaling, scrapbooking or any and all paper crafting. Print as many copies as you need for personal use, gift-giving or ministry work)
Click to order Amazon US, UK or Canada
Not every page in this book is inspirational, as the description says "Sprinkles of Scripture Here & There". This book also boasts perforated one-sided illustrations as well as gift tags, cards and bookmarks to color in. The bookmarks are one of the things I particularly love to use for tracing in my journaling bible.
Designed for Fun, Serenity, Calmness & Quiet Inspiration
Includes Gift Tags, Bookmarks & Cards to Color
Presentation Page for Gift-Giving
8 1/2 x 11 Inch
This Posh book is really fun & easy to color in, I tuck it in my purse for easy on the go boredom busting and a bit of positive energy to keep me going.
Click to order: US UK Canada Worldwide at Book Depository
Faith to Color by Pearlyn Choco and Paige Tate brings you uplifting Scripture combined with art in this stress-relieving coloring book. With illustrations ranging from simple to advanced, coloring enthusiasts will love being able to find inspiration in a hurry or get lost for hours in a single image. The designs are all one-sided and perfect for Bible Study or personal worship. Paige Tate also has several other coloring books
Paige Tate's Inspiring Coloring Books
Paige specializes in spiritual coloring books as well as some wonderful topical coloring books. Her books are not intricate and are designed for beginning colorists or just those that want to do some spiritual meditation while coloring fairly simple straightforward designs. Her illustrations are printed on one side of the paper only.
Beauty in the Bible: Adult Coloring Book Volume 2
Christian Art Publishers along with many talented illustrators and authors are coming out with wonderful new books every month so check them out.
This coloring book features 30 floral illustrations, each with a quote from Jesus. Each illustration is printed on a single page with the reverse left blank.
Artist Michal Sparks created each coloring page to complement a favorite verse from the book of Psalms. Printed on one side of the paper only so you can use markers or gel pens without worrying about bleed through.  Click here to order
Spiritual Coloring Books and Pages on Etsy
There are some wonderful illustrators on Etsy and most of these spiritual or scriptural colorings can be downloaded instantly for those of us with little patience! (Don't pray for Patience! You know what happens then!)
We love the colorable bible bookmarks from several sellers on Etsy.
Etsy was where I first discovered Karla Dornacher's work when I purchased these printable Bible Bookmarks / Bible Journaling tabs to color in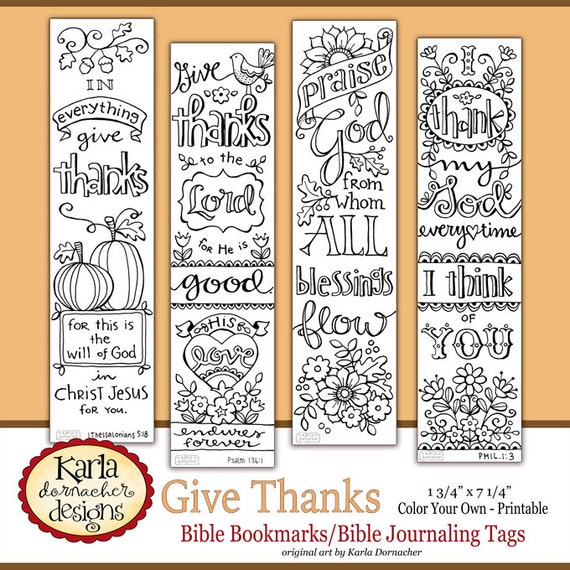 Karla's "Give Thanks" Coloring Bookmark PDF is priced right. She has 20 items currently for sale in her Etsy shop that you can instantly download print on nice quality paper and color for yourself, gifts, a bible study project or for bible journaling. Plus her Etsy shop has other adorable illustrations that she has colored in as well.
Sew Bit & Company has 12 illustrations for you to download and color here.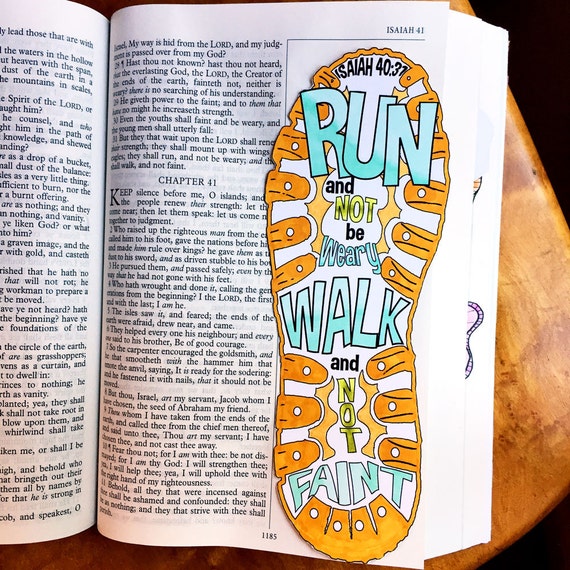 Worship Out of the Box – Coloring in Bible Journal from HEAVEN MOORHOUSE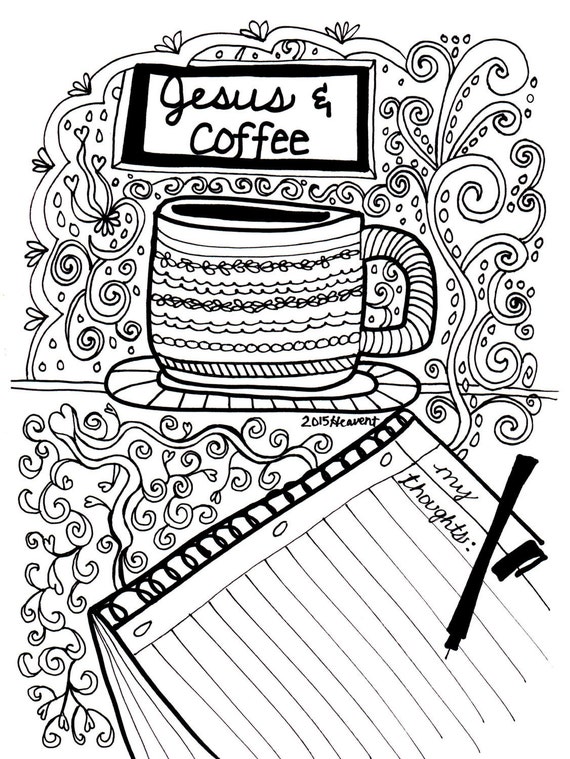 Coloring Bibles
Bible Journaling enthusiasts are very excited about this new illustrated bible that you can color in which is now available on Amazon. US Amazon CA Amazon UK Amazon Worldwide at the Book Depository
Inspire is a new single-column, wide-margin New Living Translation Bible that will be a cherished resource for creative art journaling. It is the first Bible of its kind―with over 400 beautiful line-art illustrations spread throughout the Bible. Full-page and partial-page Scripture art is attractively displayed throughout the Bible, and the illustrations can be colored in to make each Bible unique, colorful, and customizable.
Every page of Scripture has two-inch-wide margins, with either Scripture line-art or ruled space for writing notes and reflections, or drawing and creating. The Popular New Living Translation is designed uniquely to appeal to art-journaling and adult coloring book enthusiasts with beautifully-designed full-color page edges, a matching ribbon, and an elastic band closure.
This same coloring bible is also available with this cover. Click here to order US Amazon CA Amazon UK Amazon
Jewish Coloring Books for Adults
If you are new to coloring or just want to dive in a little deeper be sure to read our expansive supply recommendations along with our tips and tricks articles.

*How to Get Started with Adult Coloring Best Colored Pencils
*Best Gel Pens
*Best Markers that Don't Bleed Through the Paper
* Background Supplies
*Coloring Tutorials
*13 Tips & Tricks for Colorists
We would love to see what you have colored in any of these books or how you use color in your bible journaling. Be sure to tag #ColoringBookAddict on social media so we can share!